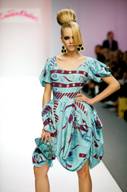 Beverly Hills, Calif. (March 2007) Girari Design announces a licensing agreement with Zandra Rhodes Enterprises to design, manufacture and market a collection of Zandra Rhodes Handbags to be sold in better department stores and high end boutiques. Los Angeles designer Lynne Latham is appointed Head Designer for the handbag collections. Zandra Rhodes's Spring/summer 2007 show in the fall of 2006 marked the debut of a new handbag line on the catwalk during London Fashion Week to favorable media reviews.
Many journalists claimed her vibrant designs and place in fashion is as solid now as it ever was. 2007 is a year of further expansion for Zandra who put London fashion on the map of the world during the London youth explosion of the 1960s. She designs a fur collection for Pologeorgis in New York seen in Neiman Marcus, Saks Fifth Avenue, and Bloomingdales and her collaboration with Girari Design will bring her accessories to the market.
<![if !vml]> <![endif]>

Lynne Latham will head up the design team and shares Zandra's love of prints and exuberant colors. Most recently Latham held the title of Designer and Product Development Manager for Junior Drake Handbags. Being an accomplished pattern maker, Latham leveraged her construction expertise in several previous positions where her experience included leather goods, luggage, briefcases, wallets, and other accessories. Her freelance work has also included designing jeans for Guess and wardrobe for celebrities including Cher.

Zandra Rhodes and Girari Design's Lynne Latham collaborate, along with Zandra's assistant Chetna Bhatt, on each collection from her Solano Beach, California studio.
The work pours out fast and furiously with color and Zandra's bold prints serving as the impetus. Common themes for the handbag collection are derived from the apparel's mixing and layering of multiple colors and prints combined on one profile. In fact, while the silhouettes are classic, the look is very modern with a special Zandra Rhodes twist occasionally linking back to Zandra's 1980s punk vibe.

Common themes for the Zandra Rhodes Handbag Collection are the mixing and layering of leathers, colors and prints combined on one profile. In fact, while the silhouettes are classic, the look is very modern, with subtle inserts of Zandra Rhodes signature print designs. For Fall 2007, the collection signals a movement away from the soft and slouchy trend to a more structured, sophisticated, and tailored look. Colors are rich, yet show very neutral: dark purple, espresso, rust, brown, black, deep navy and olive; with bronze, amethyst and gold metallic; all paired with printed Lamb skins and novelty Anaconda, using all Italian leather. Embellishments of custom, shiny gold hardware, oversized Swarovski crystal, and edgy, lacing treatments are then used in conjunction with Zandra's signature shimmering jacquard handbag lining. Striking signature Zandra Rhodes "safety-pin" logo fobs and tags are being created by a custom jeweler and the Zandra Rhodes signature are featured on "Z" rings, studs and other hardware pieces. Retail pricepoints are in the $200 to $750 range.
Zandra Rhodes's clients have included Princess Diana, Paris Hilton, Sarah Jessica Parker, Kelly Osbourne, the Olsen twins, Twiggy, Jerry Hall, and many others. The Spring/summer 2007 handbag collection will be in limited distribution or by special order (Verve; 338 Bleeker Street, New York, NY) with ten to twelve profiles available for Fall 2007 delivery debuting at March 2007 markets. For more information, product jpegs, and interview with the design team, please contact Valentine Group Los Angeles, 323.571.8003.

For sales, please contact Dale Lindholm at Pure Accessories Showroom in New York (141 West 36th Street, 20th Floor; 646.742.0400). In Los Angeles, Richard Luna + Associates Showroom represents the line (860 Los Angeles Street, #533 in the Cooper Building; 323.660.8926). For more information, Darryl Aken, 310.271.0088 or www.zandrarhodeshandbags.com
Submitted by Debra Stevenson, West Coast Bureau Chief for Apparel Search. Debra tracks and comments on West Coast fashion, art and culture for Apparel Search and authors Trend Agitator, an insider's guide to lifestyle trends and market strategy. Got an insider tip or want to know how global trends can impact your business? Email us.
<![if !vml]>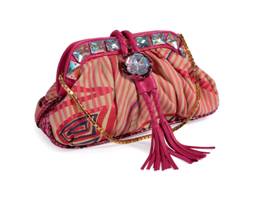 <![endif]>
Los Angeles-based Design Company, Girari Design, Acquires License for Iconic London Fashion Designer; Appoints Head Handbag Designer