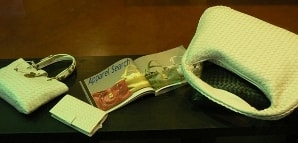 Is there a difference between a handbag, a pocketbook or a purse?
View all Handbag Brands and Purses
at the Amazon shopping portal.
Handbag Stores

Accessories Magic Kingdom : The one and only stop for all your Clothing & accessories demands. Showcases solely capture the new arrivals in fashion and topnotch quality merchandise at guaranteed low prices. Shipping and handling options available. Merchants behold their surprises and incentives. They sell Fashion Tops, Fashion Dresses, Accessories, Jewelry, Handbags. Address: 6016 Whitsett ave unit #7 , North Hollywood, CA 91606 Phone: 1-818-745-5168 E-mail: info@accessoriesmagickingdom.com Contact: Jennifer
Women's Clothing Store

Handbag Store

Dress Store
---

Andrea and Me and Me Too: Their handbags speak for themselves, VERY LOUDLY! Everyone will be envious of you because you have a different handbag than anybody else. These bags are for "women with way too much attitude to look like everyone else on the planet.! I know that's you, so get one or two.
---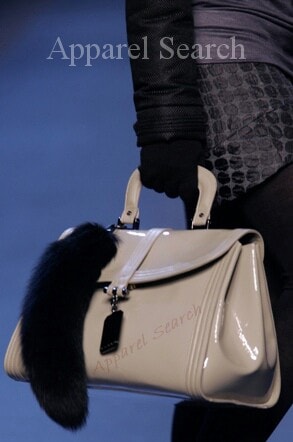 Bagonia Bags: Green function meets green fashion with Bagonia. Bagonia offers moderate luxury handbags for the modern, eco-conscious consumer. All of their bags feature as many eco-friendly elements as possible, while still maintaining cutting edge style and innovation. Their current collection of bags contain two or three reusable shopping bags, rolled up and stored inside a secret compartment (check with them to see if they still offer this in the collection; depending on what season you are reading this...). Never again will you have to use a plastic shopping bag, no matter where you shop. Lighten your footprint on the earth, without even trying!
---

Coach: Coach was founded in 1941 as a family-run workshop. In a Manhattan loft, six artisans handcrafted a collection of leather goods using skills handed down from generation to generation. Discerning consumers soon began to seek out the quality and unique nature of Coach craftsmanship.
---

Belfast Accessory, Inc.: they specialize in handbag design, development, patternmaking, sourcing, on-shore production for small to large runs. They work only with quality manufacturing facilities located in the Northeast. They retail their product on the internet. Address: 32 Bay View Street, 3rd Floor Belfast, Maine 04915 United States Phone: 207-338-2279 Fax: 207-338-0536 Email: nancy@belfastaccessory.com Contact: Nancy Spaulding - Designer/president
---

Chiwit Design products are fully handmade, they have no machinery on site at all, and are designed for heavy and frequent use. They are currently using a mixture of Suede Leather, Vegetable Tanned and Oil Leather in their production process. The stitching is made from high quality waxed thread which guarantees durability and strength. Chiwit Design sells handmade handbags, shoulder bags, pouch bags, backpacks, and across body bags. They sell only on the internet and export from Thailand.
---

Cole Haan : In 1928 Trafton Cole and Eddie Haan designed the first Cole Haan shoe. It was Chicago, the jazz age. Quality was everything
and style, like the sound, was smooth and sophisticated. Today Cole Haan is America's premier style and luxury brand. Each season they introduce an exciting new collection of high-quality men's and women's footwear, iconic handbags, personal leather goods and hand-tailored coats. They are inspired by a passion for innovation and beauty, from authentic handcraft to the fast-forward excitement of NIKE AIR Technology. A dynamic luxury brand, Cole Haan defines the ultimate in artisan quality and detail
chic, on-trend fashion

downtown
style that is unique and eclectic
and beautiful products that people love to own. A wholly owned subsidiary of NIKE, Inc, they have their global headquarters in New York City and Yarmouth, Maine.
Men's Shoes
Women's Shoes
Handbags
Wallets
Belts
---

DCS: they offer brand name fashions for men / women and juniors. They also carry hats and bags Address: 2668 N Erie Wichita, Kansas 67219United States Phone: 316 687-3411 Fax: 316 687-3585 Email: h2daw@aol.com Contact: Helen Dawson
---

Deborah Lewis : Drawing on her love of design, thoughtful expression, and her experiences as a world traveler, designer Deborah Lewis has fashioned accessories that are made for every woman. That is, as Lewis explains, "Women today want to express themselves. They want to look beautiful, feel beautiful and carry beautiful accessories. In addition to handbags, she sells sun shades crafted from hardwoods in either a folding or straight shaft, the Sun Shade is capped by luxurious Duppioni silk in gorgeous feminine colors that inspire. All are punctuated by hand-worked embellishments to add extra charm. What's more is that each Sun Shade comes with a coordinating bag one to match every mood or event for the woman on the go".
---

Dedra LLC: Woven with a creativity that melds the accessory fashions of the past with the present, Dedra handmade purses are extravagant yet functional works of art. Each purse is made on a loom, containing approximately 10,000 seed beads and taking up to 40 hours to make. Many of these unique purses are one of a kind. Dedra designs and constructs every purse by hand, using original and traditional patterns, emphasizing beauty and the utmost quality. Customers also have the option of requesting a necklace made from the same beads as their purse if one is not already available in the current designs. The styles range from intricate to simple in all varieties of colors, suiting any individual preference. Designer, Dedra Weiss.
---

DKM Accessories: DKM Accessories started with a vision and an inventory of handbags. Today the collection has grown to include, private label clothing, custom shoes, jewelry and bridal accessories.
Handbags

Bridal Accessories
---

Dooney & Bourke: handbag retailer based in Connecticut, USA.
---

Endless.com (division of Amazon): is an exciting new destination for shoes and handbags dedicated to providing the best prices, selection, and overall experience you'll find online. To put it simply--they LOVE shoes and handbags. They have created a unique store that offers their customers the ability to find what they want easily and quickly, and with their free overnight shipping, free return shipping, price guarantee, and 365-day returns window, they offer their customers a no-risk opportunity to try them out.
---

Etienne Aigner: Etienne Aigner is a leader in the design, sourcing and distribution of quality women's handbags and small leather goods. The brand offers footwear, gloves and belts through licensing partnerships and leading manufacturers.
---

Eva Leather (China): Eva Leather is a China-based company specialized in selling via their online shop a wide range of real leather designer inspired and unique fashion handbags, wallets and belts. Address : F312, No. 1356-1358, Jie Fang Bei Road, Baiyun District, Guangzhou, Guangdong, China Phone: 0086-13569874588 E-mail: webmaster@evaleather.com Web address: Contact: Cathy Yang
---

Freda LA: The product of a workaholic father and a shopaholic mother, FredaLA.com founder Freda Kunin proudly proclaims herself "a working shopaholic. "Utilizing the talents and passions her parents bestowed upon her, she created FredaLA.com" a shopping site for women who want luxe for less. "You should gasp with joy when you look at your handbag and the bill," says Freda. "Like every woman on the planet, I have a lot to do and I want to look fabulous doing it. There wasn't a one stop accessory shop on the web that appealed to me, so I created one," says Freda. Before launching FredaLA.com in 1999, Freda worked for Tristar, Columbia and Sony Pictures Entertainment for 11 years, including 4 years as manager of non-theatrical film sales. Kunin studied law, economics and fine arts at UCLA and the Universit Internationale de Cannes. Freda is a member of Women In Film, Independent Film Project West and Los Angeles County Museum of Art and Museum of Contemporary Art. Kunin donates time, money and accessories to several charities including Los Angeles Free Clinic, John Wayne Cancer Society, Dress For Success, Aids Project L.A. and The American Red Cross.
---

Furla: fantastic handbags for women.
---

Gorgeous Things: was founded in 1998 by Ann Steeves. Ann always had a passion for high-quality clothing and accessories. She learned to sew when she was 12 years old, and has continued sewing and studying garment and accessory construction techniques. Gorgeous Things strives to create high-quality, classic accessories, handbags, and vestments that will bring years of joy and use to their customers. They do not mass-produce their goods. Their products are made from the finest silks, velvets, satins, laces, etc. Most of Gorgeous Things' products are one- or few-of-a-kind. Gorgeous Things accessories and handbags are available only through fine boutiques. They limit the number of stores that carry their goods, guaranteeing their quality and exclusivity. Handmade fabric shirts, shawls, halter tops, bags and accessories.
---

G U C C I (Gucci brand definition) Gucci Group N.V. is one of the world's leading multi-brand luxury goods companies. Through the brands Gucci, Yves Saint Laurent, Bottega Veneta, YSL Beaut, Boucheron, Sergio Rossi, Bdat & Co., Roger & Gallet, Alexander McQueen, Stella McCartney and Balenciaga, the Group designs, produces and distributes high-quality personal luxury goods, including ready-to-wear, handbags, luggage, small leather goods, shoes, timepieces, jewellery, ties and scarves, eyewear, perfumes, cosmetics and skincare products. The Group directly operates stores in major markets throughout the world and wholesales products through franchise stores, duty-free boutiques and leading department and specialty stores. Gucci Group is owned by PPR, a global player in retail and luxury goods.
---

Handbags plus: They specialize in auth handbags like, Fendi, Gucci, Prada, Kate Spade, Burberry, Moschino, D&G and many others. They also have handmade bags to order. They are small based company. Address: 109-18 126street south ozone park New York 11420 usa Phone: 516 849-4687 or 718 845-0745 Fax: 718 845-0745 Email: dramadigital@aol.com Contact: Alisa/owner or Cess/ Partner
Gender: woman's
Retail

Category: Hand Bags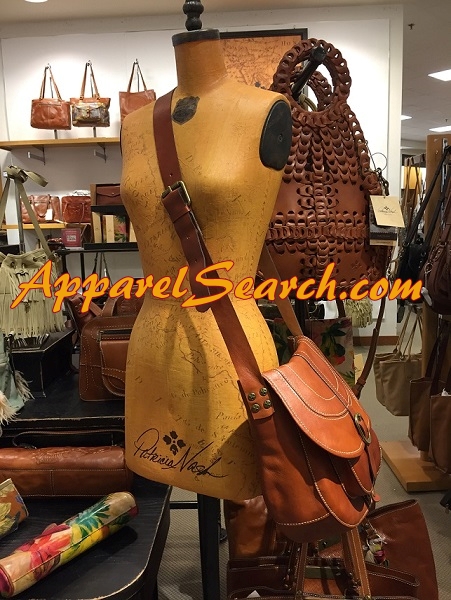 A few fashionable handbag articles you may find to be of interest:
Thank you for using the Apparel Search website.