Welcome to the worlds greatest guide to Women's Designer Handbags. What makes this the "greatest". Well, we were the only ones voting.
Are you actually looking to research designer handbags? Well, we hope you are because the reality is that you have found our page on the topic. In this fabulous section of the Apparel Search directory, you will find all sorts of interesting information regarding designer handbags for women.
What is a handbag? A handbag which can also be called purse in North American English, is a handled medium-to-large bag used to carry personal items. The need to organize one's belongings is universal, thus handbags exist in differing forms in cultures around the world. They are used for the purpose of carrying our belongings, but also utilized as fashion statements.
What is a designer handbag? Handbag design is the art of applying design, aesthetics and natural beauty to handbags. Designers conduct research on fashion trends and interpret them for their audience. When popular designers lend their name to their brand, those bags can become designer handbags (designer brand handbags can exist with out using the actual designers name). When discussing designer handbags, they are generally more costly because more time and expensive elements go into the development.
As a fashion accessory, handbags can be categorized according to the silhouette of the bag, as well as the type of handle.
Learn about different handbags styles in our fashion industry terminology section.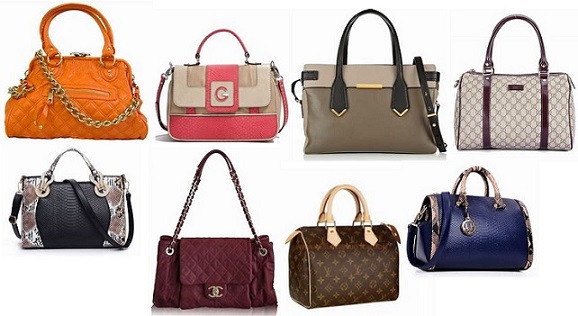 According to type of handle, handbags are often categorized as: Tote, cross-body, sling bag, shoulder bag or clutch.
Tote: a medium to large bag with two straps and an open top
Cross-body: one long strap that crosses over the body, with the bag resting at the front by the waist
Sling bag: one long, wide strap that crosses over the body, with the bag resting on the back
Shoulder bag: any bag with shoulder-length straps
Clutch: handleless (without handles)
Make sure to select the proper designer handbag for your body type.
Do you have a favorite handbag? You may want to visit our best handbags section. You are welcome to make suggestions if you think a particular brand or style should be added.

Search for more handbags.
Have you seen our Fashion Designer Directory section?
Thank you for using the Apparel Search website.