Complete your outfit with fabulous fashion accessories. Research belts, sunglasses, purses, gloves, hats, and more.
◊ Fashion Accessory Store Categories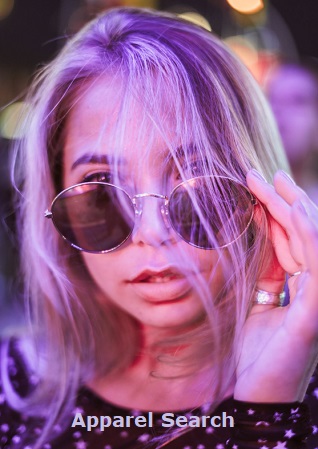 AKOStyle.com: consists of a team of experienced professionals who enjoy following current fashion trends and a good deal. Offers items that are inspired by fashion trends and top designers.
---

Alaska Crafts: Fur and leather products such as hats, mittens, and moccasins. Located in Alaska.
---

ALL-ETT: ALL-ETT Billfold was started in 1998 from a simple desire to solve a classic problem. By using a revolutionary design, and modern materials, it was found that we need not cling to traditional wallets whose basic design preceded having so many credit cards. "Find a need and fill it" as the quote goes-- the ALL-ETT Billfold does that. Uses a patented side-by-side design that creates four pockets for cards. A revolutionary material makes the wallet as thin as a dime!
---

Bako Capes: For every woman and man... executive, housewife, student, bride-to-be, expectant mother. Their Capes and Cloaks are romantic, practical, and comfortable. They can be worn everywhere, over anything and at any time. Their capes are made with a cashmere/wool blend from Europe. Quality in fabric and work is very important to us. Every cape and cloak is hand crafted with attention to the smallest detail.
---

BagShop.com: Bagshop.com is the website for Moiseff Designs, Ltd., a collection of popular boutiques located in the New York metropolitan area. Their company has been servicing their customers for over 30 years, and is well known for its high quality merchandise, competitive pricing and friendly, competent service. They have strived to carry their tradition of excellence in service to their websites by promoting personal service with every order. Your calls and emails are answered by real sales people located at their boutiques at Petticoat Lane & Phyllis' Leather Shop in Chappaqua, New York or their affiliate Petticoat Lane in Greenwich, Connecticut.
---

BB Foulards: (Italy) their production, started up in 1948, is specialized in the production of shawls and scarves with natural fibers, wholly hand made with knotted fringes following the old traditions of the Italian craftsmen. The accessories trendy or classic, are all made according to the specific designs and color, showing new textiles that are shown in the more important Fashion Exhibitions. A production that cares for the smallest detail and makes their products very interesting and attractive. They also give the customers the choice among a variety of color, designs, subjects, sizes and the opportunity of personalizing the different articles with Logos or particular models. They always try to meet the requirements of their customers.
Gloves
Hats
Pareos
Shawls
Scarves
Ties
Foulards
Stoles
---

Cole Haan: In 1928 Trafton Cole and Eddie Haan designed the first Cole Haan shoe. It was Chicago, the jazz age. Quality was everything and style, like the sound, was smooth and sophisticated. Today Cole Haan is America's premier style and luxury brand. Each season they introduce an exciting new collection of high-quality men's and women's footwear, iconic handbags, personal leather goods and hand-tailored coats. They are inspired by a passion for innovation and beauty, from authentic handcraft to the fast-forward excitement of NIKE AIR Technology. A dynamic luxury brand, Cole Haan defines the ultimate in artisan quality and detail chic, on-trend fashion downtown style that is unique and eclectic and beautiful products that people love to own. A wholly owned subsidiary of NIKE, Inc, they have their global headquarters in New York City and Yarmouth, Maine.
Men's Shoes
Women's Shoes
Handbags
Wallets
Belts
---

Cyber Glow (United Kingdom) Reflective, luminous and glow in the dark products and clothing from Cyberglow. Cyberglow manufactures a range of reflective clothing for cycle safety, road safety and child safety. Busy roads are particularly hazardous during the winter in the UK. The range of luminous, reflective and glow in the dark clothing and products from Cyberglow will ensure that you can be seen when you are travelling on or near dark roads. The Cyberglow range can ensure safety for anyone who has to cycle on dark roads, for road safety in general and, in particular, for child safety. Travel in safety with one of the luminous products and reflective clothing from Cyberglow. Retro-reflective high visibility badges, stickers, transfers and promotional products, to improve the safety of pedestrians at night.
---

DKM Accessories: DKM Accessories started with a vision and an inventory of handbags. Today the collection has grown to include, private label clothing, custom shoes, jewelry and bridal accessories.
Handbags

Bridal Accessories
---

Elaine Coyne (ECG): Elaine Coyne is a renowned international artwear accessory designer specializing in contemporary jewelry design. You can find her unique handmade jewelry and belts in wearable art galleries, better boutiques, museum gift shops, theme gift shops and some better department stores throughout the world. Stores: to enter the ECG Wholesale Accounts section, click on the link (above, left) and either register, or click on Already Registered of you are already an ECG account .Sterling silver and sculptural patina finishes in belts, earrings and other accessories.
---

Everything But The Princess: a boutique clothing store just for girls. At there site you will find a wonderful selection of both girls European clothing and American boutique clothing lines. Come on in and discover their collections of girls boutique clothes, girls dresses, swimwear, shoes and accessories.
Girls Clothing Retailer

Girls Dress Retailer

Children's Swimwear Retailer

Children's Shoe Retailer

Children's Accessories Retailer
---

Forzieri: Forzieri.com is the Internet Retail division of Firenze Seta s.r.l., an Italy based company located in Florence, Italy which has been family owned and operated since 1994. They offer premium Italian designer accessories at the most affordable prices. They decided to provide their customers with an on-line version of their stores since many would call and request their products over the phone when they were unable to come to Florence. So they joined the Internet in March of 1999 and the response has been overwhelming. Now they are expanding and adding more departments and more services in order to bring you an even wider array of personal accessories.
---

Gorgeous Things: was founded in 1998 by Ann Steeves. Ann always had a passion for high-quality clothing and accessories. She learned to sew when she was 12 years old, and has continued sewing and studying garment and accessory construction techniques. Gorgeous Things strives to create high-quality, classic accessories, handbags, and vestments that will bring years of joy and use to their customers. They do not mass-produce their goods. Their products are made from the finest silks, velvets, satins, laces, etc. Most of Gorgeous Things' products are one- or few-of-a-kind. Gorgeous Things accessories and handbags are available only through fine boutiques. They limit the number of stores that carry their goods, guaranteeing their quality and exclusivity. Handmade fabric shirts, shawls, halter tops, bags and accessories.
◊ Next Page of Fashion Accessory Stores