Review the worlds top fashion brands, as well as emerging ones that are new to market.
Welcome to the Fashion Brands section of Apparel Search. In this section, we plan to guide you through the overwhelming world of fashion. More specifically, our goal here is to help you learn more about the brand names in which you have an interest.
When most people shop for clothing, they often pay attention to the garments brand name before they place the item into their shopping cart. For some reason, the label inside clothing is of great importance to many people. Personally, I pay very little attention to the fashion brand that is itching the back of my neck... I guess I am amongst the minority that believes "label doesn't matter".
If you are one of the numerous people interested in buying clothing based on a particular brand name, you in the the proper location. In this section of the Apparel Search directory, you will be able to research apparel and fashion accessories, based on the fashion label or brand name.
In this area of our site, we have categorized the fashion brands by gender. In other words, you can begin your brand research by reviewing women's fashion brands, men's fashion brands, or children's fashion brands. Certainly, many of the labels on display transcend beyond a single gender. As you are most likely aware, some of the popular fashion brands are available in womenswear, menswear, and childrenswear. Therefore, you will find certain brands listed in more then one gender category. Possibly, you are familiar with designer labels such as Ralph Lauren, Versace, Armani, Burberry, Marc Jacobs, etc. These are only a few examples of clothing brands that often present their collections to multiple genders.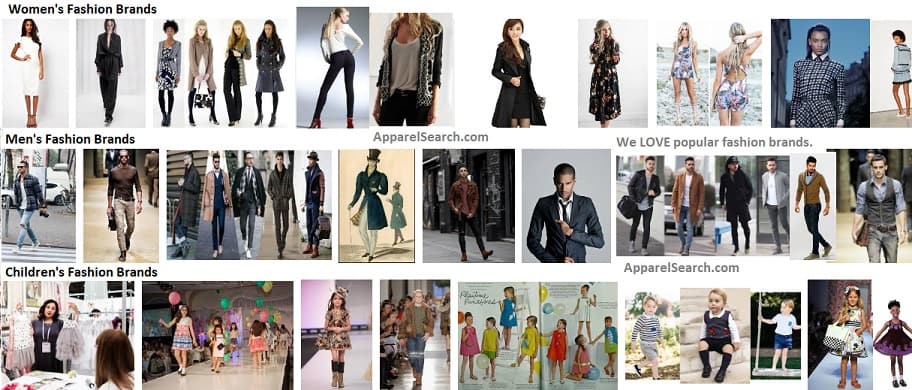 When new emerging fashion designers or clothing labels enter the market, we will try to add them to this guide. If you know of any noteworthy companies that do not have their collections listed please let us know. We would be happy to review your suggestions for possible inclusion. You are welcome to submit information about the categories of clothes, shoes, handbags, and accessories.