Fashion shows are typically held to promote the fashion designers clothing line to key retail store buyers and the international press. Runway collections may consist from Haute Couture or Ready-to-Wear, to casual clothing and swimwear. A runway fashion show can consist of basically any category of fashion.
Are you looking for complete coverage of the runways and fashion weeks in New York, Milan, London, Paris, Tokyo etc., from menswear to couture to ready-to-wear to resort?
This fashion show guide contains information resources and directories relating to fashion show production companies and related products, services and resources.
Do you know who likes to write about fashion shows?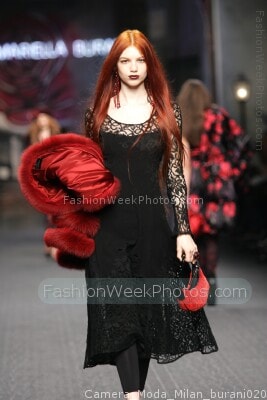 Fashion journalists clearly like to write about fashion shows (runway fashion). They will write for fashion magazines, fashion newspapers, as well as for television programs. In addition to professional journalists, some people will write about fashion events simply for their own enjoyment. Hence the creation of fashion blogs. Fashionistas enjoy writing about fashion shows (some fashionistas are paid professionals. Others write strictly for pleasure). Fashion journalist and bloggers write about runway shows, celebrity sightings, fashion events, and trend spotting simply for the love of fashion.
Who attends fashion shows?
Aside from the fashion designers, stylists, models, photographers and the press, the fashion show audience is often filled with fashion celebrities. The runway events are typically filled with eager celebrities wishing to catch an exciting show. In addition to the thrill of viewing the latest fashion, the celebs like to be personally photographed (to promote themselves). The more famous the designer, the more "A" list celebs will sit stage side. For many fashion designers, the fashion on the stage is important, but the celebrity presence in the audience is equally important.
If you are planning an event, you may need industry professionals to call upon. Here are a few resources that may be of help.
How to find fashion shows to attend?
When fashion designers are planning fashion shows, they often issue press releases to inform the world of the upcoming event. If they are very clever designers, they will send a copy of their fashion press release to the Apparel Search Company. Apparel Search will then possibly add their event on the fashion industry calendar and possibly add an article in the fashion event article section on ApparelSearch.com Either places are good for the fashion savvy to check for upcoming events.
When the event is completed, they designer will typically send out a follow up release to make statements regarding the activities that transpired at the fashion show. Often they will include fashion photos with the press release. If designers wish to provide a full assortment of fashion show photos and fashion show videos, they can possibly grace the pages at FashionWeekPhotos.com and FashionWeekVideos.com
Visiting fashion shows around the world is one way for fashion trend companies to develop fashion forecasting trend portfolios. Once a fashion show is on the catwalk it may be too late to catch the fashion forecast for that season. However, the trend forecasters can use elements of what they view to start forecasting for next season. As soon as this seasons collection is shown on the runway, it is time to get started on next seasons collection.
Regardless if you are a fashion diva, fashion icon, or work for the fashion police, you may wish to learn more about fashion shows.
Fashion Designers: A B C D E F G H I J K L M N O P Q R S T U V W X Y Z
Here are a few fashion show terms that may help you learn more about runway events:
Here are a few places to find fashion show information:
New York Magazine: Fashion Shows Section
Did you know that their is a shopping mall called the "Fashion Show Mall". The Fashion Show Mall in Las Vegas is located at the corner of Las Vegas Boulevard and Spring Mountain Road. Attracting more than 10 million visitors worldwide, the 2-million-square-foot Fashion Show mall features more boutique and chain shops than one could ever hope for. The Fashion Show may be huge, but it's certainly not intimidating. Its wide aisles, bright atmosphere and easy-to-follow shopping legend make it easy to navigate. In addition, the mall has plenty of chairs, benches and couches for resting, many of which are tucked away in peaceful, quiet areas. One of the mall's most unique features is the Great Hall, a multimillion dollar event area that features an 80-foot retractable runway - making it possible to have fashion shows at Fashion Show. There are house fashion shows, several days a week. Saks, Macy's and Dillard's are roomy and inviting, and even when there's an overflow of shoppers, it's easy to make your way through. The giant, three-level Nordstrom features a massive shoe department, while Bloomingdale's Home features an array of beautiful, classy items like picture frames, vases and other home decor pieces. Neiman Marcus rounds out the beautifully-appointed department stores.
Read fashion news or fashion magazines to learn more style and events.
Watch fashion events on Fashion Television.
Thank you for using the Apparel Search website.