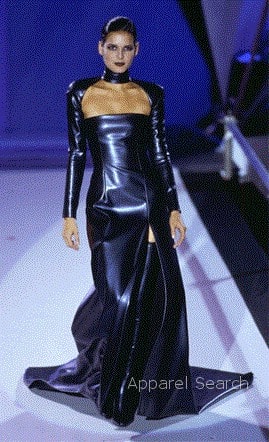 Are these designer brands Haute Couture?
The official Haute Couture Houses change on occasion. There are rules etc. The list on this page will be updated on occasion, but please note that this list may not always be the most current.
The term haute couture is a designation protected by law and "only those companies mentioned on the list drawn up each year by a commission domiciled at the Ministry for Industry are entitled to avail themselves thereof," to quote the Syndical Chamber for Haute Couture. The main criteria, set forth in 1945 and updated in 1992, are as follows: to employ a minimum of fifteen people at the workshops, to present to the press in Paris each season (spring/summer and autumn/winter) a collection of at least thirty-five runs consisting of models for daytime wear and evening wear. More Info. on Haute Couture

What is an atelier? Read the atelier term to find out.

Learn more about Fashion Designers.

Did you know that you can discuss famous fashion designers in the fashion groups at the Fashion Industry Network? For example, you can discuss couture designers such as Balmain, Valentino, Givenchy, Chanel, Yves Saint Laurent and more.
Haute Couture - Metropolitan Museum: For more than a century, couture has been emblematic of the triumph of costume and fashion. It represents the fusion of fashion—the modern entity that combines novelty and synergy with personal and social needs—and costume—the arts of dressmaking, tailoring, and crafts constituent to apparel and accessories.
---
Haute Couture is a French phrase for high fashion. Couture means dressmaking, sewing, or needlework and haute means elegant or high, so the two combined imply excellent artistry with the fashioning of garments. The purchase of a haute couture model garment is at the top level of hand customized fashion design and clothing construction made by a couture design house. A model haute couture garment is made specifically for the wearer's measurements and body stance. The made to measure exclusive clothes are virtually made by hand, carefully interlined, stay taped and fitted to perfection for each client.
The golden age of haute couture dates back to the fifties, but today there are only 10 houses of haute couture in France: Adeline Andre, Emanuel Ungaro, Chanel, Christian Dior, Frank Sorbier, Givenchy, Christian Lacroix, Dominique Sirop, Jean Louis Scherrer, Jean Paul Gaultier. Actually, the fashion designers approved to be officially Haute Couture changes. You should check with the Syndical Chamber for Haute Couture for confirmation of which designers are approved for this year.
Visit the Fashion Week Photos website to view fashion designer collections.

Haute Couture - Fashion ...
Thank you for using the Apparel Search website.