Fashion Trade Shows are an integral part of the Apparel, Fashion & Textile industries. The clothing industry has many international fashion runway shows and apparel industry trade shows each year.
The Apparel Search guide will assist you with learning about the available trade events and trade show organizers that specialize in clothing, textiles and fashion exhibitions. Apparel Search provides easy access to the important events from around the world.
Search the clothing industry trade shows: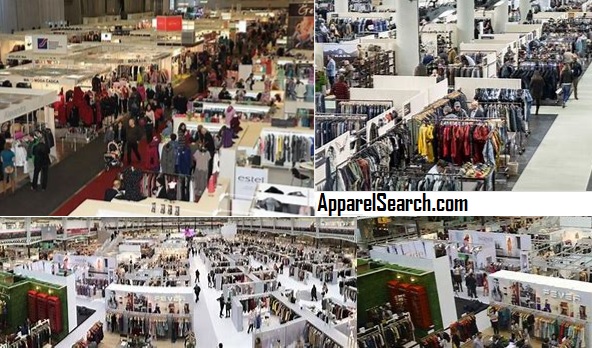 Trade Show Set Up & Supplies
Transporting Booths and Displays
Services - Organizers - Planners & PR
Fashion Event Locations
California Market Center (CA)

Jacob Javits Center (NY)
Trade Show Websites
Schedules - Fashion Events & Exhibitions
Fashion Industry Events (FIN)
Our Calendar / Fashion Calendar
Calendar of Events - Calendars from other companies
Special Fashion Events
You can also view the Fashion Week directory to learn about the available fashion week events around the globe.
Visit our calendar page for additional information about upcoming events and also check the fashion events calendar at the Fashion Industry Network website.
You can post on our fashion events and exhibition Calendar for FREE.
Discount Flights & Hotels - travel to clothing trade shows in style... It is no secret that trade shows are expensive to attend. However, they are clearly a necessity if you wish to run a successful business in the fashion industry. Try to make the best of it and utilize our engines to investigate the best travel rates for your trip.
If you are interested in fashion shows, clothing industry trade shows or textile exhibitions, you have come to the correct place.
A trade fair which can also be referenced as a trade show, trade exhibition, or expo is an exhibition organized so that companies in a specific industry such as the apparel or textile industry can showcase and demonstrate their latest products and services. This special event can be utilized to meet with industry partners and customers as well as study activities of rivals, and examine recent market trends and opportunities. The garment industry trade fairs are typically for members of the industry only and are typically not open to the public.
If you know of additional clothing industry trade shows or fashion events, please contact us and we will add them to the database.
Fashion trade shows often involve a considerable marketing investment by participating clothing companies. Costs include the rental of space, design and construction of trade show displays, travel for employees, hotel accommodations & ground transportation, and promotional literature and items to give to attendees. In addition, costs are incurred at the show for services such as electrical, booth cleaning, internet services, and material handling. Not to mention the potentially high cost entertainment expenses when entertaining buyers in the evenings if the event goes on for several days. Due to the high expenses the apparel industry trade show landscape has changed over the years. As with most things, the expos will continue to evolve.
Return to the top of this Fashion Trade Shows page.