Before you leave for your trip, don't forget to select the proper travel bag.
Travel is an important aspect of the fashion industry. Obviously sales people have to travel to visit buyers, the press has to visit international fashion week events, and we all have to attend various clothing trade shows & exhibitions. Whether we like to fly and stay in hotels or not, many members of the apparel & textile industry have to travel on a fairly regular basis. Production managers often have to visit fabric & clothing factories around the world.
Are you planning to travel to the fashion capital of the world? Would certainly be an interesting trip if you knew where it was located. What is the fashion capital of the world? Actually, where is it?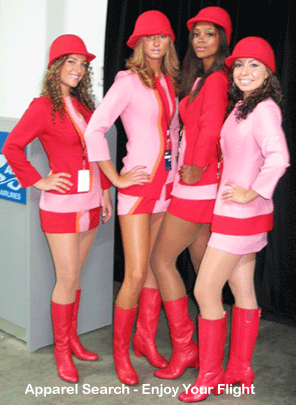 Are you traveling on business or pleasure? Actually, doesn't really matter. Below you will find a few helpful resources for planning your travel. If you are planning to visit one of your accounts or if you are traveling to a trade show, you want to book conveniently.
If you are planning to produce clothes, footwear, or accessories at a factory, we strongly suggest you visit the facility to make sure that they are adequate for your companies needs. It would be a good idea to visit the manufacturing facility prior to production and possibly again for an inline audit (product inspection). For those of you that don't wish to visit clothing factories, you may want to send a professional inspection service in your place.
When planning a trip, be sure to pick appropriate clothing & footwear depending on your destination as well as the purpose of your trip.
Please note that the Apparel Search does not currently sell travel arrangements or products to be used during your excursions. We are a portal to help bring many independent vendors and service providers together online in a convenient format. Hopefully this directory will help you search and locate the services that will best meet your needs. If you are looking for hotels or flights, the reservation services online are a great way to book your travel itinerary.
Learn more about the World of Fashion here on Apparel Search.
You may want to also learn more about trip planning apps. You can find a bunch by searching with Bing or Google travel.




Even when we are done traveling for work, we should to take a trip for vacation.


Thank you for using the Apparel Search website.