Trade & Fashion Shows by Name: Apparel & Textile Industry Trade Shows Also, special fashion industry events.
Fashion Trade Shows by Name Pg. 2
Fashion Trade Shows by Name Pg. 3

The Fashion Trade Show by Name directory is for browsing available events by the trade shows name. If you already now the clothing trade shows name, you can easily find the listing alphabetically. If you do not remember the exhibitions exact title, you can still search the directory and visit the web site for the various trade show events. If you are interested in fashion shows, clothing industry trade shows or textile exhibitions, you have come to the correct place. You can also review clothing industry trades shows by Country and by Category as well.

7th On Sixth was previously a fashion week managed by IMG. See Mercedes-Benz Fashion Week.
AccessoriesTheShow: (Formerly known as Fashion Accessories Expo) Venue: Jacob K. Javits Convention Center, New York City, NY The world's largest and longest running juried all-accessory trade event. Showcases fashion accessory resources in over thirty classifications. Runs concurrently with Moda Manhattan and Fame. Exhibiting: Stacy Samet, Business Journals Inc 212.710.7412 fax 212.686.6821 stacys@busjour.com Attending: Beth Cowperthwaite, Business Journals Inc 203.663.7850 fax 203.838.5028 bethc@busjour.com
AccessoriesTheShow Pavilion Venue: Jacob K. Javits Convention Center, New York City, NY The world's longest running juried all-accessory trade event, showcasing immediate fashion accessory resources. Runs concurrently with Moda Manhattan.
AccessoriesTheShow Venue: The Venetian Resort Hotel, 3355 Las Vegas Boulevard S Las Vegas, NV The world's largest and longest running juried all-accessory trade event. Showcases fashion accessory resources in over thirty classifications. Runs concurrently with Moda Las Vegas and MRket.
Adsale (Chinese): With over 20 successful years of staging international exhibitions in China and Asia, Adsale's market sensitivity and attention to clients' needs have made it a widely recognized leader in its field.
Americasmart (Atlanta): Beginning January 2003 during the scheduled apparel/accessories market, AmericasMart will continue its tradition of trade show excellence by offering a brand new temporary show floor for apparel, accessories, shoes, children's wear, intimate apparel, loungewear and gift-related products.
ASAP Global Sourcing Show (Apparel Sourcing Association Pavilion) Parent Company: Cyber Merchants Exchange: ASAP's mission is to establish a premiere venue for leading international textile and garment manufacturers and global buyers to meet and conduct business under one roof during the world's largest apparel trade week. Address: 4349 Baldwin Ave. Unit A El Monte, CA 91731, USA Phone:626-636-2530 Fax:626-636-2536 Contact: Jerome Yuan e-mail: info@asapshow.com
Asia Pacific Leather Fair (APLF): For over two decades, Hong Kong-based APLF Ltd has been providing the global leather industry with its most important meeting and trading place. The Asia Pacific Leather Fair is organised by Asia Pacific Leather Fair Ltd, a joint venture between CMP Asia and SIC Group. With APLF Ltd as the catalyst, companies in Europe, the Americas, Australasia and Asia come together to trade and exchange information at a number of fairs. These include the flagship APLF, which incorporates the annual Raw Materials & Manufacturing event and the bi-annual Fashion & Finished Products shows.
Atelier: Women's designer apparel & accessories
Avantex (Europe): Avantex is the first innovation- and networking forum for the entire textile value chain from the research laboratory to the retail outlet. It is a platform for the launching of new products as well as for the presentation of products in the market sector of textiles.
BLUEPRINT in Singapore is the fashion trade gateway for East West Exchange in Asia. BLUEPRINT is a key pillar trade event of Asia Fashion Exchange and the sister event of Singapore Fashion Week. Blueprint Group Pte Ltd was set up in 2011 as a joint venture by co-organisers Textile and Fashion Federation of Singapore (TaFf), MP Asia and Mercury Marketing & Communications.
The Boston Menswear Collective / Boston Collective / CT Trade shows: resource for retailers to meet with sales representatives from various wholesale companies.
Bubble New York: Bubble is a twice-yearly focused trade show in a wonderful space in New York where retailers can meet close to 100 exhibitors from clothing to accessories and more. The Exhibitor's list features an American and international mix of brands, either young/upcoming or already established as icons of a new generation of children's products. The collections are showcased in an industrial building reconverted into lofts in Chelsea. It is located at 601 West 26th Street, 14th floor, between 11th & 12th Avenue in the neighborhood of Chelsea in Manhattan, New York. The event represents a true inspirational bubble for the buyers. It is not only a place to buy beautiful lines, but also an opportunity to discover original visual merchandising displays and new ways to mix and match products and styles.
CAMEX, the collegiate marketing expo, CAMEX boasts over 1400 wall to wall booths on the tradeshow floor, many of them displaying the latest collegiate apparel, logoed items, softgoods, and accessories. Trade show hosted by National Association of College Stores (NACS). CAMEX is a three-day buying show with two additional days included for educational sessions on topics such as merchandising, e-commerce, loss prevention, consumer research and much more.
Chicago Men's Wear Collective: Buyers for men's specialty stores will find the latest collections from top manufacturers all under one roof at this state-of-the-art, easy-to-shop trade show. Part of Merchandise Mart Properties, Inc. (MMPI) is a trade show and property management firm.
For more information about Chicago Men's Wear Collective, we have created an additional page of information. This event is so valuable to the men's wear fashion industry, we thought the event deserved another page... To learn more about the Chicago Men's Wear Collective visit the Chicago Men's Wear Collective summary page or visit their site directly to learn more.
China International Hosiery Purchasing Expo
: professional hosiery fair. It contributes in trading and communication of the world hosiery industry by building an international platform in Shanghai for this industry. More than 300 companies with hundreds of brands from all around the world will appear at 10,000 square meters at CHPE.
China (Shanghai) International Fashion Production (OEM) Exhibition The fair contributes in trading and communication of the world fashion cloth private label industry by building an international platform in Shanghai for this industry. More than 600 companies with hundreds of brands from all around the world will appear at 100,000 square meters at CTFE. Domestic and international brand men's clothing, women's clothing, the children's clothes, the fashion, knitted dress, the jeans, business wear, easy dress, underwear, leather clothing, silk clothing, all kinds of dress ornaments, a piece of auxiliary materials, the auxiliary materials the underwear, the media of the clothing, the publication, the system integration of IT, clothing CAD.
CLASS Tradeshow: Premium brands will now get to exhibit in an environment that is inviting, intimate, entertaining, interactive, eco-conscious and discerning - with Santa Monica beach as a setting. These elements combined will establish Class as one of most coveted and inspirational fashion events worldwide. This atmosphere will provide exhibitors and buyers a means to connect as community. Additionally, capturing today's fashion and lifestyle mix, Class will integrate a discriminating selection of music, art, innovative design, an organic tea and coffee garden, organic food, wellness treatments will be available, and full concierge services. Address: 860 S. Los Angeles St. #407 Los Angeles, CA 90014 Phone: 213-627-2087 Fax: 213-627-2054 E-mail: info@classtradeshow.com Contact Name: Jason Bates
The Cobb Show: The Cobb Show is a trade show produced by the Atlanta Apparel Exhibition Group Inc. The show is open only to bona fide exhibitors engaged in the wholesale business. One of the largest shows in the Southeast for Men's Apparel.
COGEM International: Cogem International is a well-established Canadian company founded in 1972, specializing in services to and research for large retailers as well as manufacturers. Cogem organizes events on a regular basis for large International retailers. Cogem International is based in Montreal (Canada), and has permanent personel in Paris (France), Sao Paulo (Brazil) and Shanghai (China). Address: Quebec, Canada Phone: +1 514 954 00 33 Fax: +1 514 954 00 77 E-mail: jpaquin@cogemintl.com
Colombia moda (Columbia): A designers, apparel and household textile show. A tradeshow where creative transformation will be the inspiration for being at the forefront of the global macro trends. Sponsored by INEXMODA (Colombias Fashion and Export Institute)
Colombiatex (Columbia): An apparel and home furnishing textile and supplies show. www.colombiatex.com Sponsored by INEXMODA (Colombias Fashion and Export Institute)
Couromoda (Brazil): Couromoda - International Shoes, Sportsgoods and Leathergoods Fair is the most important and traditional Latin-American footwear show. Taking place in Sao Paulo, Brazil, Couromoda features 800 exhibiting companies and offers 55.000 sqm of total exhibiting space at Anhembi Exhibition Center. The fair presents the Brazilian Autumn-Winter collections and defines the season fashion trends for shoes, sportsgoods, leathergoods, as well as garments and accessories. As the most important footwear meeting in Brazil, Couromoda is acknowledged as the best opportunity to make business contacts and discuss market trends in the Brazilian footwear and leather goods industry.
Dallas fabric Show The fabric Show features over 160 mills and coverters of decorative fabrics, laces, trims, leather, and related supplies. Held twice a year, this temporary show caters to the diverse needs of the apparel, bedding, drapery, furniture, gift and accessory item, luggage, slip cover, tabletop and related sundry manufacturers who buy by the bolt.
Dallas Apparel & Accessories Market / Dallas Super Market Center: Dallas Market Center, the largest wholesale merchandise resource in the world as recorded by the Guinness Book of World Records, is the one location where retailers from around the globe source a wide range of products ranging from home furnishings, gifts, decorative accessories, lighting, garden accessories and gourmet items to textiles, fashion accessories and women's, men's, children's and western apparel. With more than 50 markets each year attended by more than 200,000 buyers, Dallas Market Center offers an array of services geared toward helping retailers expand business & increase profits. From classic looks to contemporary edge, the Dallas Apparel & Accessories Market showcases more apparel and accessories in more categories each January, March, June, August and October. In addition to the permanent showrooms inside FashionCenterDallas®, buyers will discover a wide range of temporary exhibitors in SCENE, the juried temporary show on the 13th floor of the World Trade Center, in the Strut shoe show on 13, and in Temps on 12 featuring young contemporary, women's apparel, accessories and Western styles.
The Denver International Western and English Apparel and Equipment Market is sponsored by WESA -- the Western and English Sales Association. The Market is an international event and the equestrian industry's largest trade show in the world with products for the Western and English lifestyle featuring the largest runway fashion show outside of New York and Paris.
Diecutting Symposium - North America: The Die Cutting Symposium program is a two day technical meeting with 18 seminar sessions on topics of interest in many areas of die cutting, die making plus embossing and foil stamping. Delegates also have the opportunity to visit the Industry Resource Hall where almost 100 vendor companies will be presenting information on their products for die cutters, die makers, embossers and hot foil stampers.
the edge (part of M.A.G.I.C) Description: Progressive Men's and Women's Apparel Marketplace. Venue: Las Vegas Convention Center, Las Vegas USA (3150 Paradise Road, Las Vegas, NV 89109) Contact: MAGIC International 6320 Canoga Avenue, 12th Floor Woodland Hills, CA 91367Phone: 818.593.5000 Fax: 818.593.5020 E-mail: info@MAGIConline.com
EGYTEX Trade Fair is the largest and the only internationally established trade show in Egypt for manufacturers of fibers, yarns, fabrics, Apparel, Home Textiles and Accessories. Providing a display of the full spectrum of the supply chain involved in the textile manufacturing; thus offering extensive choices for an advanced and complete chain on the production aspects of the textile products. The ultimate goal of Egytex Trade Fair is the increase of trade relations from and to Egypt under a professional event which attracts a vast range of international and local buyers.
Enk International - ENK International is unequivocally the most exclusive trade show producer in the United States. In New York City and Las Vegas, ENK International's shows attract 250,000 domestic and international buyers and press yearly which produces sales of over $1 billion. What distinguishes ENK International from all other trade exhibitions is its juried roster of exhibitors, its progressive show environment, comprehensive services and unsurpassed amenities. Office Address: 3 East 54th Street New York, NY 10022 Phone # 212 759 8055

Learn more about ENK here on the Apparel Search directory.
Ezgi Ajans (Turkey) Diversified service providing company, active in publication, trade show organization, tourism and business representation. Organizers of fairs for the leather fashion industry. With the participation and the visits of the leading companies International Leather Days is a meeting point that includes all kinds of leather products and sub-industry such as leather, leather garments, leather shoes, leathergoods, leather accessories, leather chemicals and leather machinery.
Fashion Market of San Francisco: The Golden Gate Apparel Association is proud to present five trade shows each year for wholesale, catalog, and retail buyers of women's clothing and accessories. A grand display of contemporary fashions adorn the Concourse Exhibition Center five distinctive times a year featuring dress and maternity clothing, jr. sportswear, missy, kids wear, sleepwear, intimate lingerie and quality women's apparel of all kinds. Complimenting the mix you will also find a wide selection of fashion jewelry accessories including bracelets, necklaces, pendants, earrings, and other costume jewelry. In addition to jewelry discover unique and custom hats, handbags, belts, sandals, blouses, skirts, pants, jackets, sweaters, and more. Their exhibitors include small manufacturers, factory representatives and sales reps for a variety of women's clothing accessory producers. Their generous four day exposition allows you to spend as much time as you need to secure fine quality apparel for your retail clothing store, wholesale distribution, or catalog house.
FAME (Fashion Avenue Market Expo): a show for the women's apparel and accessories market. The show is brought to you by Business Journals Inc., a full communications company that specializes in serving the fashion retail markets. Business Journals Inc., also publishes Accessories and MR magazines. FAME Venue: Jacob K. Javits Convention Center, New York City, NY The premiere venue for Junior and Young Contemporary fashion resources features RTW collections and a vast supply of immediate accessory resources. Runs concurrently with AccessoriesTheShow and Moda Manhattan. www.fameshows.com Exhibiting: Kimberly Synnott, Business Journals Inc 212.710.7439 fax 212.686.6821 kimberlys@busjour.com Attending: Beth Cowperthwaite, Business Journals Inc 212.710.7439 fax 203.838.5028 bethc@busjour.com
Fashion Week Americas: Latin American fashion designer show, presented by Sobol Fashion Phone # 954 476 5761 Fax # 954 476-8697 e-mail: beth@sobolfashion.com
FESPA: FESPA is an organisation, but also gives its name to events, for example, The FESPA Exhibition and FESPA Seminars. Formerly the name FESPA stood for 'The Federation of European Screen Printers Associations'. Now with the advent of Digital Technology, FESPA is known by its acronym which has world-wide recognition. FESPA's objective is promoting Screenprinting and Digital Imaging through each of the 26 separate National Associations in Europe who are its members.
FIMME Foro Internacional de Moda Mexico (Mexico): FIMME has the goal to bring new brands and designers to Mexico, and to attract international buyers to the expo. They want to create an engagement between the national fashion market, and the international fashion field. One of the achievements on the FIMME fashion forum is to bring the right target buyer to the exhibitor by Booking a meeting between them during the expo and let the exhibitor have a serious business meeting. Visitors to the expo are professional buyers from department stores, boutiques, small business merchants, manufactures, Designers, wholesalers, and representatives from several fashion brands. It's an international fashion expo carrying children's wear, women's men's accessories, textiles, and leather goods. With exhibitors from Spain, Austria, USA, France, Brazil, Colombia, Argentina, Portugal and looking forward To expand their forum with more countries. During the expo they have fashion shows with garments from their exhibitors and conferences related to the fashion field. Some of the lines, brands and designers from the last expo were: Perry Ellis, Yves Saint, Laurent, Halston, US Polo, Daniel Espinoza, Pepa Pombo, Pol Cotton, ASEPRI children's fashion from Spain, Park Avenue, and many more. FIMME has the pleasure to have as sponsors Mercedes Benz, Lycra, DHL, and Telmex. E-mail Address cazua@fimme.com or fbecerra@fimme.com Phone # (52) 55 5533 5500 ext. 10
Garmentech Expo Pvt. Ltd. / VirtualGarment.com (India): they are an event management company in India. They organize an International exhibition every year on garment technology & accessories called "GARMENT TECHNOLOGY EXPO". The show aims to offer a complete sourcing to apparel manufacturers. The exhibition will focus on a wide range of garment machinery, accessories and support services from India and different parts of the world. A fairly large number of CEOs, decision makers, garment exporters, manufacturers catering to the domestic industry, over 15000 trade visitors are expected. They also own a portal site called VirtualGarment.com. Address: E-40, Kalkaji Main, New Delhi 110019 India Phone: 91-11-6447580 or 91-11-6420948 Fax: 91-11-6420948 Email: garmentech@mantraonline.com Contact: Ricky Sahni - Director
Hong Kong Licensing Show: their programme features: The Licensing Show, where you will find licensed properties from around the world and services that will help you take your brands to China; The Regional Licensing Conference, where renowned licensing professionals share their insights on the licensing industry; and Trade Matching Forums, where you meet the exhibitors in person and make in-depth enquiries.

We have created special profile pages for some of the fashion events and fashion industry exhibitions that we feel needed more space than what we could provide below on this page. If you are interested in reading more about clothing and fashion industry trade shows, you can visit our Trade Show Profile section.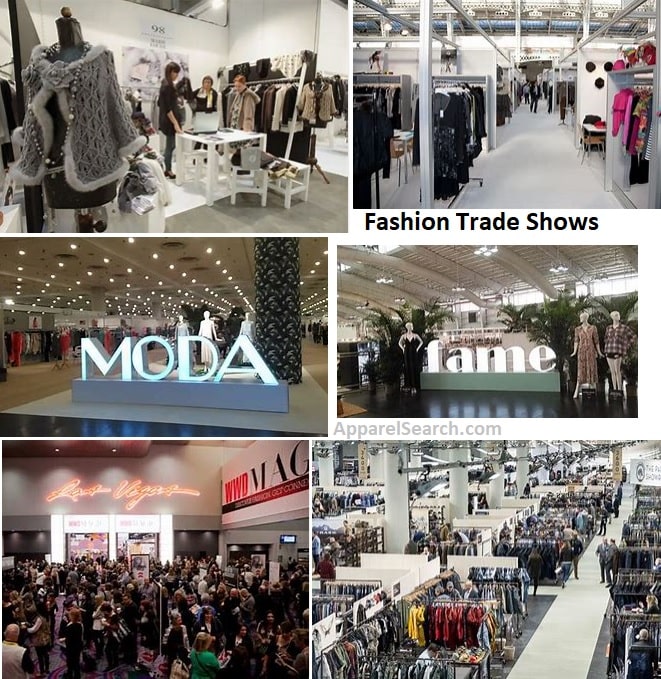 Return to the top of this Trade Show By Name page.