Fashion Trade Shows by Name Pg. 2
Fashion Trade Shows by Name Pg. 3
Fashion Industry Trade Shows Pg. 4
The Fashion Trade Show by Name directory is for browsing available events by the trade shows name. If you already now the clothing trade shows name, you can easily find the listing alphabetically. If you do not remember the exhibitions exact title, you can still search the directory and visit the web site for the various trade show events. If you are interested in fashion shows, clothing industry trade shows or textile exhibitions, you have come to the correct place. You can also review clothing industry trades shows by Country and by Category as well.
7th On Sixth was previously a fashion week managed by IMG. See Mercedes-Benz Fashion Week.
AccessoriesTheShow: (Formerly known as Fashion Accessories Expo) Venue: Jacob K. Javits Convention Center, New York City, NY The world's largest and longest running juried all-accessory trade event. Showcases fashion accessory resources in over thirty classifications. Runs concurrently with Moda Manhattan and Fame. Exhibiting: Stacy Samet, Business Journals Inc 212.710.7412 fax 212.686.6821 stacys@busjour.com Attending: Beth Cowperthwaite, Business Journals Inc 203.663.7850 fax 203.838.5028 bethc@busjour.com
AccessoriesTheShow Pavilion Venue: Jacob K. Javits Convention Center, New York City, NY The world's longest running juried all-accessory trade event, showcasing immediate fashion accessory resources. Runs concurrently with Moda Manhattan.
AccessoriesTheShow Venue: The Venetian Resort Hotel, 3355 Las Vegas Boulevard S Las Vegas, NV The world's largest and longest running juried all-accessory trade event. Showcases fashion accessory resources in over thirty classifications. Runs concurrently with Moda Las Vegas and MRket.
Adsale (Chinese): With over 20 successful years of staging international exhibitions in China and Asia, Adsale's market sensitivity and attention to clients' needs have made it a widely recognized leader in its field.
Americasmart (Atlanta): Beginning January 2003 during the scheduled apparel/accessories market, AmericasMart will continue its tradition of trade show excellence by offering a brand new temporary show floor for apparel, accessories, shoes, children's wear, intimate apparel, loungewear and gift-related products.
ASAP Global Sourcing Show (Apparel Sourcing Association Pavilion) Parent Company: Cyber Merchants Exchange: ASAP's mission is to establish a premiere venue for leading international textile and garment manufacturers and global buyers to meet and conduct business under one roof during the world's largest apparel trade week. Address: 4349 Baldwin Ave. Unit A El Monte, CA 91731, USA Phone:626-636-2530 Contact: Jerome Yuan e-mail: info@asapshow.com
Asia Pacific Leather Fair (APLF): For over two decades, Hong Kong-based APLF Ltd has been providing the global leather industry with its most important meeting and trading place. The Asia Pacific Leather Fair is organised by Asia Pacific Leather Fair Ltd, a joint venture between CMP Asia and SIC Group. With APLF Ltd as the catalyst, companies in Europe, the Americas, Australasia and Asia come together to trade and exchange information at a number of fairs. These include the flagship APLF, which incorporates the annual Raw Materials & Manufacturing event and the bi-annual Fashion & Finished Products shows.
Atelier: Women's designer apparel & accessories
Avantex (Europe): Avantex is the first innovation- and networking forum for the entire textile value chain from the research laboratory to the retail outlet. It is a platform for the launching of new products as well as for the presentation of products in the market sector of textiles.
BLUEPRINT in Singapore is the fashion trade gateway for East West Exchange in Asia. BLUEPRINT is a key pillar trade event of Asia Fashion Exchange and the sister event of Singapore Fashion Week. Blueprint Group Pte Ltd was set up in 2011 as a joint venture by co-organisers Textile and Fashion Federation of Singapore (TaFf), MP Asia and Mercury Marketing & Communications.
The Boston Menswear Collective / Boston Collective / CT Trade shows: resource for retailers to meet with sales representatives from various wholesale companies.
Bubble New York: Bubble is a twice-yearly focused trade show in a wonderful space in New York where retailers can meet close to 100 exhibitors from clothing to accessories and more. The Exhibitor's list features an American and international mix of brands, either young/upcoming or already established as icons of a new generation of children's products. The collections are showcased in an industrial building reconverted into lofts in Chelsea. It is located at 601 West 26th Street, 14th floor, between 11th & 12th Avenue in the neighborhood of Chelsea in Manhattan, New York. The event represents a true inspirational bubble for the buyers. It is not only a place to buy beautiful lines, but also an opportunity to discover original visual merchandising displays and new ways to mix and match products and styles.
CAMEX, the collegiate marketing expo, CAMEX boasts over 1400 wall to wall booths on the tradeshow floor, many of them displaying the latest collegiate apparel, logoed items, softgoods, and accessories. Trade show hosted by National Association of College Stores (NACS). CAMEX is a three-day buying show with two additional days included for educational sessions on topics such as merchandising, e-commerce, loss prevention, consumer research and much more.
Chicago Men's Wear Collective: Buyers for men's specialty stores will find the latest collections from top manufacturers all under one roof at this state-of-the-art, easy-to-shop trade show. Part of Merchandise Mart Properties, Inc. (MMPI) is a trade show and property management firm.
For more information about Chicago Men's Wear Collective, we have created an additional page of information. This event is so valuable to the men's wear fashion industry, we thought the event deserved another page... To learn more about the Chicago Men's Wear Collective visit the Chicago Men's Wear Collective summary page or visit their site directly to learn more.
China International Hosiery Purchasing Expo
: professional hosiery fair. It contributes in trading and communication of the world hosiery industry by building an international platform in Shanghai for this industry. More than 300 companies with hundreds of brands from all around the world will appear at 10,000 square meters at CHPE.
China (Shanghai) International Fashion Production (OEM) Exhibition The fair contributes in trading and communication of the world fashion cloth private label industry by building an international platform in Shanghai for this industry. More than 600 companies with hundreds of brands from all around the world will appear at 100,000 square meters at CTFE. Domestic and international brand men's clothing, women's clothing, the children's clothes, the fashion, knitted dress, the jeans, business wear, easy dress, underwear, leather clothing, silk clothing, all kinds of dress ornaments, a piece of auxiliary materials, the auxiliary materials the underwear, the media of the clothing, the publication, the system integration of IT, clothing CAD.
CLASS Tradeshow: Premium brands will now get to exhibit in an environment that is inviting, intimate, entertaining, interactive, eco-conscious and discerning - with Santa Monica beach as a setting. These elements combined will establish Class as one of most coveted and inspirational fashion events worldwide. This atmosphere will provide exhibitors and buyers a means to connect as community. Additionally, capturing today's fashion and lifestyle mix, Class will integrate a discriminating selection of music, art, innovative design, an organic tea and coffee garden, organic food, wellness treatments will be available, and full concierge services. Address: 860 S. Los Angeles St. #407 Los Angeles, CA 90014 Phone: 213-627-2087 Fax: 213-627-2054 E-mail: info@classtradeshow.com Contact Name: Jason Bates
The Cobb Show: The Cobb Show is a trade show produced by the Atlanta Apparel Exhibition Group Inc. The show is open only to bona fide exhibitors engaged in the wholesale business. One of the largest shows in the Southeast for Men's Apparel.
COGEM International: Cogem International is a well-established Canadian company founded in 1972, specializing in services to and research for large retailers as well as manufacturers. Cogem organizes events on a regular basis for large International retailers. Cogem International is based in Montreal (Canada), and has permanent personel in Paris (France), Sao Paulo (Brazil) and Shanghai (China). Address: Quebec, Canada Phone: +1 514 954 00 33 Fax: +1 514 954 00 77 E-mail: jpaquin@cogemintl.com
Colombia moda (Columbia): A designers, apparel and household textile show. A tradeshow where creative transformation will be the inspiration for being at the forefront of the global macro trends. Sponsored by INEXMODA (Colombias Fashion and Export Institute)
Colombiatex (Columbia): An apparel and home furnishing textile and supplies show. www.colombiatex.com Sponsored by INEXMODA (Colombias Fashion and Export Institute)
Couromoda (Brazil): Couromoda - International Shoes, Sportsgoods and Leathergoods Fair is the most important and traditional Latin-American footwear show. Taking place in Sao Paulo, Brazil, Couromoda features 800 exhibiting companies and offers 55.000 sqm of total exhibiting space at Anhembi Exhibition Center. The fair presents the Brazilian Autumn-Winter collections and defines the season fashion trends for shoes, sportsgoods, leathergoods, as well as garments and accessories. As the most important footwear meeting in Brazil, Couromoda is acknowledged as the best opportunity to make business contacts and discuss market trends in the Brazilian footwear and leather goods industry.

We have created special profile pages for some of the fashion events and fashion industry exhibitions that we feel needed more space than what we could provide below on this page. If you are interested in reading more about clothing and fashion industry trade shows, you can visit our Trade Show Profile section.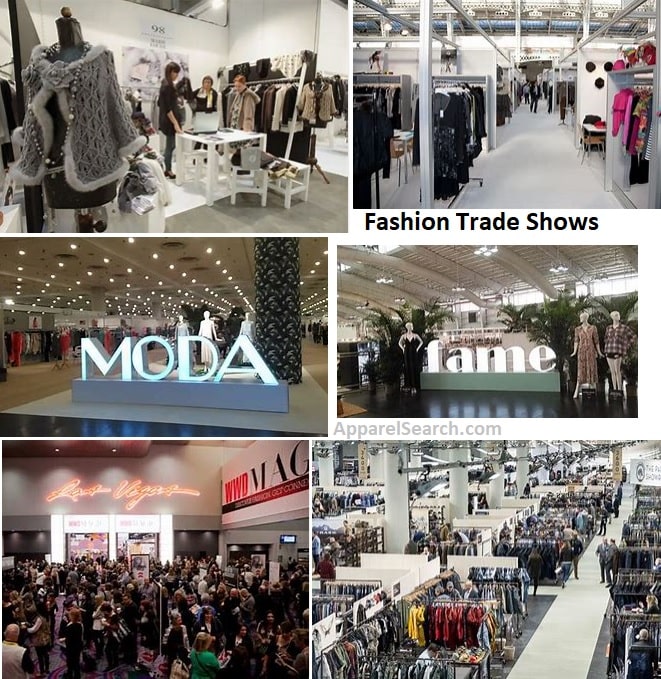 Return to the top of this Trade Show By Name page.