You need a lovely booth if you wish to be successful showing your product at a trade show.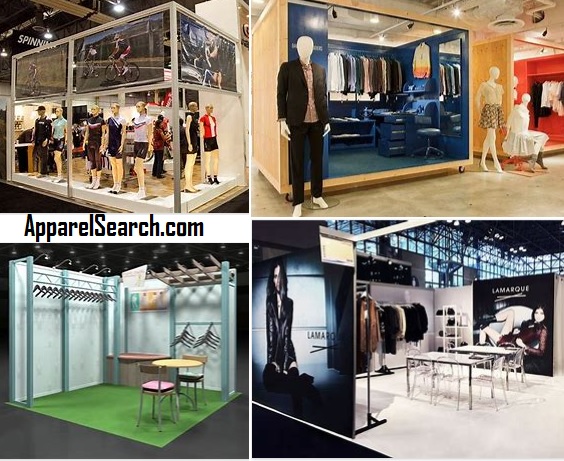 Tradeshows are one of the most important marketing investments companies make to promote their clothing & footwear products. To maximize your fashion tradeshow marketing ROI, it's critical that you do everything possible to manage costs. Search for value as well as a fabulous booth to display your products.
Trade Show Booth Design Companies

Activteam Stand Construction (Germany): Activteam offers a different style and innovative approach in their exhibition design concepts and solutions. They are designing and constructing Europe wide for companies who are looking for a beautifully design that reflects their corporate identity. The more powerful the communication, the more potent the exhibition result. Hence they design and construct exhibits that act as ultra effective communication systems; to start to build that special relationship between exhibitors and potential customers. At Activteam, they start by looking at all your communications to create a unique booth design. Your exhibition stand is part of a bigger picture, and they have to make sure it fits. Address: Westhafenplatz 1 D-60327 Frankfurt Germany Tel. +49 69 257380294 Fax. +49 69 257378649 E-mail: activteam@activteam.com
---

Displays2go: Displays2Go has been fabricating POP display stands for 30 years (since 1974). Their ever-expanding wholesale POP display product line includes over 4000 different stands, racks, and fixtures ready to ship from their warehouse. As a premier POP display stand fixture manufacturer, 98% of their orders ship within 24 hours. Internet orders received by 1pm EST (M-F) ship the same day. Orders can be easily placed from this website or over the phone - their staff is waiting to process your order. In addition, their design sales team can quote and prototype your custom Point of Purchase or Retail Merchandising Display requests for stands, racks and fixtures within hours, not days! Their specialties include plastic displays and acrylic display designs targeting the POP retail industry. They also carry a wide assortment of trade show displays and accessories. Address: 55 Broad Common Road Bristol, RI 02809 Phone: (800) 572-2194 (401) 247-0333 Fax: (401)247-0392 Email: martha@displays2go.com Contact: Martha Prouty
Marketing Director
Store fixture and display

Trade Show displays and accessories.
---

Exhib Corporation: A full service exhibit company specializing in the production of custom, rental and portable exhibits. In addition they offer award winning exhibit booth design, trade show graphics and turn key trade show services package. Exhib is a full service exhibit company founded on the principles of total support for its clients, specifically in aiding your company's position in a challenging and highly competitive business environment. They eliminate the stress of exhibition demands by giving you the freedom to concentrate on other important functions. They take nothing but a quality approach when handling your projects, and they guarantee a project plan that will work specifically with your schedule Address: 380 Vernon Way Suite D El Cajon, CA 92020 Phone: 1-800-725-5893 Fax: 619-401-1327 Email: sales@exhibe.com Contact: Michel D'angelo

---

Exhib Portable (sister company of Exhib Corp.) : Trade Show Exhibits and Graphics. Exhib Portable is your source for portable trade show displays and graphics. At Exhib Portable they specialize in quality made trade show exhibits. View their broad selection of portable trade show booths. From table top trade show displays through portable panel display booths.

---

Junyu Display Equipment Development Co.,Ltd. (China) is a company that specializes in manufacturing all kinds of display equipment for many years. Their products mainly include popup (it is a patent product in China and also is protected by the intellectual property right in the foreign countries), banner stand , truss, fetlock, light box and sales promotion appliance. The advantage of our products is: Patent product, Novelty design, High quality and low price. Their goal is: Give you best products, provide your best service, make your exhibition preeminence. Their fetlocks are made of aluminum-alloy and zinc-alloy. The aluminum-alloy is light and low-intensity, and the zinc-alloy is weighty and high-intensity. According to customer's requirement, we can process the fade of the fetlocks by aluminum sphere oxygenation, zinc sphere chrome plated and painted sculpture.
Trade Show Booths

Fixtures & Displays
---

Pinnacle Trade Show Displays: Buy an American-made portable trade show booth at Pinnacle Trade Show Displays. They produce their Signature and Eclipse trade show booths here in the US, and offer convenient, secure on-line ordering and free ground shipping. Their Signature portable trade show display includes full-size custom printed display panels. They provide design instructions, templates, and advice on their website so that you can design your own booth, and they also offer design creation and support services. They have an extensive list of customers testimonials and reviews on their website as well. Phone # 1-800-320-1466 from more information.
---

Purple Exhibits: imagine an exhibit partner that can produce anything you can imagine. Visit the Purple Exhibits website to learn more about the company and obtain a consultation to help answer any of your trade show booth questions. They offer portable displays and custom exhibits.

---

Recky-Eastern Exhibition & Display Co. Ltd. (China) manufacturer of portable display systems located in Guangzhou City, China. Their products have been exported to more than 85 countries and they have over 50 dealers all around the world. In addition to portable display systems, they also supply printing graphics for these units. If your business requires the use of exhibition booths, please take a look at their website.

Discount Flights & Hotels - travel to clothing trade shows in style... It is no secret that trade shows are expensive to attend. However, they are clearly a necessity if you wish to run a successful business in the fashion industry. Try to make the best of it and utilize our engines to investigate the best travel rates for your trip.
Thank you for using the Apparel Search website.