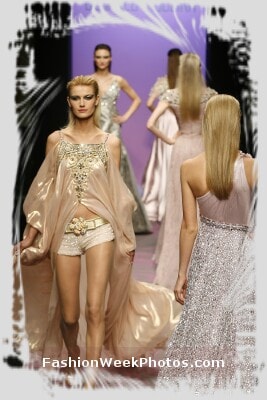 Spring Fashion Shows are not shows that are shown in the Spring. The Spring Fashion Shows display the fashion designers spring collections (lighter weight fabrics, spring colors, etc.)
Fashion shows are typically held to promote the fashion designers clothing line to key retail store buyers and the international press. Runway collections may consist from Haute Couture or Ready-to-Wear, to casual clothing and swimwear or any other category of clothing (note: spring collections generally would not show heavy winter sweaters...).
The Spring shows are for the fashion designers to display the collection that they intend to sell to the stores for the following Spring selling season.
Often the shows are referenced as "Spring/summer" or "Spring-Summer" or simply "Spring" or "Summer". When describing the show, a designer will also normally state the year. For example, the designer may be showing the "Spring 2011 Collection" or "Spring / Summer 2011 Collection".
If you are a fashion designer that is getting reading to display your spring fashion collection, please let us know about it... We can post your spring fashion news here on Apparel Search.
Spring Runway Fashion


This fashion show guide contains information resources and directories relating to fashion show production companies and related products, fashion show services, and fashion event resources.
Resources of possible interest for further research:
Learn more about Spring Fashion and Spring Fashion Collections.
Are you looking for complete coverage of the runways and fashion weeks in Milan, New York, London, Paris, Tokyo etc., from menswear to couture to ready-to-wear to resort?
Find fashion stylists for to help at your spring fashion show.
Here are a few fashion show terms that may help you learn more about spring runway events: Supermodels, Catwalk, Couturier, Ready To Wear, fashion journalism, Fashion Show Definition
◊ Is it time to view next seasons collection?
Relevant Issues for Fashion Shows: fashion celebrities, press releases, fashion industry calendar, fashion event article, fashion photos, fashion forecasting.
Spring is one of the four conventional temperate seasons, following winter and preceding summer. In regard to the fashion industry, "Spring/summer" refers to the six-month period from January through June, and fall/winter refers to the months from July through December. However, individual designers or stores may choose to operate using slightly different months or timing.
Read fashion news or fashion magazines to learn more about fashion...
If you enjoyed learning about spring fashion shows, you may also have interest in learning about fall fashion shows.
You may also wish to view the LA Runway Fashion.
Return to the main Fashion Show section here on Apparel Search.
You may find the following links to be of interest as well:

Fall Runway Collections
Shop For Clothing Seen at Fashion Shows
Fashion Industry Fashion Brand Directory
Thank you for using the Apparel Search website.