A fashion accessory is an item used to contribute to an individual's outfit. It is used to accessorize the primary look. Learn more about fashion accessories in our clothing industry terminology section.
According to common definitions, an accessory is a thing which can be added to something else in order to make it more useful, versatile, or attractive. Items such as handbags, sunglasses, jewelry and headwear certainly fit that description.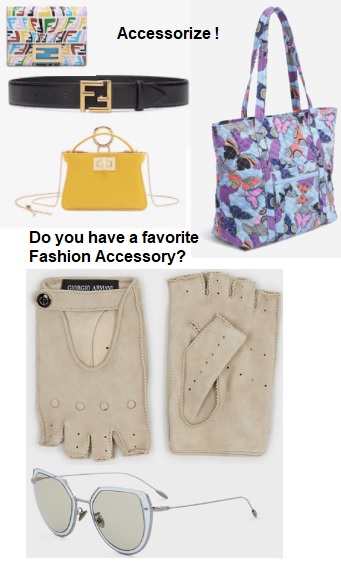 Below are a few fashion accessory ideas that you may wish to consider.
Bags
Belts
Bridal Accessories
Capes
Cloaks
Cufflinks
Cummerbunds
Earmuffs
Evening Wraps
Fans
Foulards
Gloves
Hair Bows
Handbags
Hats
Jewelry
Leather Accessories
Mittens
Neckerchief
Pageant Sashes
Pareos
Pocket Squares
Ponchos
Purses
Armbands
Shawls
Scarves
Stoles
Sunglasses
Suspenders
Ties / Neckwear
Tiaras
Umbrellas
Wallets
Where is the best place to learn about new trendy fashion accessories?
Try style magazines, apps & trend websites. Visit resources such as Elle, Etsy.com, Instagram, SnapChat, InStyle, etc. You can also visit the fashion accessory trends page.
Where can we shop for a new fashion accessory?
A good place to start your research would be the Fashion Accessory Stores.
You can also visit stores such as Neiman Marcus, Nordstrom, Macy's, etc.
What are some of the popular brands?
Salvatore Ferragamo
Gucci
Sonia Rykiel
Coach
Balenciaga
Armani
Bottega Veneta
Fendi
Louis Vuitton
Yves Saint Laurent
Burberry
Vera Bradley
Do you have a favorite fashion accessory brand?