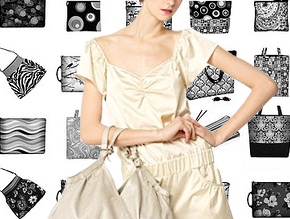 Developed with the handbag enthusiast in mind, Handbago launches an online community and catalog website that caters to handbag lovers everywhere. The site features an extensive catalog of current, past and upcoming handbag collections from world-renowned designers as well as up-and-coming designers. Members can search handbags by type, color, price range and designer. Handbago also provides users a wide range of content covering topics such as handbag trends, handbag fashion, handbag news, celebrity style, fashion events and designer interviews.
Our vision was to create a user friendly resource and online community focused specifically on handbags, says President, Kristina Moreno. Handbago showcases designer handbags, the people who make them, the stores who sell them and the celebs who wear them. There are a good number of blogs and shopping sites dedicated to handbags, but none of them combine the power of an online handbag catalog with an active community that allows members to create reviews and comment on editorial. Handbago provides the ultimate online handbag experience, not only for Fashionistas but for everyone who carries a bag.
The site launches this month at Handbago.com and is open to all users. Membership is free and those who join will have extended community privileges including rating handbags, reviewing handbags and commenting on editorial.
About Handbago:
Handbago is an online community and catalog for the handbag enthusiast. Focused on All Things Handbags, Handbago provides exclusive information for handbags, designers, online retail stores and celebrity style. The site allows the handbag community to post their own handbag reviews, search through thousands of handbags (in current and past seasons), and interact in an online community solely focused on handbags. Additionally, the Handbago blog provides full coverage on the latest handbag news, fashion, trends, events and celebrity style.
January 2009 Fashion News Articles
February 2009 Fashion News Archive
March 2009 Fashion Article Archive
June 2009 Fashion News Archive
July 2009 Fashion News Archive