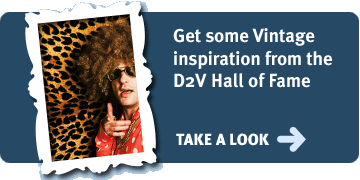 Purveyors of all things retro, Devoted 2 Vintage have an outstanding new line of blazers on sale now.
If you are serious about vintage fashion then you will know how good an outfit can look when teamed with the right vintage blazer. Occasionally, blazers have had bad press and they have been treated as a garment worn by studious types and branded as old fashioned.
Pah! There is no doubt that for anyone who is not afraid to show of their own style, a vintage blazer can be a fantastic addition to their existing wardrobe. You only have to look at the trends for 2009 to see that this is the case.
For instance, suits are making a move back to traditional British patterns with checks and rope stripes amongst others, making resurgence in designer's collections for later this year as can be seen in Tom Ford's men's Collection. This particular designer has produced some beautiful suits that come with these bold checked patterns.
So, any keen eyed fashionista out there will see the connection we are making here. What is the connection? Well, why buy a brand new designer suit when you can buy something that is an original classic, in the right colors and patterns, but gives you that up to the minute look.
Paul Armstrong, Managing Director of Devoted 2 Vintage commented:

Designers are constantly referring back to styles from past eras in order to seek inspiration for their forthcoming collections. The items we stock are original pieces therefore have authenticity and look good too.

Devoted 2 Vintage have the answer with their retro 1970's blazers. Checks, stripes, and bold colors galore are all available. Ensuring that you have the freshest, funkiest colors and a look that is second to none is what Devoted 2 Vintage do best. But not only that, they can even supply you with a full retro outfit if needed.
To finish the look, vintage accessories can be found such as retro sunglasses, shoes or a tie if you wish. For all things retro, be sure to visit the website at www.devoted2vintage.co.uk