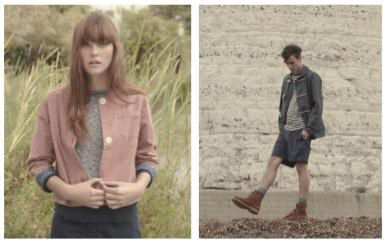 The Spring Summer 11 collection from YMC has an innocent and charming naivety evoking a nostalgic feel of lazy hot and hazy summer days gone by. Inspiration is taken from outdoor pursuits such as camping and hiking (think Mike Leigh's 'Nuts In May), and the outfits worn by youngsters from the city adapting to country life as WWII evacuees.
A warm earthy palette of muted, khaki greens, burnt orange, and mustard yellow is set against mid brown, navy and camel, evoking a Seventies feel. Block color pieces are teamed with an eclectic mix of patterns to keep the collection looking modern – from bold nautical stripes on jumpers, a tiny Japanese fish eye, simple indigo floral, fairisle patterns on knits, and Navajo prints. A standout oriental Hawaiian print in vivid orange is undeniably fun, and adorns a men's short sleeve shirt or a flirty ladies playsuit.
This is a Summer collection with a truly British heritage feel, and as such focuses on lightweight shapes designed for layering. Men's mountain parkas are light yet durable, lapelled work jackets in heavy cotton or dark denim are robust, yet both look great worn with plain basic tees and tank tops, and teamed with shorts or chinos. For girls, sweet summer dresses are toughened up when worn under lace -up front kagoules, and shawl collared waxed cotton duffle coats. Team with classic ankle socks and 40s style leather sandals or punched highland brogues.
fabrics are tactile and meant for layering – imagine whimsical days spent in summer meadows. Natural fabrics are key - pigment dyed selvedge twill, soft basic cottons and poplins, and cotton linen knits, mix with beautiful silks, leather patch detailing, and selvedge chambray. Warm touches are added with indigo fleece back jersey and chunky fairisle knits, perfect for cool summer evenings.
YMC collaborate once more with iconic outerwear label Gloverall to produce an exclusive Spring Summer 11 jacket – a simple waxed fisherman's coat, featuring the characteristic Gloverall duffle fastenings in rope and wood, and a YMC design twist on a rounded collar. Available in three colorways from the palette of the Summer collection – navy, brown, or classic fisherman yellow.
YMC open their second stand-alone store in November 2010 Store locations are: 11 Poland Street, London, W1 23 Hanbury Street, London, E1 Website: www.youmustcreate.com http://ymcblog.tumblr.com/