Created and designed by Ariela-alpha International, one of the largest privately held companies in the country which sells over 60 million garments a year under numerous brand names, it brings the philosophy of the Smart & Sexy brand to the beach.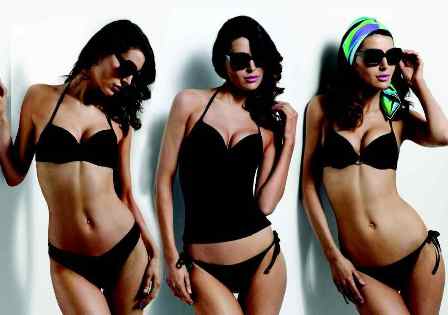 "We entered the swimwear category because we identified a void," says founder/cEO Ariela Balk. "You can't hide at the beach, so a swimsuit has to fit perfectly. With our technical expertise in bra fitting and our focus on women's needs, we felt we could do more to enhance and flatter her figure."
Tops contour and shape the body. An extensive range of solutions-oriented shapes strategically minimizes, lifts and enhances to optimize all silhouettes. Fashion-forward prints in beautifully saturated shades are set off with an exceptional level of detail such as ruching, decorative studs and ruffled skirt bottoms. The result is a collection of affordable, not-so-guilty pleasures with an elevated point of view.
Smart & Sexy supports women in more way than one. For every item sold, a donation is made to organizations that empower women, building on the company's approach of Get Ready – which funds scholarships, Be Ready – which focuses on career skills in partnership with Women's Alliance, and Grow Ready – which offers executive expertise to small business owners via an alignment with Count Me In.
If you work in the fashion industry, you are welcome to discuss this swimwear company in the swimwear group section of the Fashion Industry Network. Or if you do not work in the fashion industry, but simply adore women's swimwear, you are welcome to discuss at the swimwear discussion page on Google+.