Is a dogs harness considered clothing, accessory, or equipment? Because we are a fashion website, we consider this type of item to be a doggy fashion accessory. Although it is worn for a purpose, it can also give your dog a sense of style. They come in a wide variety of styles, materials, & color options.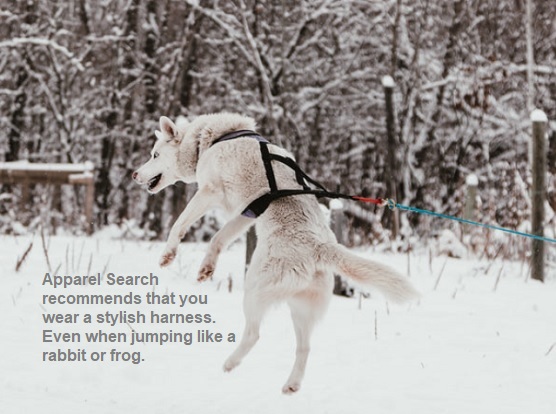 Learn about COCO the fashionable GSP.
Generally speaking, a dog harness is a piece of equipment consisting in part of straps that surround the dog's torso. It is used to guide, hold, and lift the dog for restraint or to utilize its pulling power.
These harnesses generally are made to have both a strap on the chest in front of the forelimbs, and a strap around the torso behind the forelimbs, with straps in between connecting these two. Having a D-ring suitable for pet identification tags and for a leash to clip to is important. They are most often used to restrain an animal, but dogs also particularly wear them to assist a person with a disability or haul people and items (think about sled dogs).
Here are a few of the different types of dog harnesses.
Assistance dog harness
Car safety harness
Chest harness
Lifting harness
No-pull harness
Sled dog harness
Rehabilitation harness
Tactical dog harness
Y-harness
When shopping for products for your pet, quality is obviously important. Put time & effort into selecting a good dog harness because it may effect the comfort of your fury friend. Also, if the harness is meant to keep him or her from pulling away from you, clearly you don't want cheap material that could potential break.
Learn about dog collars which is another type of accessory for your fabulous pet.
Don't forget to do additional research on car safety harnesses. Safety harnesses designed for use in an automobile restrain the animal in a car seat using the car's seat belt. These harnesses are marketed as reducing the risk of injury to a pet that is riding in a vehicle during a traffic collision.