Learn the difference between made-to-measure and bespoke fashion.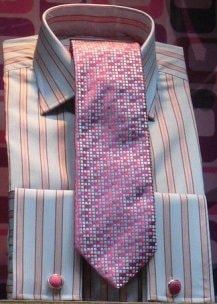 AmericanFit.com: custom made pants jeans for men and women, petites tall big and tall sizes Address: 352 7th avenue, NY, New York,10001 USA Phone: 212 631 7457 or 212 555 8888 Fax: 212 555 8888 Email: jonastamir@hotmail.com Contact: Jonas Tamir
Gender: Men's, Young Men's, Women's
Store Type: Online and Catalog
Retail Category: Big & Tall (Men's)
---

As You Wish Custom Sewing: Experienced custom clothier, specializing in clothing for people with unique requirements. She welcomes theatrical, artistic types, people with disabilities and unique fitting challenges. If you cannot find it in a store, you can have it made. Address: 10024 205 Place Hollis, NY 11423. USA Phone: 718-291-1256 Email: mimie@aol.com Contact: Mimi Jackson, Owner
Gender: Women's
Store

Type: Other
Retail

Category:

Custom Clothing
---

Ben Douglas Clothing Co. : Ben Douglas Clothing Co. is a full service custom clothier conveniently located in downtown Summit, NJ. Their custom offering includes shirts, suits, sport coats, trousers, overcoats, and vests. Hosting a broad range of the finest fabrics from top English and European Mills, all of their garments are hand-tailored in the U.S.A. to your specific measurements. They pride themselves in offering dedicated personal service to address all of your wardrobe needs. From fabric options, to fit and finish details - they are happy to share expert guidance and advice to ensure that your custom garment meets your preferences. Address: 334 Springfield Ave., Summit, NJ 07901 Phone: (908) 452-6476 Email: info@bendouglas.us Contact Name: Thomas Nascone
New Jersey Clothing Retailer
Custom Clothing Retail
Men's Suit Retailer
---

BERNADETTE'S CUSTOM CLOTHING AND EMBROIDERY: SPECIALTY CUSTOM CLOTHING WE MAKE CUSTOM CLOTHING OF ANY STYLE, COLOR, fabric, AND SIZE. WE SPECIALIZE IN HARD TO FIT SIZING, AND WE WILL MAKE THE COLORS OF YOUR CHOICE. WE ALSO OFFER EMBROIDERY WORK FOR LOGOS, OR NAMES, OR STOCK DESIGNS.
---

Best Custom Pants - Giorgenti: Giorgenti is a men's custom pants designer with over 20 years of experience offering affordable custom made pants for men who have fit challenges. At Best Custom Pants, every pair of men's custom pants is cut by hand by master tailors. These custom made pants are all of fine quality merino wool and are lined to the knee. Reinforced crotch lining, suspender buttons, heel guard, and a 3 point extension waistband are all standard features. Janine Giorgenti brings passion to fashion as a men's custom pants designer offering affordable custom made pants for men who have fit challenges. There is enhanced value in ordering custom tailored pants from this Italian designer; her knowledge of Old-World craftsmanship is augmented with the innovations of cutting-edge technology. Janine Giorgenti has made many media presentations as the image enhancement authority for executives of multi-national corporations, as well as her world famous Dress for Success seminars. And only Giorgenti offers the Guaranteed Fit or Money Back Guarantee. Order your custom tailored pants from Giorgenti and let Janine help you achieve a stylish and professional appearance. Address: 1230 Ave of the Americas 7th floor New York NY 10020 Phone 1-800-815-4784 Fax 1-800-884-3010 E-mail Info@BestCustomPants.com Contact: Janine Giorgenti Janine
---

Best Custom Shirts: Best Custom Shirts is a manufacturer of quality custom dress shirts for men at an affordable price point. Their interactive fabric measurements and style guide makes it easy for stores, boutiques and clothiers to have an instant turn-key online store. They offer customer support training and the largest online fabric inventory for men's custom dress shirts. The concept of Best Custom Shirt was created by Janine Giorgenti, a New York designer with 20 years of experience who has personally measured thousands of men to perfect her measurement and pattern making techniques. The site also offers free online wardrobe consultation and color analysis and suggestions. They are equipped to handle any quantity in any size. Address: 1230 Ave of the Americas 7th floor New York NY 10020 Ph# 1-800-994-6243 Fax# 1-800-884-3010 Email: info@bestcustomshirt.com Contact Person: Janine Giorgenti
---

Custom Clothiers: custom tailored clothing. Design your clothing online using their virtual clothing designer. With over 500 fabrics and unlimited design possibilities - they have one of the largest selection of clothing available to you with the convenience of 24 hour online shopping Address: 1838 Russet Woods Lane Birmingham Alabama 35244 USA Phone: 205-425-3962 or 205-425-3962 Email: customclothiers@customstyle.net Contact: Christopher Warren - director
---

DressmakerInABox.com: Mix of womens custom-made clothing as well as in standard sizes for all occasions. Use of their patent-pending Fitting Garment guarantees the right fit every time. The Battise Company Address: 555 Pierce Street, #830D, Albany, CA 94706 Phone: 866-744-2425 Contact: Michele Battise
---

Duah Brothers, Inc.: Custom made Bespoke tailoring. Address: 41 West 35 Street, Loft 2nd floor New York, NY 10001 USA Phone: 212 947-4444 Fax: 212 947-1560 Email: nineteen30s@aol.com Contact: Amir El Designer
Gender: Men's and Women's
Item # 1: Suits
Item # 2: Shirts
Item # 3: Dresses
Item # 4: Vest
Item # 5: Coats
---

Fit Custom Shirts: Currently they have offices in the United States, Canada, United Kingdom, Germany and Dubai. Their custom dress shirt manufacturing facilities are in South Asia. They have been stitching custom clothes for other retailers in the United States for several years. Now by cutting out all the middle men, they are determined to bring the finesse of custom clothing to the general public at extremely affordable prices. Address: Waukesha, WI 53186 United States Phone: (630) 524-2818
---

Fripes: A well engineered custom tailored shirt does make a perfect looking man. Their tailored made dress shirts have won its legions of satisfied customers because they pay meticulous attention to details, especially fit and fineness of the seams and stitching. Address: Waukesha, WI 53186 United States Phone: 647-478-9809 E-mail: jkfitcustomshirts4@gmail.com Contact: Jhones Kenly
---

Garrison Bespoke Tailor (Canada): Toronto Bespoke custom suit tailor for men. They provide a modern bespoke fit for the modern men. Each suit is custom made for you with a selection of thousands of unique fabrics including Zenga, Dormeuil Amadeus, Scabal, and much more. Address: 26 Wellington St. East Toronto Ontario M5E 1S2 Phone: 416-566-2041 Email: info@garrisonbespoke.com Contact Name: Michael Nguyen
Suit Retailer
Custom Fit Clothing Retailer
---

Giorgenti: Formal Wear:

Offers a wide selection of custom and ready-to-wear tuxedo shirts, tuxedos and formal accessories from New York designer and image consultant, Janine Giorgenti.

Janine Giorgenti is a fourth generation Italian designer trained at the acclaimed New York Institute of Technology. Janine has dedicated the last 20 years to designing comfortable and flattering men's clothing for every build, style and budget. She's made special appearances on CNN, CBS and Fox News and her designs have been featured in The New York Times as well as in Vogue magazine. Giorgenti is a family-owned and operated company that takes customer satisfaction seriously.

Address: 1230 Ave of the Americas, 7th floor #241, New York, NY 10020 Phone: 1-800-815-4784 Fax: 1-800-884-3010 E-mail: info@bestcustomtuxedo.com

Contact: Janine Giorgenti D
Tuxedo Retailer

Custom Shirts
---

gordon carter tailoring of London (United Kingdom): online clothing retailer from the United Kingdom. Tailors of amongst the finest UK custom made to measure gentlemen's tailoring, available directly through the internet. Ships worldwide. Address: croydon London UK Phone: +44 020 8681 6374 Fax: +44 020 8681 6374 Email: richard@customsuits.co.uk Contact: Richard Carter - managing director
Gender: Mens
Store Type: Online Retailer
---

Kym Scott Couture (Australia): Brisbane based Australian bridal designer specialising in made-to-measure bridal gowns, bridesmaids dresses & wedding accessories. Address: 88 Juliette St Greenslopes 4120 Australia Phone: 61 7 3392 4400 or 61 411 879 405 Fax: 61 7 3392 4411 Email: kym@kymscott.com Contact: Kym Scott - Manager
Gender: Women's
Store Type: Online and Brick & Mortar
Retail Category: Bridal
---

Spirit of The Old West frontier clothing company: they make period correct clothing of the 1860s and the 1880s, they use only the type or near types of fabric that was used at this period of time. the clothing is custom made to the buyer, this is the clothing of the American frontie. Address: 5 chenango street Greene, New York 13778 USA Phone: 607-656-4460 or 607-656-5096 Email: marshal454@aol.com Contact: Mickey Dran, president
Gender:

M

en

'

s and

L

adies
Store

Type: Online Retailer
Retail

Category: Specialty

(Western Clothing)
---

Vitruvien (India): is a hi-fashion men's custom clothing brand - focused on delivering a great fit with a fun approach to style. Taking inspiration from fashion runways the world over, our designers craft shirts with fabrics sourced exclusively from European mills. You make them your own by choosing from our myriad of styling options (collars, sleeves, cuffs, right to the smallest button). Our innovative shirt designer enables you to visualize in real time how different styles will look with your chosen shirt. Redefine your wardrobe with your custom made Vitruvien shirt. Address: 215, 2nd Floor, Wadala Udyog Bhavan, Naigaon Cross Road, Wadala, Mumbai - 400 031, India Phone - +91 22 4006 4949, +91 22 2416 1402 E-mail - customerservice@vitruvien.com
Gender: Men's Custom Shirts
1: Formal Shirts Item
2: Casual Shirts Item
3: Partywear Shirts
Custom Fit Clothing Retailer
Men's Dress Shirt Retailer
If you can not find enough custom fit clothing stores in our directory, you are welcome to search the Amazon database for additional resources in custom fit fashion