Shoulder pads are a type of fabric-covered padding used in men's and women's clothing to give the wearer the illusion of having broader and less sloping shoulders. The size of shoulder pads may vary as per the desired look.
I K Enterprises (India): Established in the year 2012, at Delhi, (Delhi, India). "I K Enterprises", are the Manufacturer and Trader of Shoulder Pad, Bust Pad, Coat Fusing, Coat Pad, Foam Sheet, Hanger Cover, Non Woven Fabric, Paper Fusing, Tearaway Random Paper, Mac Embroidery, Polyester Wadding, Velcro Tapes, Elastic Tapes, Tag Pin Garment Button, Tag Gun, Polyfill Sheet, Mobilon Tape. These industrial products are available with 100% customized options also.
---
Shree Rama Industries (India): Shree Rama Industries is a sister concern of widely popular Raymons Enterprises. In the year 1995, their company came into being to serve an impressive assortment of longer-serving Shoulder Pads, Polyester Geotextile Fabrics, Cushion Cover Fillers, Non Woven Fabric Rolls and much more. They are fulfilling business responsibilities of manufacturer and trader. A worth-relying on business unit to source quality-assured Shoulder Pads, Cushion Cover Fillers, etc.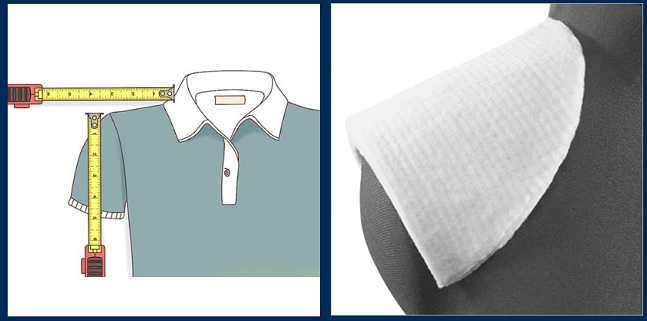 ---
Yickshun Industrial Products Ltd.(China): they are a leading Manufacturer and exporter of Bra Cup, oil pad for brassiere, swimwear in China. they specialize in manufacturing sponge bra cup due to international standard, Products: bra cup: molding cup,l amilated molding cup, fabric lamiation cup, molded & cut fabrics, oil pad brassiere: brassiere, swimwear Address: Yickshun Bldg, Dishan Industrial Area, Longgang Town, Longgang Distict, Shenzhen 518116 China Phone: 86-755-4051516 Fax: 86-755-4053139 Email: jimmiekwok@yickshun.com Contact: Jimmie: manger
Manufacturer Item # 1: bra cup
Manufacturer Item # 2: brassiere
Manufacturer Item # 3: shoulder pad
Shoulder pads refer to the pads made of foam or other fabric which are added to the shoulders of a garment to impart a structured look.
Adding shoulder pads are most commonly done at the factory when the garment is being sewn. However, it can also turn into a DIY project if you want to add shoulder padding to a garment you already own. Shoulder pads can be sewn in place along the center of the pad to the shoulder seam that connects the front and back of your garment. If the garment you are adding shoulder pads to is a style that does not have that shoulder seam you can also stitch the pad in place to the seam that connects the sleeve to the garment.