What is a fashion anchor? It has nothing to do with boating.
Created by menswear nerd Jon Yeazel in 2012, The Fashion Anchor delivers a useful and innovative alternative to the plastic, metal and magnetic collar stays found in today's department stores. Jon wholeheartedly believes that this is hands down the best way to maintain the look of your collar.
Fashion Anchors do a great job taming your collar.

Once removed, the Fashion Anchor will not be nearly as effective as the original application. However, if you leave the Fashion Anchors on your shirt, they will work as many times as you need them until physically removed. This depends on how you handle them. They can last up to 5-6 uses if placed on your shirt once and not messed with. Once applied to the item, however, they are not transferable to another. They will be stretched out and wont sit flat on your next shirt, which is key to them working effectively.
Don't wash them:
When put in the washing machine, the Fashion Anchors will either come off completely and drain through the same holes in your washing machine that the water drains through, or they will stay very loosely attached to your garment and can be easily removed before putting your clothes into the dryer. Like any other collar stay, the Fashion Anchor company strongly advises that you remove them before dry-cleaning your shirt.
Learn more about the fashion anchor for shirts.
You may also want to learn about dress shirts.
Although this product it attempting to reduce the need for collar stays, many dress shirt companies still utilize collar stays. If you work for such a company, you may want to find collar stay factories in our manufacturers section.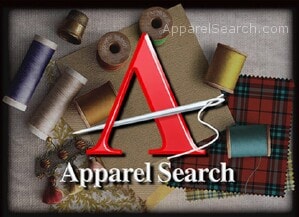 We hope this summary of fashion section has been of help to you.
Thank you for using the Apparel Search website.