Dress Shirts
A shirt is a cloth garment designed specifically for the upper body. They were originally created as undergarments but have expanded into a very wide variety of styles and purposes. In the United States, we use the word as a general category which contains many sub-categories. We are rather loose with the term. In British English, the word shirt is more specifically a garment with a collar, sleeves with cuffs, and a full vertical opening with buttons or snaps. In North American this type of shirt is called a "dress shirt" which is a specific type of "collared shirt". This type of shirt is often worn with a necktie under the shirt collar.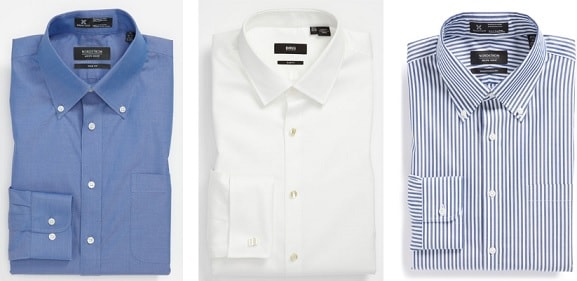 Dress shirts come in many different choices of color & pattern. You will find that they are made in solids, stripes, checks, herringbone patterns, etc. Most stripes are generally in the vertical direction, but horizontal is not completely out of the question. The colors, patterns, and fabric weights change with the seasons of the year and the fashion trends of the time. Similar to the choice of collar, cuff, or fiber, the color and fabric pattern is a decision that needs to be contemplated by the wearer. Men or women interested in wearing dress shirts can evaluate their purchasing decisions based on the occasion, current trends, or simply their own mood and desires.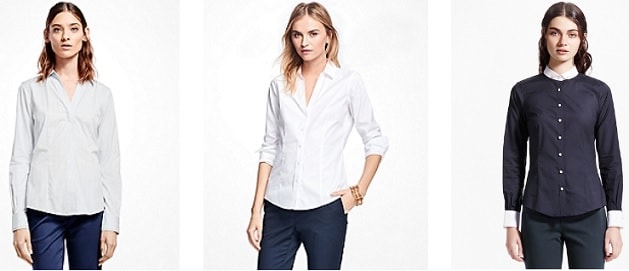 A dress shirt can also be referenced as a button shirt, button-front, button-front shirt, or button-up shirt. It is a garment with a collar and a full-length opening at the front, which is fastened using buttons or shirt studs (snaps). A button-down or button-down shirt is a dress shirt which has a button-down collar. In other words, a collar having the ends fastened to the shirt with buttons.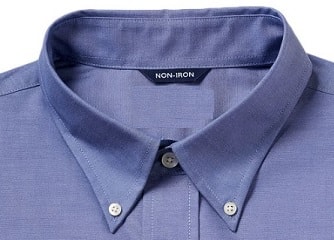 Again, the British and Americans on occasion have slightly different terminology in regard to fashion. In British English, "dress shirt" means specifically the more formal evening garment worn with black or white-tie (when mentioning black or white tie, that is referring to "bow ties"). Some of these formal shirts have stiff fronts and detachable collars attached with collar studs.
This type of garment is worn by both men or women. In the past dress shirts were worn by men and boys, while women and girls often wore blouses. However, in the mid-1800s, they also became an item of women's clothing and are worn by both sexes today.
Dress shirts are normally made from woven fabric. They come in a wide variety of colors, patterns, and collar styles. This type of shirt is often worn in association with a suit, sports coat, blazer, or formalwear. In regard to menswear, the dress shirt is often accompanied by a tie (neckwear).
Dress shirts are often worn as part of business attire but can also be worn in casual situations. As always, when picking out clothing we should consider general standards but keep in mind that final decision is based on our personal preferences and stylistic approach. If you want to be a true fashionista, you must always move to the beat of your own drum.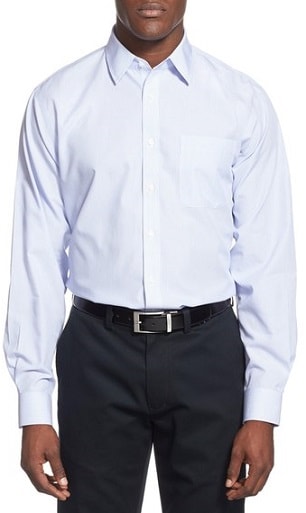 Picking a dress shirt size to fit the wearers body type:
When shopping for a men's dress shirt it is a bit different than shopping for a t-shirt or many other tops. Dress shirts typically are not sold simply as small, medium, large, etc. They are sold based on neckline and arm length measurements.
In the US, ready-to-wear sizes of dress shirts traditionally consist of two numbers such as 15½ 34. These numbers represent the neck & sleeve measurements. Meaning that the shirt has a neck 15 1⁄2 inches (390 mm) in girth (measured from center of top button to center of corresponding buttonhole) and a sleeve 34 inches (860 mm) long (measured from midpoint of the back and shoulders to the wrist).
To reduce the number of sizes needed to be manufactured and stocked at the store, some brands will use an average sleeve length & give a range of numbers for the measurement. For example, a sleeve length is sometimes given in the form 15½ 34/35. This would indicate that the neck is 15 ½ inches and the sleeve length is an average length between 34 & 35 inches (they are trying to sell the shirt to people that would normally select size 34 or 35 rather than stock two different shirts).
Some shirts are cut wide to accommodate larger or flatter stomach sizes. Shirts cut for flat stomachs are usually labeled, "fitted", "tailored fit" "athletic fit" or "trim fit". The terms for fuller cut shirts are more varied ("Traditional", "Regular", "Portly", Husky, etc.).
If you require a perfect fit (and you have enough money to spare) going with a bespoke dress shirt may be the way to go. Bespoke basically means that the garment is custom-made. When purchasing a bespoke dress shirt the manufacturer or tailor will individually draft a pattern for your exact body measurements.
Another option to have a fine fitting garment is to use the made-to-measure concept. Made-to-measure dress shirts may not fit quite as well as bespoke, but can provide a similar degree of customization and fit at a lower cost. Learn the difference between bespoke and made to measure clothing.
Dress Shirt Construction:
A shirt has several components: A one-piece back, which is usually pleated, gathered, or eased into a section of fabric in the upper part of the back behind the neck and over the shoulders known as the yoke (either one-piece or seamed vertically in the middle); one-piece sleeves with plackets at the wrist, or else short-sleeved (cut off above the elbow), though this is not traditional; a band of fabric around each wrist known as a cuff; the collar, a strip around the neck, which is normally a turndown collar, with the strip folded down away from the neck, leaving two points at the front, the width of which is known as the spread; and finally two front panels which overlap slightly down the middle on the placket to fasten with buttons (or shirt studs).
Dress Shirt Collars
There are various different styles of collar, which is the primary indicator of the formality of a shirt. When selecting a shirt to wear to a particular event the style of the collar has importance.
Spread collars measure from around 3 1⁄2 to 8 1⁄2 inches (89 to 216 mm) between the collar points, and the wider collars are often referred to as cutaway or Windsor collars after the Duke of Windsor. This city style is more formal, though it is common in Europe, and predominant in the UK.
Point, straight, or small collars are narrow, with 2 1⁄2 to 4 inches (64 to 102 mm) between the points of the collar.
Button-down collars have points fastened down by buttons on the front of the shirt. Introduced by Brooks Brothers in 1896, they were patterned after the shirts of polo players and were used exclusively on sports shirts until the 1950s in America. It is still considered a more sporting style, and, particularly outside America, traditionally well-dressed men still do not wear suits with this style of collar. The button-down collar is typically considered to be too casual to wear with a suit. However, it can be acceptable with a sports coat or blazer.
The less-common styles below were all once common, but have waned in popularity. Possibly they will come back in style in the future. Obviously fashion trends come and go like the wind. Just because a collar type is not trendy this year or decade, it does not mean it will never again become popular.
Eyelet collars require a barbell-style collar bar to join the small stitched hole on each point.
Tab collars are point collars with two strips of fabric extending from the middle of the collar and joined behind the tie. These lift the tie, giving an arc effect similar to a pinned collar. The tabs can be closed with a metal snap, button or stud. We have found that this method slightly effects the way the tie sits.
Club collars have rounded edges, and were very popular in the first few decades of the twentieth century. They have recently received a surge in popularity due to television shows like Mad Men.
The varsity is a type of spread collar in which the points curve outward from the placket of the shirt.
Contrast collar shirts are occasionally made, which are typically white collars on a colored or patterned shirt. These are worn for a variety of reasons, such as to offset certain complexions; because of a tradition started by detachable collars, where it is impractical to have many collars in different matching colors; and finally because when a collar is replaced it is unlikely an exact color match will be found. These collars are generally considered more formal than matching fabric.
Shirts designed to take a detachable collar have a tunic collar, which is a low standing band of fabric around the neck, with a hole at the front and back for the collar studs.
Dress Shirt Sleeve Cuffs
Similar to collars the type of sleeve cuff is also important when selecting an appropriate dress shirt. The primary distinction between cuffs are whether they require buttons or cufflinks to fasten. Another stylistic distinction is whether they are folded back (double) cuffs or single cuffs. Below are a few of the main cuff types.
Barrel cuffs, the standard style fastened by one or two buttons according to taste.
Double, or French cuffs, which are more formal, have an extra length of sleeve folded back and fastened with links.
Single cuffs, the most formal style, usually only worn with formal eveningwear, are double cuffs without the fold.
In addition, there are some variations, for example barrel cuffs may be mitred, with the corner cut off at 45°. Less common styles include the Portofino, or cocktail cuff, which is a double cuff closed with buttons.
More about the United Kingdom's version of a dress shirt:
In the UK, the term dress shirt is reserved for a particular type of formal shirt. There are formal day shirts for wearing with morning dress, and the white dress shirts used as eveningwear. All of these fashion rules, may be why the USA colonies decided to leave British rule.
A day dress shirt is fairly similar to a normal shirt, and is usually white, with a stiff detachable collar, though other designs, such as a vertical blue stripe, are also appropriate. Double cuffs are most common. This sort of shirt is also conventionally worn by some barristers and judges.
An evening shirt, for wear with eveningwear, for example as part of black or white tie has some unique features. In the U.S., this shirt is often called a tuxedo shirt or tux shirt. The shirt is always white.
The shirt required for white tie is very specific. It should have a detachable wing collar and be fastened with shirt studs instead of buttons on the front. The studs are normally mother of pearl set in gold or silver, but black onyx inlay is also permissible. The cufflinks should match the studs. The shirt front has panels made of different material from the rest of the shirt which are the only parts seen under the waistcoat. The shape of the panels, one on each side, is either rectangular, or the older U-shape (designed to sit under the older 1920s U-shaped waistcoats, now largely replaced by the more modern V-shape). The material for the panels is either layers of thick plain cotton that is heavily starched (this type is often called a boiled front shirt as the shirt needs to be put in boiling water to remove the starch before cleaning), or marcella (piqué) cotton. Marcella is more common, but a little less formal, though still appropriate, since it was originally designed to be used on formal evening shirts, as the ribbing can pick up more starch and create an even stiffer front. Traditionally, collarless shirts with a detachable wing collar fastened on with collar studs have been used, but all-in-one designs are occasionally seen, though this is considered incorrect and to give a poor appearance by many. Cuffs are single, and heavily starched (if the front is marcella, the cuffs usually match).
Black tie offers more leeway. Shirts may be soft (not starched), which gives the options of unstarched marcella or a pleated front, as well as the white tie shirts, which may also be worn with black tie. The collar is still sometimes a stiff high wing collar (common in America, though the attached variety is more popular there), or a turndown collar (more frequently seen in Britain). In past decades, particularly the 1970s, ruffled shirt fronts were made fashionable by Will Hunter,[citation needed] although they are now out of favour. Dress-studs are optional, and are onyx set in either silver or gold if used; otherwise the buttons are normally concealed under a placket. Cufflinks tend to be as simple and understated as possible, and harmonize with, if not match, the studs.
The placket of the shirt is the part that holds the buttons and the button holes. This is highly regarded as the focal point of the dress shirt when worn casually. Unfortunately due to the lack of reinforcement, the weight of the collar will cripple the placket throughout the day. No amount of starch, ironing, pressing nor does the type of fabric matter when it comes to combating the collapse.
Common Fibers & Fabrics Used for Dress Shirts
Cotton & polyester are both important fibers used in the garment industry. This also holds true for this segment of the market. Shirting fabrics are often made with 100% cotton, 100% polyester, or a blended combination. Other fibers are also used but cotton and Poly are probably the most common.
Shirts are made of woven cloth. The natural fibers used in the past were cotton (the most frequent), linen (the oldest), ramie, wool or silk. In modern times, artificial fibers such as polyester or polyester blends are often used, due to the fact that they are generally lower priced. Unfortunately the polyester offers less softness and breathability. Linen produces a cool fabric but it wrinkles heavily. Linen dress shirts are mostly used in light summer shirts.
Silk is occasionally worn, though it is hot to wear and has a marked sheen. Silk is a natural protein fiber, some forms of which can be woven into textiles. The protein fiber of silk is composed mainly of fibroin and is produced by certain insect larvae to form cocoons. The best-known silk is obtained from the cocoons of the larvae of the mulberry silkworm Bombyx mori reared in captivity (sericulture). The shimmering appearance of silk is due to the triangular prism-like structure of the silk fibre, which allows silk cloth to refract incoming light at different angles, thus producing different colors.
Cotton is the choice of Apparel Search to be our favorite fiber selection for dress shirts. Cotton is a soft, fluffy staple fiber that grows in a boll, or protective case, around the seeds of cotton plants of the genus Gossypium in the family of Malvaceae. The fiber is almost pure cellulose. If you want to go organic, you can search for shirts made with organic cotton. Organic cotton is generally understood as cotton from plants not genetically modified and that is certified to be grown without the use of any synthetic agricultural chemicals, such as fertilizers or pesticides.
Broadcloth, poplin, pinpoint, twill, herringbone, and oxford are common dress shirt fabrics.
Broadcloth is a dense, plain woven cloth, historically made of wool. Today, most broadcloth is cotton or a cotton blend.
Poplin is a strong cotton weave with closely woven threads in a simple criss cross pattern. This is a lightweight, cool weave with a smooth and silky finish. Poplin fabrics are very breathable, so a poplin shirt is ideal worn under a suit or on a warm day.
Pinpoint is a two-over, one-under thread pattern that creates a strong fabric with a fine square-like texture. This weave is medium weight and breathable, so a pinpoint shirt will hang well but still be relatively cool.
You may also want to learn about end-on-end, basket weave, and other types of fabric weaves. Learn more about dress shirt fabrics on the Fashion Blog. You will find an interesting article on shirting textiles.
It may also be a good idea to read the how to pick a proper dress shirt article on the blog as well.
Why are wrinkle-free shirts popular?
Did you really just ask that question? The answer to that question is rather obvious. Wrinkle-free shirts have become popular because they wrinkle less and therefore need less ironing or steaming to get the wrinkles out. Dress shirts are ironed to remove wrinkles. The less ironing, the less work and more time spent on doing things that we enjoy.
Some garments are marketed as wrinkle-less or wrinkle-free.
A dress shirt is ironed to remove any wrinkles and can be treated with starch for added smoothness and stiffness.
What are the common does & don't of wearing a dress shirt?
When a tie is not worn, conventions on buttoning differ globally: in the United States and the United Kingdom, the top button is virtually never buttoned if a tie is not worn – but unbuttoning two or more buttons is seen as overly casual. In France, unbuttoning two buttons is more common, and politicians appear on TV in this style.
In casual usage the freedoms of wearing a dress shirts are more flexible. Normally a dress shirt would be worn tucked into the pants, but in a very casual environment some people choose to wear shirts not tucked in, or leaving the top button undone with a tie. This is commonly done by children and young men, possibly as part of school uniform.
Similarly, as part of more casual work attire, some American men wear shirts with the top two buttons unbuttoned (buttoned at the third button), though buttoning at the fourth button is widely seen as too casual. The most casual method (often looking ridiculous), the shirt can be worn entirely unbuttoned, over a T-shirt. If you are going for that look, you may as well not be wearing a dress shirt at all.
It is important to note that dress shirts have nothing to do with dresses.
Here are a few places to shop for dress shirts:

Well dressed fashionistas have an influence on fashion and on the world around them.
You may also want to learn about dress pants.
Dress shirts are a type of business attire for men or women.
Fashion Products Fashion Products A-F Fashion Products D
Return to the Influence Fashion home page.

Copyright 1999-2023 Apparel Search Company. All Rights Reserved.