What was going on in the 1990's?
Culturally, the 1990s are characterized by the rise of multiculturalism and alternative media, which continued into the 2000s. Movements such as grunge, the rave scene and hip hop spread around the world to young people during that decade, aided by then-new technology such as cable television and the World Wide Web. The first full-length CGI movie, Pixar's Toy Story, is released, revolutionizing animated films. Titanic becomes a cultural phenomenon throughout the world. The 1990s were a decade that saw marketing become more segmented, as MTV gradually shifted away from music videos beginning in 1992 and radio splintered into narrower formats aimed at different niches. The music of the decade is best known for grunge, gangsta rap, R&B, teen pop; eurodance, electronic dance music, the renewed popularity of punk rock mainly because of the band Green Day (which would also help create a new genre pop punk) and for being the decade that alternative rock became mainstream.
For most of the decade, 1990's fashion was defined by a return to minimalist fashion. The popularity of grunge and alternative rock music helped bring the simple, unkempt grunge look to the mainstream by 1992. Fashion of the 90's led to the popularization of the casual chic look that included T-shirts, jeans, hoodies, and sneakers, a trend which continued into the 2000s.
Hip-hop fashion went mainstream in 1992, with oversized baseball jackets, baggy jeans, bomber jackets, Baja Jackets, and tracksuits popular among young men as casual wear.
In 1994, grunge clothing rapidly declined as fashion became more feminine and form-fitting. Young women in the UK and America wore tailored skirt and trouser suits, short skirts and dresses, baby doll dresses, animal prints, hot pants,[29] slim pants, bright colors (even in colder months), long and short skirts, and high heels. High-shine fabrics, such as satin, metallics, sequins, microfiber, vinyl, and silk became very prominent on both clubwear and work wear.
From 1997 onwards, many British and American designers started to take cues from the disco fashion of the mid–late 1970s. Particularly common were black or dark red pleather pants, animal print clothing, halter tops, metallic clothing, crop tops, tube tops, maxi coats, maxi skirts, knee boots, and boot-cut dress pants.
From 1998–2000, the unisex casual chic look gained mainstream appeal, with dark stonewash jeans, spaghetti strap crop tops, tracksuits, sweatpants, and other athletic clothing.
Significant fashion trends of the 1990s include:
The Grunge hype at the beginning of the decade popularized flannel shirts among both sexes during the 1990s.
The model 1300 Wonderbra style has a resurgence of popularity in Europe in 1992 which kicks off a multinational media sensation, the 1994 re-introduction of "The Wonderbra" brand, and a spike in push-up, plunge bras around the world.
The Rachel, Jennifer Aniston's hairstyle on the hit show Friends, became a cultural phenomenon with millions of women copying it worldwide.
Beverly Hills 90210 sideburns also became popular in the early and mid-1990s.
Slap bracelets were a popular fad among children, pre-teens and teenagers in the early 1990s and were available in a wide variety of patterns and colors. Also, popular among children were light-up sneakers, jelly shoes, and shoelace hair clips.
From 1991 on, sports bras, hoodies, Leotards worn as tops with jeans, a sweatshirt especially Champion brand over a turtleneck with jeans rolled up to show off their slouch socks were popular with young girls, teens, college girls, and young women.
A common outfit was to wear a skirt, dress shorts, babydoll or minidress with black opaque tights, white athletic socks, and white Keds athletic sneakers. A dressed up leggings outfit was leggings with an oversized v-neck sweater over a turtleneck, slouch socks, Keds (shoes) or Sperrys, and bangs with a headband band or ponytail and scrunchie. Leggings worn over pantyhose or tights with a pair of flats were also common.
Preppy clothing was popular in the US, where wealthy young men wore khaki slacks, canvas boat shoes, and navy blue blazers with breast-pocket monogram or gold buttons bearing a family crest. In general, 1990s preppy was more casual than the almost dandified look of the 1980s as young men abandoned ascots and Oxford shoes in favor of Nantucket Reds, nautical-striped T-shirts, loafers, and madras cloth or gingham short-sleeved shirts. Desirable brands included Gap, Old Navy and Abercrombie & Fitch.
Learn more about the fashion of the 90's.
Learn about the fashion worn between January 1, 1990 to December 31, 1999. Century ending fashion trends.
The dominant youth clothing fad at the beginning of the 1990s was fluorescent clothing in blue, coral, orange, pink, and yellow. Hoop earrings were also a popular accessory for teenage girls and women in the first years of the 1990s. Plaid shirts were also popular. For much of the 1990s, particularly the middle years, teenage boys and girls bought and wore very simple clothes, such as overalls, flannel shirts, grey knitted sweaters, and backpacks.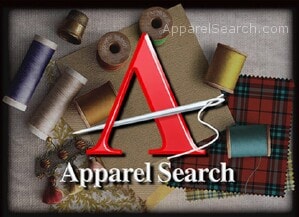 We hope this summary of fashion section has been of help to you.
Thank you for using the Apparel Search website.