What are cargo pants? They have nothing to do with freight cargo.
Cargo pants or cargo trousers, are loosely cut pants originally designed for tough, outdoor activities, and whose design is distinguished by one or more cargo pockets. Cargo pants have become popular in many settings, since they are convenient for carrying items. To be honest, it is very nice to have extra pockets for carrying mobile electronics.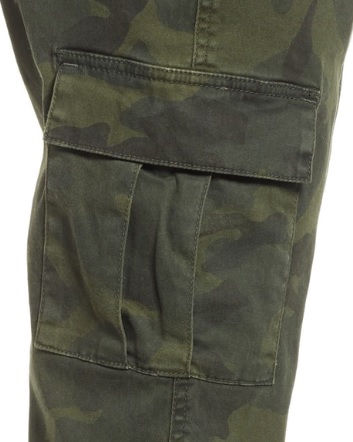 Cargo shorts are a shorts-length version of the pant.
This type of pant is sometimes called combat trousers (or combats) after their original military purpose.
A cargo pocket is a form of a patch pocket, often with accordion folds for increased capacity closed with a flap secured by snap, button, magnet, or Velcro common on battledress and hunting clothing. In some designs, cargo pockets may be hidden within the legs.
Cargo pants are often but not always made of hard wearing fabric with rugged stitches. Bar tacking stitches are often used. Often the cargo pant style uses quick-drying synthetic or cotton-synthetic blends, and often feature oversized belt loops to accommodate wide webbing belts.
The garments are characteristically designed to allow bending at the knee and hip, and are sewn with felled seams for strength and durability. Basically, they are made to be practical for multipurpose activities including camping, hunting, workwear, hiking etc. They are meant to be durable, functional, and comfortable.
Cargo pants are often made with camo prints for hunting.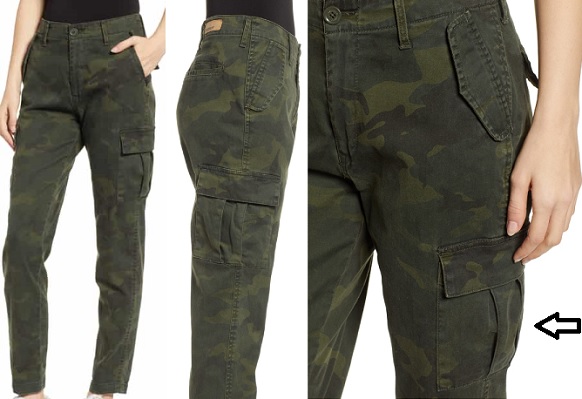 They are also made in solid colors for casual dress.

By the way, cargo pants have nothing in common with cargo freight (unless you are referring to a cargo pant shipment).
Thank you for using the Apparel Search website.