Are you preppy?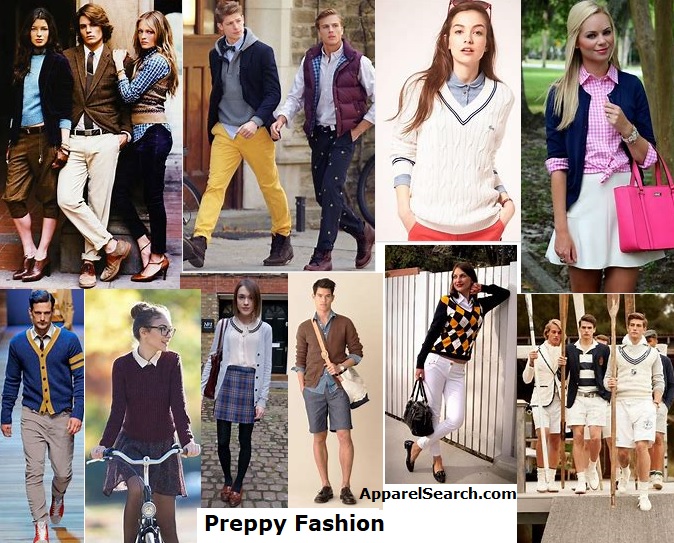 Examples of preppy attire include argyle sweaters, crewneck sweaters, grosgrain or woven leather belts, chinos, madras, Nantucket Reds, button down Oxford cloth shirts, pearl necklaces and earrings, gold bangle or large chain bracelets, penny loafers, polo shirts (often with a popped collar), and boat shoes.
The term preppy can actually be spelled preppie or abbreviated as prep. Essentially, it refers to a subculture in the United States associated with old private Northeastern university-preparatory schools. The term preppy is commonly associated with the Ivy League and oldest universities in the Northeast and the prep schools which fed students to them. The terms are used to denote a person seen as characteristic of a student or alumnus of these schools. Characteristics of preps in the past include a particular subcultural speech, vocabulary, dress, mannerisms and etiquette, reflective of an upper-class upbringing.
For men, preppy fashion has its roots in the Ivy League style of dress, which started around 1912 and became more established in the late 1950s.
Preppy fashion emerged in the late 1970s with cues from the original Ivy League style. Some typical preppy styles also reflect traditional upper-class leisure activities, once associated with the wealthy English who once had a strong political and social position in the Northeast and New England, such as polo, sailing, hunting, fencing, crew rowing, lacrosse, golf, tennis, rugby, squash and swimming. Preppy fashion was associated with stripes and colors, equestrian clothing, plaid shirts, field jackets, and nautical-themed accessories.
For women, preppy fashion classic ensembles of the 1960s and 1970s include tailored skirt suits, low heels, wrap dresses, shift dresses, silk or cotton blouses, and jewelry with a refined style. Such clothing often includes elements drawn from typical preppy style, such as school uniforms styles, nautical stripes, pastel colors, or equestrian details.
Ideas for further reading:
The Official Preppy Handbook is a tongue-in-cheek humor reference guide edited by Lisa Birnbach, written by Jonathan Roberts, Carol McD. Wallace, Mason Wiley, and Birnbach. It discusses an aspect of North American culture described as prepdom. In addition to insights on prep school and university life at socially acceptable schools, it illuminates many aspects of the conservative upper middle class, old money WASP society. Topics range from appropriate clothing for social events to choosing the correct college and major.
Popular preppy brands include Ralph Lauren, L.L. Bean, Pendleton, Izod, LaCoste, J.Crew, Brooks Brothers, Burberry, Sperry, Barbour, etc.
Read about: Preppy Clothing for Women on our fashion blog.
Learn about penny loafers.