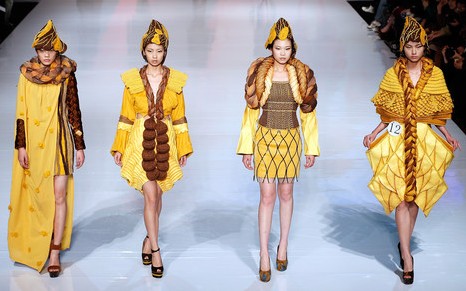 Textiles is obviously an important aspect of the fashion industry. Without textiles, we would would have no clothing.
China Textile Engineering Society
China Textile Information Center is an intermediary organization of the textile trade. It was established during China's reform of governmental institutions and the national scientific research system, through reorganizing four organizations, namely China Textile Information Institute and the Information Network Center, the Textiles Development Center and the Statistical Center under the former State Textile Industry Bureau. CTIC also supervises the innovation and upgrading of China's textile industry. Entrusted by China National Textile and Apparel Council, CTIC established the first Textile Industrial Innovation Platform of China in Xiqiao Town of Guangdong Province in 2003, with the purpose of servicing local small and middle scale enterprises. The Textile Industrial Innovation Platform includes five centers, they are: Textiles R&D Center; Textile Testing Center; Training Center; Information Center and Modern Logistics Center. Textile Industrial Innovation Platform mainly helps middle the small enterprises improve their competitive capability on market and play on broader stage. Being invested by the local governments and administrated by textile associations, the platform is a non-profit organization. Textile Industrial Innovation Platform represents the development level of local textile industry to some extent, and contributes to local textile industry's upgrading. CTIC has gather a team of experienced experts working for Textile Industrial Innovation Platforms.
China Textile Academy: China Textile Academy (CTA) was founded in 1956,originally affiliated to the Ministry of Textile Industry. In 1999, CTA was transformed into a large-scale high-tech enterprise directly under the central government, then was approved by the State Council to join in GENERTEC in 2009. CTA is the biggest comprehensive R & D institution and high-tech enterprises group in China's textile industry, equipped with advanced and professional instruments,facilities and trial production workshop . There are more than 3300 employees, in which the research fellows are highly educated and qualified. The National Engineering Research Center of Industrial Textile, the National Engineering Research Center of Synthetic fiber, Productivity Promotion Center of Textile Industry, China National Textiles Quality Supervision Testing Center and Standardization Institute of Textile Industry of China are all affiliated to CTA.
fabrics China Project: "fabrics China" is a collective of excellent brands in China's Textile Industry. It is designed to assist Chinese textile enterprises to improve their core competitiveness in terms of trend research, product R&D, standardization & Testing and trade promotion. By utilizing the influence of its sponsor in China's Textile Industry, it recommends high-quality Chinese-made fabrics to downstream buyers on global market.
TexIndex: Texindex.com runs the one of the leading textile and apparel vertical nets, consisting of B2B Marketplace, directory search engine, career center, and buyers' guide. China textile B2B marketplace; China textile suppliers' directory & E-catalogues ; Textile Tradeshow Calendar; Chinese Textile News; Web Designing & Hosting.
Responsible Supply Chain Association (RSCA) is a professional organization under China National Textile and Apparel Council, which is made up of enterprises, buyers and other related organizations on voluntary basis. It is designed to popularize the concept of social compliance, build up a responsible supply chain and improve the implementation of social responsibility of textile industry.
If you have suggestions regarding additional resources that should be added to this section, please do not hesitate to let us know.