If you are a hair stylist or makeup artist, please join us at the Fashion Industry Network. At the fashion industry network, you may join the stylist group to communicate with other stylists.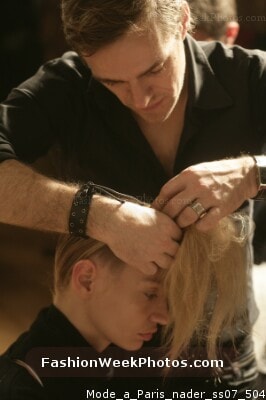 Artists by Timothy Priano
:
ARTISTS by Timothy Priano is a premiere network representing world-renowned beauty professionals including hair artists, make-up artists, fashion and prop stylists, and manicurists. ARTISTS represents an abundance of the most sought after hair and make-up artists, fashion and prop-stylists, manicurists and colorists. A sample of heavily requested makeup artists includes Kristofer Buckle, Leslie Lopez, Matin, and Brigitte Reiss-Andersen. Among the top hairstylists represented are Peter Butler, Oscar Blandi and Rick Gradone. Personal stylists include Eric Niemand, Garth Condit and Alexa Ryan. ARTISTS also work with Marsha Bialo and Elle, two of the most well-respected nail artists in the industry.
Address: locations in New York, LA, Miami, Chicago and Toronto Phone: 212.925.5996 Fax: 212.941.8483
---
Crystal Agency : based in Los Angeles California, the Crystal Agency represents makeup and hair stylists, fashion stylists, manicurists and photographers who work in the fashion, beauty and entertainment industries
Hair Stylist & Makeup Stylist Agency
Photography Agency

Fashion Stylist Agency
---
See Management, Inc.: Their company works directly within the fashion industry as a talent management company representing hairstylists, makeup artists, manicurists, fashion stylists, art director and a casting director. They provide full service production for their clients and work with every major fashion publication and many of the world's leading designers including Marc Jacobs, Anna Sui, Ralph Lauren and BCBG. Address: 307 Seventh Avenue #1607 New York, NY 10001 Phone: 212.255.2500 Fax: 212.255.2020 info@seemanagement.com contact: John Shegda
---
Stilista Agency : STILISTA AGENCY is Baltimore and D.C.'s newest agency representing talented and experienced Hair Stylists, Make-Up Artists, and Fashion/wardrobe Stylists in the Baltimore/d.C. Metropolitan area and in New York. STILISTA was formed in 2007 to provide the fashion and entertainment industry with a unique boutique-style agency. The agency is comprised of professional, reliable, highly creative artists and stylists who are personally selected by the agency's owner, Sandy James, for their experience, reputation, and strong work ethic. STILISTA artists and stylists are accomplished trendsetters in the fashion industry. This talented crew has brought their creativity and passion to dozens of successful international projects. Individually, these artists and stylists have worked with major fashion entities such as MAC, Stila, Clinique, L'Oreal Paris, Sebastian, Bubbles, Aveda, Betsy Johnson, Seventeen Magazine, People Magazine, and Supermodels Unlimited Magazine. They have also worked with celebrities such as Kyra Segewick, America Ferrera, Al Gore, John Waters, Roberta Flack, and Saliesha Stowers. Together, there's no limit to what they can offer your project! STILISTA also offers the exclusive Entourage Imaging Team, a team of highly-skilled artists and stylists trained to work together on larger projects such as music videos, fashion shows, film, and much more. With over 50 years of combined international experie nce, this team offers clients an entire package of image industry experts who work collaboratively to deliver award-quality results. Each member of the STILISTA team is ready to take your project to the next level. Let their creativity help your project stand out from the rest! Address : Stilista Agency is 4501-H Dunton Terrace, Perry Hall, MD 21128 Phone: 443-838-3223 E-mail: Info@StilistaAgency.com Contact: Sandy James
Hair Stylists / Makeup Artists Agency
Fashion Stylist Agency
---
Tara Correll Represents : A Seattle based boutique agency representing Hair & Make-Up, Wardrobe Stylists and Prop Stylists in the Pacific Northwest and Los Angeles, specializing in the commercial photography, film and television industries. Address: 1934 10th Ave. West Seattle, WA. 98119 Phone: 206-851-9627 tara@taracorrell.com Contact: Tara Correll
Stylists are one of the most important aspects of any fashion show
Here are a few additional resources that are relevant:
Thank you for taking the time to utilize the Apparel Search website.