Welcome to the worlds greatest guide to women's crop top.
A crop top is a woman's casual garment or undergarment for the upper body, cut short so that it reveals the stomach.
Variations of the term: cropped top, belly shirt, half shirt, midriff shirt, midriff top, tummy top, short shirt, and cutoff shirt.
A crop top is a upper body garment, the lower part of which is high enough to expose the waist, navel, or some of the midriff.
In fashion, midriff is the human abdomen. The midriff is exposed when wearing a crop top or some forms of swimwear. "Midriff" is an old term in the English language, coming into use before 1000 AD. In Old English it was written as "midhrif", with the old word "hrif" literally meaning stomach.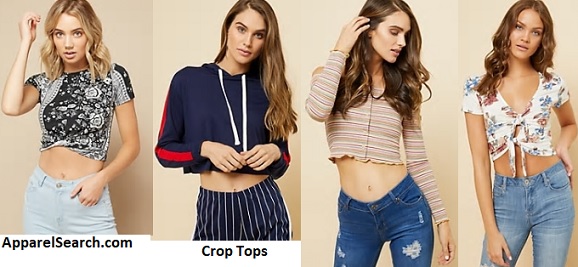 In the 1980s, cutoff crop tops became more common as part of the aerobics craze and as a result of the popularity of the movie Flashdance. Singer Madonna wore a mesh crop top in her video for the song Lucky Star.
As mesh fabrics and oversized aerobics gear went out of fashion by the 1990s, the crop top reappeared in the form of the bustier, a lingerie-style shirt which revealed the midriff and was typically worn under a blazer or shirt. By the mid-1990s, the crop top took on the form of the babydoll shirt, a cropped, tight-fitting T-shirt which often featured graphic logos.
It became common for women to crop sections of workout wear, such as sleeves, collars, and the hem of the shirt to create a loose-fitting top which was often worn over a body suit or tank top. Crop tops were also often paired with low-slung belts in the 1980s, angled at the side of the hip.
You may also have interest in learning about tube tops in our fashion products section.

Thank you for using the Apparel Search website.