Apparel Search is a leading guide to fashion, style, clothing, glam and all things relevant to apparel. We hope that you find this Women's Leather Skirts page to be helpful.
Yes, a leather skirt is a skirt made of leather.
A women's skirt is the lower part of a dress or gown, covering the person from the waist downwards, or a separate outer garment serving this purpose. They can be designed and manufactured in a wide range of styles. The production can be done with many materials including the option of leather.
Leather is a material made from the skin of an animal by tanning or a similar process. Learn about the various types of leather grain that can be used for women's skirts. Leather is a natural durable and flexible material created by tanning animal rawhides and skins.
Ladies leather skirts come in a variety of skirt lengths & colors.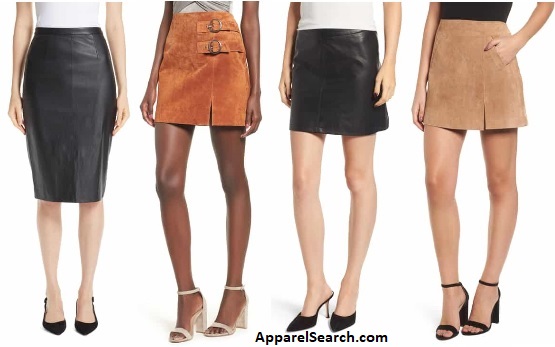 What ever you are wearing, is in fashion.
If you want to be even more stylish, you should wear your Women's Leather Skirts.