Apparel Search is a leading guide to fashion, style, clothing, glam and all things relevant to apparel. We hope that you find this Women's Luxury Knits page to be helpful.
Luxury is the state of great comfort and extravagant living. In regard to fashion, luxury typically comes at a high cost. Portion of the concept is that the higher cost allows for higher quality materials, trimming, sewing, etc. Women's luxury fashion is often sewn by hand, but not always.
Luxury fashion brands typically spend a great deal of time and money marketing to that consumes understand their brand is luxurious.
Women's luxury brands include Chanel, Louis Vuitton, Hermès, Dior, Prada, Burberry, Versace, etc.
Women's knit clothing can be made from a wide variety of fibers or types of knit construction.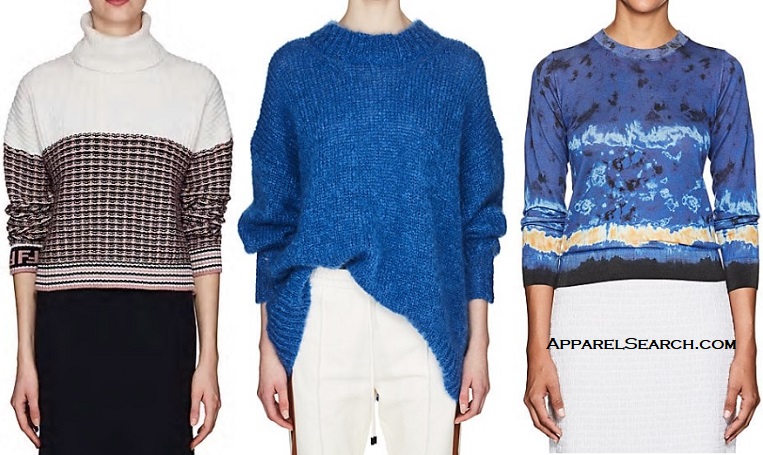 Women's knitwear is essentially any knitted garment. Knitted fabric is a textile that results from knitting. Knitting is a method by which yarn is manipulated to create a textile or fabric, often used in many types of garments. Knitting creates multiple loops of yarn, called stitches, in a line or tube. Knitting has multiple active stitches on the needle at one time. Knitted fabric consists of a number of consecutive rows of intermeshing of loops. As each row progresses, a newly created loop is pulled through one or more loops from the prior row, placed on the gaining needle, and the loops from the prior row are then pulled off the other needle. Knitting can be done by hand or mass production with textile machinery. Women's luxury knits is typically manufactured with fine quality yarns and with great care and attention to quality.
Women's luxury knits can refer to tops, bottoms, dresses, skirts, sweaters, etc.
By the way, you may want to check our Women's cashmere fashion section.
You can find luxurious knit clothing for women at fine retailers such as Barneys New York, Bloomingdales, Neiman Marcuse, Nordstrom, etc.
What ever you are wearing, is in fashion. If you want to be even more stylish, you should wear your Women's Luxury Knits.
Learn about high-end fashion, popular fashion brands, and Haute Couture.
You may find the following links to be of interest:
Celebrity Fashion

Learn about defining luxury in our fashion terminology section.
Have you seen our Fashion Designer Directory section?