Apparel Search is a leading guide to fashion, style, clothing, glam and all things relevant to apparel. We hope that you find this Maternity Apparel page to be helpful.
Maternity is the the period during pregnancy and shortly after childbirth. Maternity apparel is worn by women in some cultures as an adaptation to changes in body size during pregnancy.
As the body is changing shape and therefore levels of comfort, most maternity apparel is made with Lycra, elastic and other stretch materials to provide for fabric stretch for body growth & comfort. For pants, the waistband is usually a thick layer of stretchy material that can be hidden by a shirt to give the pants a normal look. Depending on style and activity, tops often billow out to leave room for the belly and are made of varying cottons and elastic materials.
Maternity clothes around the world have been undergoing significant changes. In both Eastern and Western cultures, there is greater demand for fashionable maternity clothes. pregnant women are no longer trying to hide or disguise their "baby bumps", instead choosing to wear garments which closely fit their new shape, often emphasizing the bust and abdominal area. Popular clothing brands have made everyday wear for pregnant women both fashionable and accessible.
Apparel is essentially fiber and textile material worn on the body. The category has many subcategories such as pants, shirts, skirts, dresses, lingerie, activewear, headwear, sportswear, etc. Most of the women's apparel categories can be produced in maternity sizing.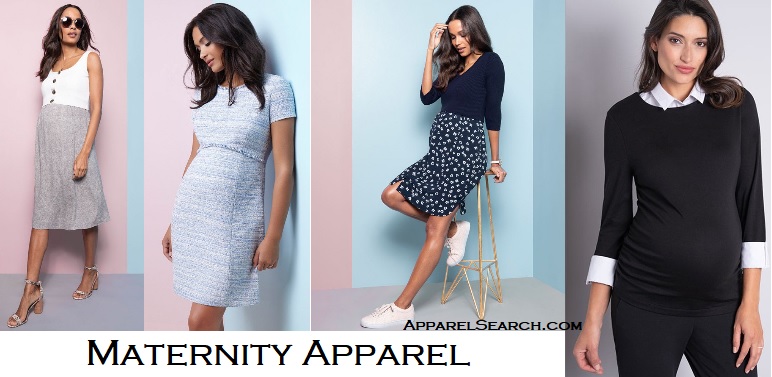 Historically maternity apparel has not generally been considered a potentially profitable area for most major clothing manufacturers due to a belief that many women would not purchase clothes intended for only a few months of wearing. However, with wide media interest in celebrity pregnancies beginning in the late 1990s, the maternity wear market grew 10% between 1998 and 2003. Since then the demand for maternity clothes continues to grow because women are working during pregnancy, travelling, going to the gym, etc., so their clothing needs are greater and more diverse than historically.
If you are in need of maternity fashion, congratulations.

You may find the following sections of our site to be of interest:
Women's Apparel Stores