A peasant is a pre-industrial agricultural laborer or a farmer with limited land-ownership, especially one living in the Middle Ages under feudalism and paying rent, tax, fees, or services to a landlord.
Unlike the higher class, peasants during the renaissance didn't have a lot of money. Their outfits weren't as spectacular as everyone else's. Women wore long, full skirts and a long-sleeve shirt, or chemise.
A peasant dress is roomy and comfortable to wear.
Peasant dresses are characterized by a certain "folksy" element (Folksy means having the characteristics of traditional culture). They come in various lengths & silhouettes.
They may have provincial aspects, like earthy embroidery in floral patterns, but they can also have design details like puffed sleeves or low necklines in a manner typical of German folk clothing. A peasant sleeve is a full sleeve gathered at top and bottom.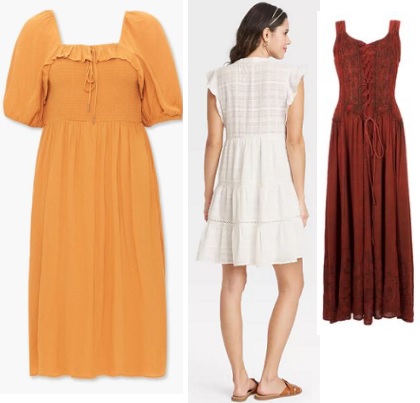 A modern peasant dress can come in long or short sleeves.
As a point of reference, a peasant top or peasant blouse is a rather broad description for the kind of informal top with a wide neck, short and puffed or long and full sleeves, and elastic or smocking at the waist, cuffs, and neckline.

v
Apparel Search is a leading guide to fashion, style, clothing, glam and all things relevant to apparel. We hope that you find this Peasant Dress page to be helpful.
What ever you are wearing, is in fashion.
If you want to be even more stylish, you should wear your favorite Peasant Dress.