Welcome to the worlds greatest guide to Women's Peasants Shirts. Are you actually looking for this style of top? We certainly hope that you are because you found or page on the topic.
Peasant style blouses are the perfect solution when you want something as comfortable as a t-shirt but a little dressier.
A shirt is a cloth garment for the upper body.
A blouse is a loose-fitting upper garment that was worn by workmen, peasants, artists, women, and children. It is often gathered at the waist or hips (by tight hem, pleats, or belt) so that it hangs loosely or "blouses" over the wearer's body. Prior to the 1890's, blouses were occasionally popular for informal wear in styles that echoed peasant or traditional clothing.
A women's peasant top is a type of blouse based on traditional European peasant dress. This informal top typically features a wide neck, short and puffed or long and full sleeves, and elastic or smocking at the waist, cuffs, and neckline. This unique style is especially nice in the summer because they're loose and usually made of lightweight materials.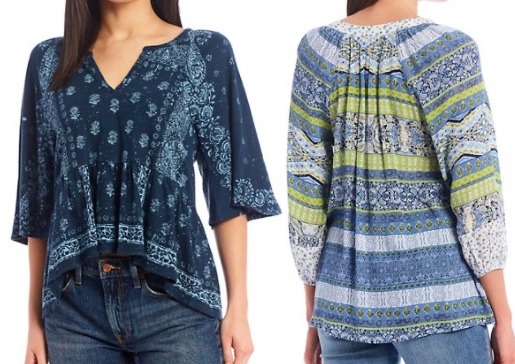 This type of shirt can come with various necklines such as squareneck, banded neck, scoop neck, v-neck etc. Various sleeve lengths as well. A popular length being the 3/4 sleeve.
Peasant tops offer perfect versatility.
You may also have an interest in checking the Women's peasant dress section.
Give your wardrobe a fabulous refresh with women's peasant shirts. When paired with a skirt, jeans, or shorts, this chic style will create a complete look for any occasion.
Learn about different types of shirts. You are sure to find a shirt style to fall in love with.

What ever type of shirt you are wearing is in fashion this season for sure.
If you want to be even more stylish, you should wear your favorite Women's Peasants Shirt.
Have you seen our Fashion Designer Directory section? Fashion designers might have a nice selection of tops to catch your attention.
Learn more about women's fashion.