Welcome to our guide to Sarongs. Are you actually looking to learn more about Sarongs? Well, we hope you are because the reality is that you have found our page on the topic. In this Women's clothing section of the Apparel Search directory, you will find all sorts of interesting information regarding Sarongs, so lets get started.
Different types of sarongs are worn in different places in the world. The word may have different meaning or importance depending on region, religion or culture.
A sarong or sarung; is a large tube or length of fabric, often wrapped around the waist, worn in Southeast Asia, Southern Asia, Western Asia, Northern Africa, East Africa, West Africa and on many Pacific islands. The fabric often has woven plaid or checkered patterns, or may be brightly colored by means of batik or ikat dyeing. Many modern sarongs have printed designs, often depicting animals or plants.
Sarongs are also a type of beachwear often worn by women as a cover-up accessory.
Beach sarongs are popular in the United States. They are worn around the pool, beach, lakes, etc.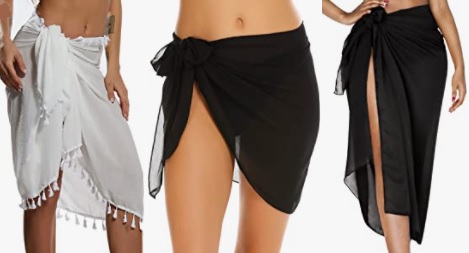 Swimsuits sarongs are an important part of many women's wardrobes.
Again, Sarongs are worn for different reasons in different parts of the world. In some locations, they are nothing to do with swimwear.
As read on Wikipedia (July 2021), "Sarong or sarung denotes the lower garment worn by Southeast Asian men and women. This consists of a length of fabric about a yard (0.91 m) wide and two-and-a-half yards (2.3 m) long. In the center of this sheet, across the narrower width, a panel of contrasting color or pattern about one foot wide is woven or dyed into the fabric, which is known as the kepala or "head" of the sarong. This sheet is stitched at the narrower edges to form a tube. One steps into this tube, brings the upper edge above the level of the navel (the hem should be level with the ankles), positions the kepala at the center of the back, and folds in the excess fabric from both sides to the front center, where they overlap and secures the sarong by rolling the upper hem down over itself. Malay men wear sarongs woven in a check pattern, while women wear sarongs dyed in the batik method. However, in Javanese culture, the wearing of batik sarong is so common and not restricted to some particular gender, sometimes it is also used in formal occasions such as weddings."
The sarong is common wear for women, in formal settings with a kebaya blouse.
For more information about the various types of sarongs worn around the world, we suggest you visit Wikipedia or possibly another resource to learn more.
Learn more about ladies sarongs in the sarong definitions section.
You may find the following sections of our website to be of interest as well.
Sarong Factories Fashion Accessories Group Fashion Accessory Stores
Women's Fashion Accessory Wholesalers Swimwear News
What ever type of fashion accessories you are wearing, is in fashion.
If you want to be even more stylish, you should wear your favorite Sarongs.

Apparel Search is a leading guide to fashion, style, clothing, glam and all things relevant to apparel. We hope that you find this Sarongs page to be helpful.