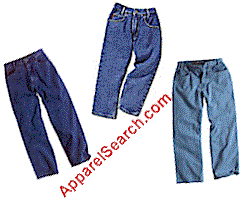 If you are looking for denim jean factories you have come to the proper place. Below you will find our jean manufacturers directory. This is an international apparel guide with listings from various countries.



Fashion Knit (Pakistan): They have a stitching unit in Pakistan. They make denim jeans for boys and girls, and for men's and women's. They make basic 5 pocket denim jeans, shirts, jackets, shorts,cargo jeans, working jeans, twill and khaki jeans. They use 14.50 oz denim fabric, and their production is 35,000 pices per month. Address: 8 berri villa cannal park gulberg 2 Lahore 54660 Pakistan Phone: 5151927 or 843097 Fax: 5123200 Email: fashionknit@yahoo.com Contact: waqas ahmed / farhan
Manufacturer Item # 1: denim shirts
Manufacturer Item # 2: denim jacket
Manufacturer Item # 3: denim pant
Manufacturer Item # 4: twill pant
Manufacturer Item # 5: overall
Manufacturer Item # 6: cargo pant
Manufacturer Item # 7: carpenter pant
---

Iftikhar and Sons (Pakistan): they are manufacturer and exporter of jeans and woven garments. Address: 596 Pib Colony Karachi, Pakistan Phone: 92-21-4944850 Fax: 92-21-4949719 Email: shoukat1@hotmail.com Contact: Muhammad Shoukat Ali, Marketing Executive
Manufacturer Item # 1: Jeans pants
Manufacturer Item # 2: Jeans short
Manufacturer Item # 3: Denim shirts
Manufacturer Item # 4: yarn dyed fabrics' shirts
Manufacturer Item # 5: Poly cotton pants
Manufacturer Item # 6: ladies dresses
---

J.A Group of Companies (Pakistan): one of the leading Group of Textile Industries of Pakistan. They are divided into manufacturing of Textile fabrics, Readymade garments. Address: 204, Amber Estate Main Shahrah-E-Faisal Karachi 75350 Pakistan Phone: 9221-4525135 or 9221-4525136 Fax: 9221-4525170 Email: export@webnet.com.pk or jatraders@yahoo.com Contact: Babar Ali (Export Manager)
A.M. TEXTILES: (part of J.A Group of Companies)
Leading Manufacturers of Textile fabrics
knits/woven
for Local Market and Export Market of all kinds of Textile fabrics, they have own setup of 60 Shuttles Looms and Manufacturing on overhead basis in Air-jet Looms, they can provide on very competitive rates Grey and Dyed fabrics and also Exporting Knitted dyed / printed fabrics/bed Sheets printed.
J.A. TRADERS: (part of J.A Group of Companies)
Manufacturers for Woven Garments all types Men, Women, and Children, with 150 latest machines with backing of highly skilled technical staff. JA Traders was established in 1992 and have successfully exported on regular basis to USA/canada, reaching annual export sales US$.1.2 Millions.
JA TRADERS: E-95, P&T Society, Sector 31-D, Korangi Industrial Zone, Karachi, Pakistan.
HALIMA GARMENTS: (part of J.A Group of Companies)
Halima Garment factory
is ultra modern factory working on chain system, and is equipped with 300 brand new latest machines to cover up big orders in short span of time
backing with highly skilled technical staff and management. Reaching annual export sales about US$.5 millions. To USA/canada.
Situated in Export Processing Zone, Karachi, Pakistan.

Gender: Men's and Women's
Manufacturer Item # 1: Casual Wear
Manufacturer Item # 2: Pajama
Manufacturer Item # 3: Skirts
Manufacturer Item # 4: Infant Wear
Manufacturer Item # 5: Boxer Shorts
Manufacturer Item # 6: Jacket / Outerwear
Manufacturer Item # 7: Jeans Wear
---

Juxin Garment Group Limited (China): Juxin Garment Group Limited is a clothing factory in Foshan (30 minutes from Guangzhou) China that manufactures quality apparel for boys and girls at reasonable prices and good quality. OEM, CMT and private label services provided. Founded in 2004, their factory manufactures all kinds of kids' jeans, pants, shorts, jackets, vests etc.; girls dresses, tops and blouses, skirts, shirts, tees, jackets, vests, coats etc. Over 50 experienced employees in their factory are working to handle international orders. Moreover, a classic design team, an efficient sampling department, professional merchandisers, experienced workers, strict quality control, trimming and packing departments and close cooperative relationships with experienced washing factories are their advantages. Their jeans are produced with high-tech washes, including bleach, stones, enzyme, acid, snow, sands and softener washing. Our factory emphasizes high quality standard with competitive prices as we insist on the use of quality assurance process that includes measurable standards in the line and final inspections to meet the evolving requirements of their market. Over 14 years' experience allows them to understand customers' expectation of superb quality, timely delivery and prerequisite. As a result, they successfully built an international sales network reaching the USA, Canada, Europe and the Middle East with products distributed worldwide. They ensure that their employees are fully qualified to fulfill their assigned tasks, and are periodically trained for quality control to meet customers' highest expectations. Address: 4F, Building 1, Shangshi Industrial Park, Chancheng District, Foshan, Guangdong, China. 528000 Phone: +86 757 82730473 E-mail: olivia@juxin-group.com Contact name: Olivia Lai
Jeans Factory
Pants Factory
---

Kings enterprise (India): They manufacturer and export readymade garmenrts and specially shirts and trousers and jeans. They are also dealers of used machines. Specially dealing in embroidery (computerized) machines and all other used garment machines. Address: 29 Zakaria Masjid Street Mumbai, India 400009 Phone: 3719191 or 6437702 Email: kingse70@usa.com Contact: Mr. Sattar
Manufacturer Item # 1: men's shirts
Manufacturer Item # 2: trousers
Manufacturer Item # 3: jeans
---

Kuzgunlar Textile (Turkey) is a Turkey based organisation, with an HQ and facility in Istanbul and Kastamonu facility, which is aiming always to be best and sustainable in producing denim and non-denim garments for both women and men. They are producing denim and nondenim garments for the prestigious european brands. Kuzgunlar Textile has its own 2 facilities in Istanbul and in Kastamonu / TURKEY Which are audited by Sedex We are believing in sustainable production with over 20 years of experiment Kuzgunlar Textile is making high quality of bottoms and tops out of denim fabric.
---

Luen Yat Garment Factory (China & Macau) Luen Yat Garment Factory was established in 1986 by their Director, Mr. Tony C.M. Chan. During these 20 years, their factory has been growing tremendously from a small enterprise into a widely-known and well-established garment factory in Asia. Their Company is originally based in Macau with production factory and head office. The 46,000 sq. ft. air-conditioned premise accommodates of around 350 employees divided into merchandising, shipping and administration, paper patterning, cutting, sewing, sample-making, washing and packing division. In order to cope with their rapid business growth, they have set up an additional two factories. Zhuhai, Luen Yat (Claire) in 1996. With 60,000 sq. ft. Premise is accompanied with 20,000 sq. ft. staff accommodation, providing convenient and comfortable environment for our 800 employees. An area covering over 100 acres of land, with a production area of 500,000 sq. ft including sewing, packing, in house laundry, embroidery, water treatment system. Premise is accompanied with 500 rooms accommodation with a recreational area of, basketball court, badminton, karaoke providing relaxing and comfortable for 2000 employees. Luen Yat's annual capacity reaches 450,000 dozens of Jeanswear for local & overseas markets. As they are continuously improving their machinery and workmanship as well as implementing better production arrangement, their capacity is having a favorable and steady annual growth. Their current production in Macau factory is 80,000 pairs of jeans per month whereas the monthly production in their China factory is 370,000 pairs.
Stonewashing
Jeans Factory
---

MARAIMA (Morocco): clothing manufacturer from Morocco. Address: RUE 110,NO 2,AIN SEBAA CASABLANCA 20002 MOROCCO Phone: 0021263586814 Email: mdhunnoo@hotmail.com Contact: MAHENDRA DHUNNOO
Gender: Women's Manufacturer Item # 1: Pants
Manufacturer Item # 2: Skirts
Manufacturer Item # 3: Sportswear
Manufacturer Item # 4: Dresses
Manufacturer Item # 5: Rompers
Manufacturer Item # 6: LT Jeans
Manufacturer Item # 7: Shorts
---

Mosgen Americas: Mosgen Mosgen Americas is a global clothing manufacturer of textiles, apparel and accessories for the better fashion market. Their target market segments include Men's, Women's and Kids. Product categories at their factories include Sweaters, Dress Shirts, Woven Blouses, Pants, Denim, Coats and Jackets, Embellished Knits and Accessories. They partner with some of the best fashion retailers and brands throughout the United States and around the world. At Mosgen they manufacture at their own factories and directly with contract manufacturers throughout China, as well as Bangladesh, India and Vietnam. Whether producing in their own factories or directly contracting with their partner factories, they oversee the sampling, production, quality, packaging and shipping requirements to insure that they consistently meet and exceed their customers expectations. Mosgen Americas is the USA based sales and marketing arm of Hong Kong headquartered Mosgen LTD. You will find their New York product showroom at 247 West 35th Street and their Hong Kong office and product Showrooms at 33 Canton Road, Tsimshatsui, suite 2018, Kowloon Hong Kong. Showroom meeting are by appointment, please contact them, at info@mosgenamericas.com Address: 247 W. 35th Street New York, NY PH: 570-294-9185
Sweaters Manufacturer
Dress Shirts Manufacturer
Woven Blouses Manufacturer
Pants Manufacturer
Jeans / Denim Manufacturer
Coats and Jackets Manufacturer
Embellished Knits Manufacturer
---

NOGETEX sarl (Morocco): manufacturer of Jeanswears and wovenswears, Specialised in denim pants sporty shirts,jackets, skirts,dresses;rompers, shorts, capri and many more. Machine capacity: 350. Employees: 450. Production capacity:basic 5 pockets 7500 pcs-9000pcs An average production /month is 6500 pcs. Facilities:LECTRA SYSTEM, AUTO TRIMMER MACHINES, Well equipped cutting department,sampling department, quality Department Clients ref: DIESEL italian buyers, FILA, Italian buyer, CDA italian buyer, Burberry shirts-UK. Address:Rue jilali Ghafiri,Lot 4, 1 st floor, ainsebaa,Casablanca, MOROCCO Tel:0021222661576 fax:0021222661317 mobile:0021270695110 e-mail: mdhunnoo@hotmail.com or nogetex@iam.net.ma
Manufacturer Jeans

Manufacturer Skirts

Manufacturer Shorts

Manufacturer Pants
---

Novel Denim (Hong Kong) is a leading low-cost, vertically-integrated and flexible supplier of high-quality denim, chino and twill garments, as well as a broad range of woven and printed fabrics, to customers primarily in the United States and Europe. Novel Denim's facilities are strategically located in Mauritius, an island nation in the southwest Indian Ocean, South Africa and China. Novel Denim produces a broad and diverse range of jeans, chinos, shirts, skirts and jackets. The Company also produces and/or finishes an increasingly diversified and innovative range of denim, chino, twill and printed fabrics, including lightweights, alternative weaves and specialty colors and finishes. Novel Denim's customers include major retailers, wholesalers and manufacturers of leading designer and private label apparel brands. Address: 1/f, Novel Industrial Bldg., 850-870 Lai Chi Kok Rd., Cheung Sha Wan Kowloon K3, Hong Kong Phone: +852-2785-5988 Fax: +852-2728-9249
---

Pacific Color & Design (USA): need something made? or just want samples? price check? give them a call they do complete from A-Z Private Labeling and also manufacture high fashion junior apparel. Address: 421 E 6th St. #200 Los Angeles California 90014 USA Phone: 213-623-8062 or 818-730-8439 Fax: 213-623-1344 Email: PacificCandD@aol.com Contact: Alex M.
Gender: Women's and Girls
Manufacturer Item # 1: Junior Knit tops
Manufacturer Item # 2: Pants Denim
Manufacturer Item # 3: Private Labelin

g
---

Paramount Apparels Pvt. Ltd. (India): they are manufacturers and exporters of high quality garments with a capacity of over 3000 garments per day using the latest technology and having dedicated washing plant and catering to leading local and overseas brands. Address: Ram Mandir Road Mumbai 400102 India Phone: 91-22-8754231 or 91-22-8754253 Fax: 91-22-8735666 Email: saemah@vsnl.com
Contact: Mahesh Krishnan COO
Gender: Men's
Manufacturer Item # 1: Shirts
Manufacturer Item # 2: Casual Trousers
Manufacturer Item # 3: Dress Pants
Manufacturer Item # 4: Jeans
Manufacturer Item # 5: Kids Wear
Manufacturer Item # 6: Jackets
Manufacturer Item # 7: Work Wear
---

Pioneer International General Trading (UAE / India): One of the biggest Manufacturers/ Exporters. Dealing in any type of garments. Having own set up in India. Office in Dubai also. Prices are direct from the manufacturer. They have own manufacturing plant in the Free Trade Zone in India. One item-- Jeans / is our main product. Address: Dubai 009714 U.A.E. Phone: 0097150-6956129 Email: pioneerdxb7@yahoo.com Contact: Mr. Mathew
Manufacturer

Item # 1: M

en's Jeans

Manufacturer

Item # 2: M

en's Shirs

Manufacturer

Item # 3: L

adies Jeans

Manufacturer

Item # 4: L

adies Shirts

Manufacturer

Item # 5: L

adies Dresses

Manufacturer

Item # 6: T-

shirts

Manufacturer

Item # 7: A

ny garment
---

Private Label Apparel Connection (Los Angeles): Private label jeans cut and sew manufacturers for men's and women. Minimum batch production 12 to 100 pieces wholesale clothing distributor. Private Label Apparel Connection was born in 2018 out of necessity. As jeans factories in Los Angeles struggle, established brands, new denim designers and boutiques face ever increasing minimum production orders and their limitations along with delivery delays. The company adapted a version of white label to the apparel industry, specifically in denim and urban wear areas. Working with small batch manufacturers and garment wash houses, Private Label Apparel Connection was able to reduce minimums to 12 pieces per style / wash. As an added benefit, this novel approach to clothing manufacturing reduced the delivery time to as little as 2 weeks.
---

Provati Apparels Limited (Bangladesh): export oriented Ready Made Garments Factory, situated at Chittagong, the 2nd largest and largest Port City of Bangladesh. They believe in social responsibilities, they care for their working hands, working environment. They are aware of safety, accountability and commitment. They produce all kinds of Trousers, Shorts, Overall, Shortall, Jackets and Children Wear made of Denim, Twill, Polyester, T/c, Cord, Canvas, Micro fabrics, Etc. The Factory is capable to produce 50,000 Pcs per month with product mix of two. The top management of the factory led by well educated, experienced person who worked for different Foreign Owned Garments Factory and carrying long history of RMG sector in Bangladesh. The mid level management of the factory is a team with combination of experienced Administrator, Commercial and Production Manager, Quality Controller and Others. The strength of the factory is a team of 8 Supervisors, 110 Skilled Operators, 70 Helpers, 20 QC's, are capable to produce good quality products on time. The factory equipped with latest sewing and other supporting machines like Eastman brand Cutting, Juki brand Single Needle, double needle, Interlock, Over-lock, Feed-of-the-Arm, Bar taking, Button Hole, Button Sewing, Kansai Special, Reech brand Eyelet B/hole, Naomotto Steam Boiler, Iron, Vacuum iron table and other machines. They have their supplier base in Hong Kong, China, Taiwan, India and Bangladesh for procurement of good quality fabrics & Accessories at competitive prices with minimum lead-time. By coordinating related Government authorities, Banks, Suppliers, Factory and Forwarder they can reduce Lead Time of Order Execution Cycle and assure timely delivery of goods with quality. Address: 1050/a., South Bakuli, Shah Amanot Bridge Connecting Road, Rajakhali Chittagong 4000 Bangladesh Phone: 88-031-637079 or 88-018-318993 Fax: 88-031-612219 Email: pal@abnetbd.com Contact: Gazi Mahbubul Alam, Director
Gender: Men's
Manufacturer Item # 1: Trouser
Manufacturer Item # 2: Shorts
Manufacturer Item # 3: Jackets
Manufacturer Item # 4: Overalls
Manufacturer Item # 5: Shortalls
Manufacturer Item # 6: Vest
Manufacturer Item # 7: Jeans
---

PT KOPANITIA (Indonesia): they are a garment manufacturing company with 2 very famous and popular brands in Indonesia. They only have quality products at competitive price. They have many ranges of ladies and men's wear for all ages. They welcome any inquiries. Address: Gembong Gemini 2-16 B 8-9 Surabaya Indonesia Phone: 6231-3711227 or 6231 3717227 Fax: 6231-3717895 Email: rbytago@yahoo.com Contact: Roy Bytago ( Director)
Manufacturer Item # 1: T-shirt
Manufacturer Item # 2: Jeans
Manufacturer Item # 3: Shirt
Manufacturer Item # 4: Trousers
Manufacturer Item # 5: Shorts
Manufacturer Item # 6: casual
Manufacturer Item # 7: Fashion
---

Qingdao Datang Apparel Co.,Ltd. (China): they are long established apparel manufacturer in China. They have been in this trade for ten years. Their products have been mainly for the Japan's market. They wish they will be able to produce for the buyers in other areas especially the United States, Canada, and Europe. Address: 11C-A,19,Shandong Road,Qingdao,China Qingdao 266071 China Phone: 86-532-5834596 or 86-532-5827173 Fax: 86-532-5831492 Email: feedback@ctpi.net Contact: Mr.Chen Wen,Managing Director
Gender: Men's and Women's
Manufacturer Item # 1: Jeans
Manufacturer Item # 2: Men's Jackets
Manufacturer Item # 3: Women's pants
Manufacturer Item # 4: Women's shirts
---

Qualex International (Pakistan): they are a garment manufacturing and export house based in Karachi, Pakistan. Qualex International was established in 1994, with an aim to provide their prestigeous buyers across the United States and the rest of the world, with the best quality garments living up to there quality requirements and on time deliveries and above all best and sharp prices. Address: 05, Aijaz Centre, Mansfield Street, Saddar,Karachi. 74400 Pakistan. Phone: 0092-21-5676426 Fax: 0092-21-5216871 Email: qualexpk@rediffmail.com Contact: Mr. Yousuf, Director.
Manufacturer Item # 1: Golf Shirts
Manufacturer Item # 2: V-Neck T-shirts
Manufacturer Item # 3: Tank Tops
Manufacturer Item # 4: Sweat Shirts
Manufacturer Item # 5: Blouses
Manufacturer Item # 6: Denim Pants
Manufacturer Item # 7: Dungaree
Learn more about jeans in our fashion products section.