Looking for the best fashion shopping for 2017? You have come to the right place.
Yes, we understand that you love shopping for fashion.
Let your fingers do the clicking. Or walk the floor at your favorite clothing retailers. To be honest, we don't really care where you shop. Just make sure you are making smart choices before you make your purchases. Stay in style, and within your budget.
Below you will find a few suggestions for browsing online or in-stores.
Online fashion shopping spree:
We hope you are ready to sharpen your trend spotting skills this season. The best online shopping destinations make it much easier to find current trends from fashion to beauty to lifestyle choices in general.
abof (All About Fashion): Buy clothes, footwear and accessories online for men and women. Online fashion store for trendy clothes in India. Follow the latest fashion trends online.
Avenue 32 (London): Avenue 32 is your online luxury shopping neighbourhood. Established in 2011 by Roberta Benteler, Avenue 32 hosts a compelling mix of emerging design talent alongside established international brands. Their customer experience services offer express delivery as standard and free returns across the globe. Within only four years of launching, they have been voted the 2nd best online fashion retailer by a popular magazine.
Bona Drag: The term Bona Drag means "nice outfit" in polari, a secret language used by the gay culture in London during the 1960's. The phrase was introduced to us by Morrissey and encapsulates the intention of the store. A shared camaraderie for those who seek out unique aesthetics and are fascinated by the secret language of style. Founded in 2006 by Heather Wojner, Bona Drag is an online boutique based in Milwaukee, WI. Bona Drag showcases a carefully curated collection of fashions and objects. Their selection of items are chosen according to originality, quality, timelessness, wearability, and spirit. The Bona Drag team also includes brilliant friends Hannah Baird, Traci Bunkelman, and Sarah Wojner.
Boohoo: Get the latest women's fashion online at boohoo.com. With 100s of new styles every day from dresses, onesies, heels, & coats, shop women's clothing now.
Farfetch: Enjoy express worldwide delivery and same-day delivery in London, New York, Paris, Los Angeles, Miami, Madrid, Milan, Barcelona and Rome, plus swift and simple returns, and exciting new men's, women's and kids pieces uploaded every day.
MatchesFashion.com: MATCHESFASHION.COM is the modern luxury shopping destination for the confident global fashion customer. Discover their unique edit of over 400 established and emerging designers from Balenciaga, Gucci and Saint Laurent to Valentino, Dolce & Gabbana and Vetements. Using technology to inspire and innovate, they aim to make shopping seamless – whether online, in store, or at their special events. With over 25 years' heritage in luxury fashion, they deliver to over 170 countries and offer 24/7 advice through MyStylist, their dedicated fashion-concierge team.
Moda Operandi is possibly the only online retailer to invite clients to preorder next-season's looks straight from the runway. And for those who can't wait, they offer an expertly curated in-season boutique. The vibrant theatrics of fashion week come to life with our highly editorialized shopping experience. Spellbinding imagery and evocative language showcase their exceptional designer offerings, comprised of everything from premier fashion houses to emerging vanguard labels. Expect unprecedented access to stunning ready-to-wear, luxurious leather goods, and museum-worthy fine jewelry.
NEED began with the desire to create clothes for their friends. At home and across the world, their friends are the people who motivate them to do what they do. As designers, photographers, authors, and creators, they inspire the staff of this fashion company with their passion and work. They designed NEED to fit into their lives by creating garments that are refined, hard-working and stylish. Need Supply Co. is a clothing and lifestyle store based out of Richmond, VA. They started selling vintage Levi's in 1996 but have since expanded our offerings to include men's and women's clothing and accessories. In 2008 they launched their web store and have been shipping worldwide ever since.
Pixie Market: From seeking style inspiration to picking fabrics to scouting photo-shoot locations and selecting the models, Their team is very passionate about each and every item they present to their customers. Their mission is simple, they want you to get compliments from perfect strangers every time you wear their styles. Founded in 2006 by Magda Pietrobelli, Pixie Market has evolved from a little NYC boutique to an online fashion brand offering the best trends of the season.
Spring: with new arrives for women, men, and kids, finding fashion at Spring is an online shoppers dream. Find the brands the love and the ones that you will learn to love. Spring is a digital shopping destination where people can discover amazing products and buy them directly from their favorite brands in a single-cart experience.
Find more of the best online fashion shopping resources.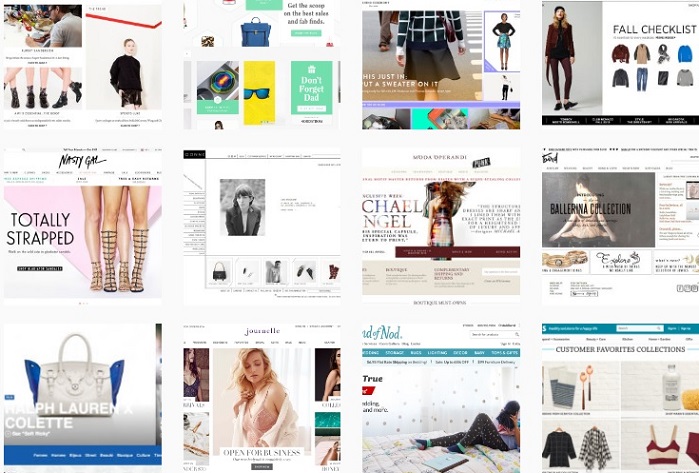 When all else fails, try Google Shopping and Fashion on Amazon.
In-store fashion shopping spree:
Sometimes you fingers get tired of typing and it is time to visit an actual brick and mortar apparel retailer. Here are only a few of our favorites for this year.
You should also visit the best shopping destinations from around the world section.
For additional shopping resources, don't forget to stop by our clothing store directory to find department stores, mass merchants and boutiques from around the globe.