Apparel Search has utilized data from the USA Census to create the following historical information to help fashion industry researchers learn more about our industry. The data was retrieved on February 4, 2015.
Revisions to the original source data may occur, but we will NOT be updating the charts listed on this page. If you wish to utilize this information, it is important to keep in mind that the data can possibly be outdated due to potential revisions.
The Y-axis for the line charts may be truncated to prevent flattening of the lines or to present the complete range of data.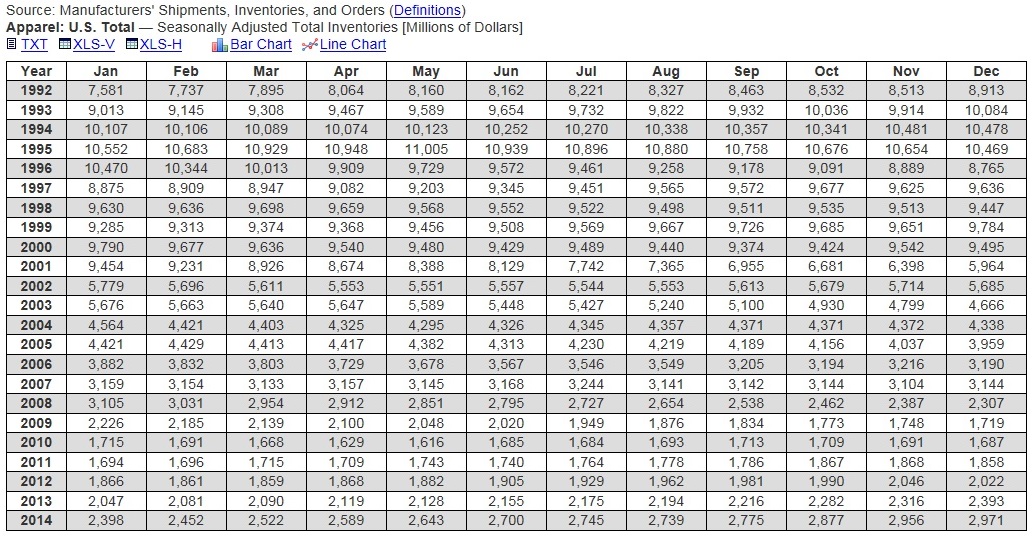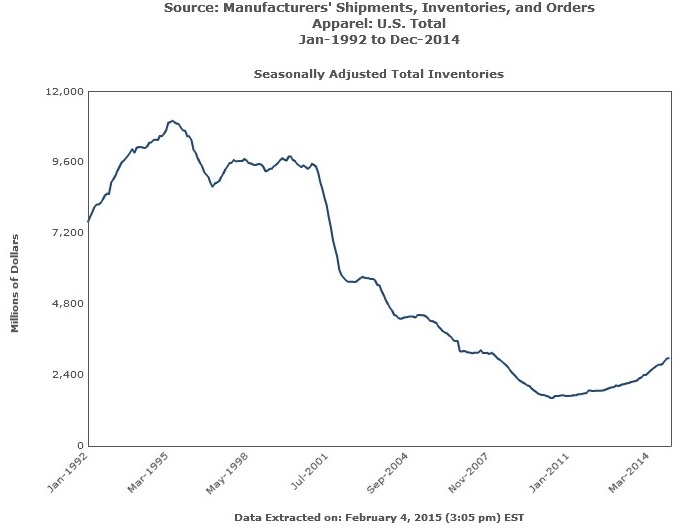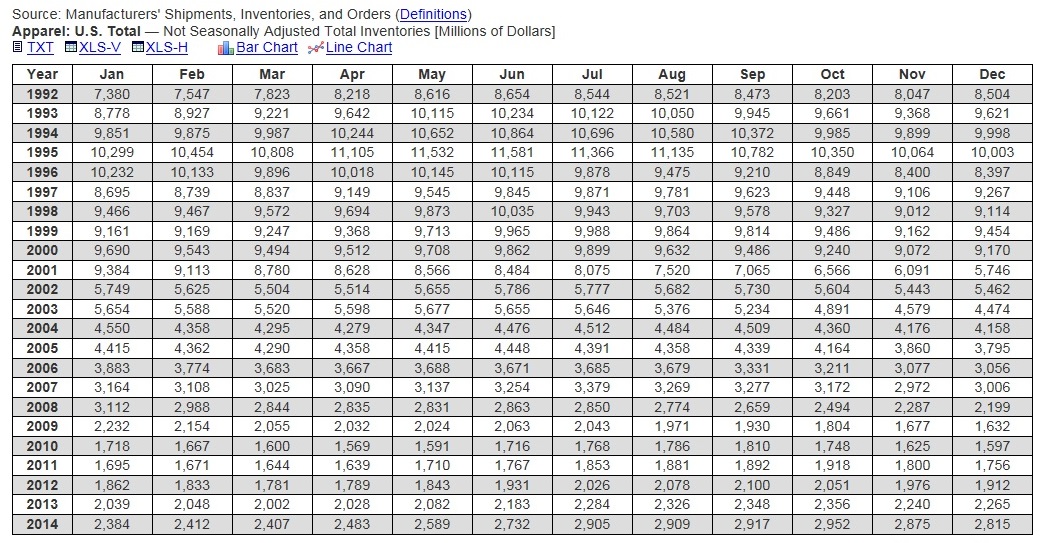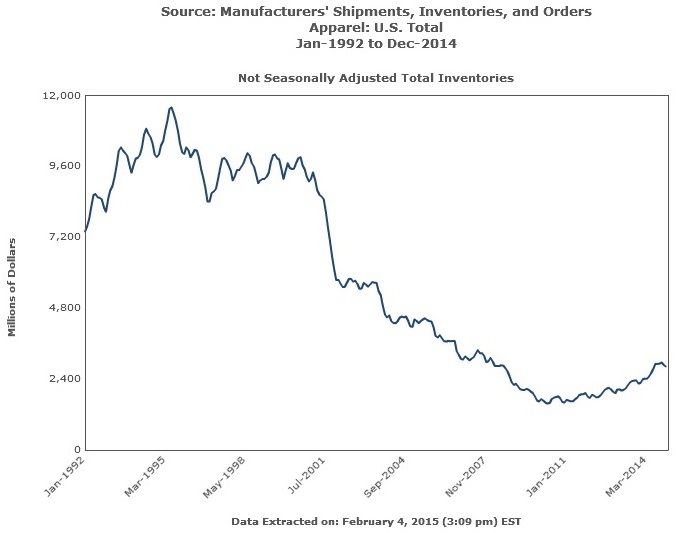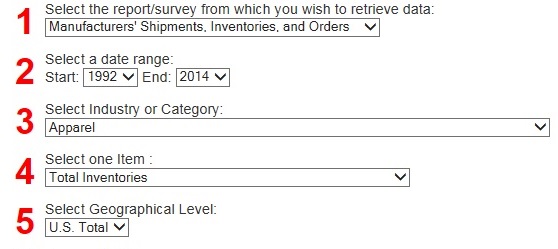 Revised historical data for Manufacturers' Shipments, Inventories, and Orders will be issued on May 14, 2015. These revisions reflect benchmarking the shipments and inventories data to the 2012 Economic Census and 2013 Annual Survey of Manufactures (ASM) data on a 2012 NAICS basis, as well as revised ASM benchmarks for prior years on a 2007 NAICS basis; incorporating the unfilled orders to shipments ratios obtained from the 2013/2012 and 2012/2011 Manufacturers' Unfilled Orders Survey by applying these ratios to the respective Census or ASM shipments data, as well as incorporating revised unfilled orders to shipments ratios for prior years; adjusting the new orders data to be consistent with the benchmarked shipments and unfilled orders data; correcting monthly data for late receipts, reclassifications of reported data, and revisions to previously reported data; and updating the seasonally adjusted data based on the results of benchmarking and the recent annual review of the seasonal adjustment models. These revisions will span the seasonally adjusted data for January 1997 through March 2015 and the data not seasonally adjusted for January 2001 through March 2015. An updated Press Release will contain revised monthly tables for January 2015 through March 2015 on a 2012 North American Industry Classification System (NAICS) basis, which will be the new basis for publishing data from the M3 Survey starting with the April 2015 Advance Report on Durable Goods.
For the Manufacturers' Shipments, Inventories, and Orders Survey, all current month estimates are preliminary estimates and will be superseded in following months by revised estimates.
For information on survey methodology and use of the data, including seasonal adjustment and other information pertinent to this economic indicator, go to the Manufacturers' Shipments, Inventories, and Orders website, which provides a link to historical data.
Definitions
Shipments - Manufacturers' shipments measure the dollar value of products sold by manufacturing establishments and are based on net selling values, f.o.b. (free on board) plant, after discounts and allowances are excluded. Freight charges and excise taxes are excluded. Where the products of an industry are customarily delivered to distributors or consumers by the manufacturing establishment (such as in certain foods industries – fluid milk, bakery, soft drinks), the value is based on delivered price rather than f.o.b. plant price. Multi-industry companies report value information for each industry category as if it were a separate economic unit. Thus, products transferred from one plant to another are valued at their full economic value.
New Orders - A new order is a communication of an intention to buy for immediate or future delivery. Orders data are not collected from industries that have mostly immediate deliveries. See Part H to determine if the M3 survey request orders data for your industry category. Only orders supported by binding legal documents (such as signed contracts, letters of intent, or letters of award) should be included. Reported data should include all new orders received during the month less cancellations.
Order Backlog (Unfilled Orders) - Generally, unfilled orders at the end of an accounting period are equal to unfilled orders at the beginning of the period, plus new orders net of cancellations received during the period, less net sales. This includes orders that have not yet passed through the sales account and funded orders (or portions of orders) for which the value of work done has not been reported as sales.
Total Inventory - Total inventories represent the value of the end-of-month stocks regardless of stage of fabrication (whether in the form of purchased materials and supplies, work in process, or finished goods). These inventories are valued at cost using any valuation method other than LIFO. Inventories associated with the non-manufacturing activities of your company are excluded.
Materials-and-Supplies Inventory - All unprocessed raw and semifabricated commodities and supplies for which you have title.
Work-in-Process Inventory - Accumulated costs of all commodities undergoing fabrication within your plants and long-term contracts where the inventory costs are for undelivered items and the value of work done that has not been reported in sales.
Finished Good Inventory - The value of all completed products ready for shipment and all inventories and goods bought for resale requiring no further processing or assembly. No accumulation of finished goods inventories should occur with long-term contracts unless the total sales receipts are not recorded until the time of delivery.
You can learn more at census.gov
Apparel Search will not be offering support regarding how to utilize the information outlined above.
Again, future updates to the original data may take place from the government resources that supplied the original statistics. We will NOT be updating the charts and figures on this page. You can use this for historical reference only based on the date we retrieved the statistical data for these reports.