Frankie B. Fashion Week LA March 2004
LA Fashion Showss+ Fashion + Fashion Industry News + Design Studio
News flash the sexy rock goddess is growing up! If this show was a precursor of future trends, then the mudflaps icon of ample cleavage, Barbie hips, petulant pout and luscious locks might be maturing and taking on a whole new look. A select audience of brand aficionados, outrageous models and rock royalty (including designer-spouse Gilby Clark and their daughter Frankie) were on-hand for Daniella Clark's style direction
and they were not disappointed. Paired with signature ultra-lowrise denims for Fall were some surprising additions to the Frankie B. wardrobe. Sleek, 40's silk charmeuse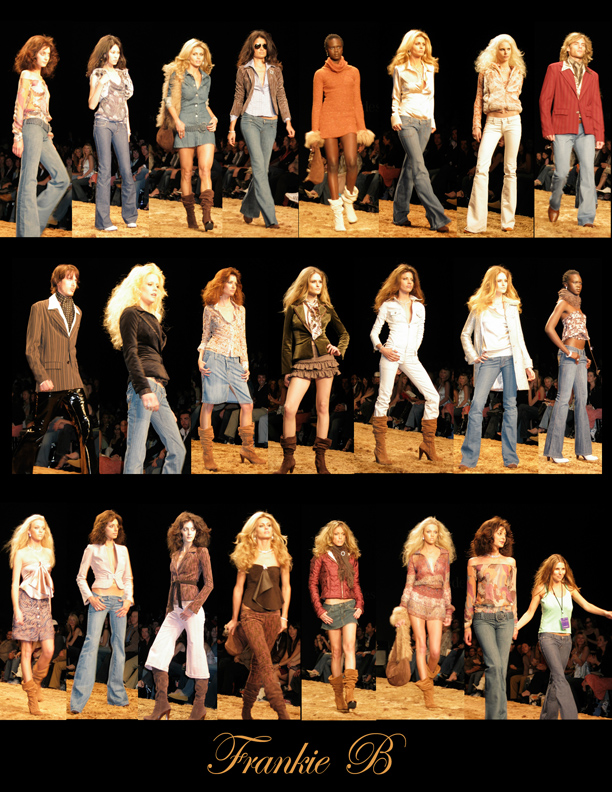 blouses featured prominently on the gold velvet runway, in a sophisticated neutral palette of oatmeal, creamsicle and champagne. Metallic-thread tweed coats polished off the look, along with Mongolian fur accessories and seriously high-voltage jewelry provided by Kwiat. The new Frankie B. bedhead goddess is rocking real bling and not afraid to show it.
Apparel Search Add Your Company Contact Us About Us Advertise News Letter Legal Help
Copyright © 1999-2004 Apparel Search Company. All Rights Reserved.