Trina Turk Fashion Week LA March 2004
LA Fashion Showss+ Fashion + Fashion Industry News + Design Studio
Opting for an informal but theatrical show at her new Third Street flagship store, designer/retailer Trina Turk hosted a stylish soire for press and buyers, tempting them with champagne, tasty nibbles and coquettish fall attire. Cheeky models preened in stylized vignettes throughout the Kelly Wurtlzer-designed space and showcased Turk's strong understanding of mid-century style. Paying homage to a city born in the 50's, she effortlessly captured the slim hourglass silhouette, rouged lips and perfectly coordinated accessories. Yet in Turk's artful hands, the references became delightfully unraveled.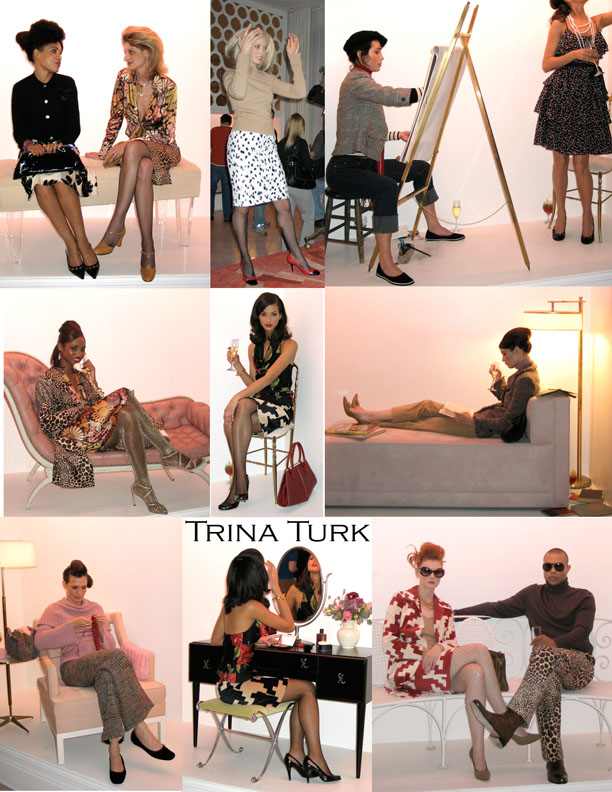 Updo's were unkempt, models changed outfits with studied indecision, and a young beauty lounged listlessly near a stuffed cat. No doubt press photographers got their fill of editorial material, and guests left happy with premium goody bags in hand.
Apparel Search Add Your Company Contact Us About Us Advertise News Letter Legal Help
Copyright © 1999-2004 Apparel Search Company. All Rights Reserved.