<![if !vml]>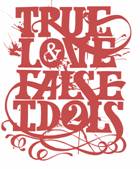 <![endif]>
Headquartered in Compton, California, True Love & False Idols is a fresh new apparel company embracing a philosophy both seductive and subversive: to do what we love in a climate of lemmings, man-babies and pseudo heroes... to enjoy and believe in what we're doing, take chances, have fun. An artist-owned and design-driven collective, TL&FI brings uncommon passion and daring to its work, creating men's tops that push beyond anything seen before with innovative art, washes and embellishments. Making its official bow this past February at MAGIC's Project Show in Las Vegas, the brand has already been flying off the racks at the best boutique and department stores in the U.S.
In addition to fully-lined, outside-printed hoodies that have garnered the most attention to date, True Love & False Idols launched with a broad line of custom-body t-shirts, long-sleeves, polos, wovens, blazers and jackets; more hoodies are expected by fall, with cashmere sweaters, new long-sleeve tees and seasonal jackets (from hunting jackets to parkas) expected for Holidays 2006. Using exclusively premium cotton, fleece, cashmere and other high-grade fabrics, the brand is further distinguished by a variety of artistic washes from Bad Streak and Oil Stain to Acid and the jauntily named Yellowstone Park Geyser wash as well as integrated applique, metal foils and other touches.
Typically, our work is hand drawn and tends toward a wild, stream-of-consciousness, overdesigned look, says Alex 2Tone, the company's principal graphic designer, who indicates that the first season of True Love & False Idols is built around such themes as glittery idolatry, weaponry, redemption, desire, and the love of good hard music. Its cursive-embellished logo, flowing tropical scenes and psychedelic-flavored collages find a complement in such fun and provocative designs as a flying squirrel (Cocaine Breakfast, an intentional Gucci knockoff (You're Only As Good As What You Steal).
True Love & False Idols extends its creativity into subtle, watermark prints and flocked jackets with colorful, custom-printed lining, allowing a bright palette to give the brand its distinct upbeat sensibility, informed by the beach culture of Southern California. Says Alex 2Tone, We're not so dark and gloomy. We're more Miami Vice than Bride of Frankenstein. Currently focusing on the men's market with plans to expand into women's wear, the brand courts upscale, discriminating consumers with its price point of $50-85 for tees, appx. $110 for wovens, $200-275 for hoodies, and $300 for jackets.
From the start of the year, True Love & False Idols has been available at Nordstrom department stores nationwide and at such high-end regional boutiques as Kitson, Fred Segal, M Fredric and The Lounge. The company is moving to export its wares overseas as well, initially aiming for Canada, Japan, Australia and Europe.
True Love & False Idols was born of a collaboration between the two Alexes: Alex 2tone, UCLA film school dropout, L.A. graffiti veteran, freelance designer and most recently art director at Howe Denim, and one-time rival Alex Vaz, a recipient of both business and fashion undergraduate degrees who met 2Tone while a junior designer at Howe Denim. Both shared a love of Korean barbeque, stolen music and inane humor, and from this partnership sprang a desire to create a line of original apparel. Vaz, who focuses on construction, producing and sourcing for the company, wanted to name it True Love. 2Tone, the graphic designer, pushed for False Idols, so the merged moniker represents a unity of both viewpoints.
Seen in the recent Jamie Foxx video, Hey, DJ, Play Another Love Song, True Love & False Idols also adorned the chest of Linkin Park rapper/keyboardist Mike Shinoda during the 2006 Grammy Awards and that of Fort Minor and S.O.B. rapper Ryu during an appearance on The Tonight Show with Jay Leno. Look for it everywhere this Spring...
To learn more ... www.trueloveandfalseidols.com
B|W|R PPI
Matt Meyerson Sr. V.P., Product Placement
9100 Wilshire Blvd. Sixth Floor, West Tower
Beverly Hills, CA 90212
(310) 550-7776 p
(310) 550-1701 f
mmeyerson@bwr-la.com