Yes, joggers are people who run for physical exercise, but that is not the type of jogger we are talking about. Joggers are loose pants made of a stretchy fabric and typically elasticated at the waist and ankles.
Technically, joggers can be thought of as a style of sweat pant. Although they can be worn for jogging, they can also be worn simply for fashion. Joggers are very close to (or possibly the same as) athleisure pants, workout pants, or sweat pants.
Joggers are a hipper version of sweatpants.
For men, joggers are designed with comfort in mind. What makes them unique is that, unlike other pants, they look like khakis but feel like sweatpants. For a cleaner look, grab a solid pique polo, throw on a sharp zip sweatshirt and you'll quickly understand why they call this "smart" casual.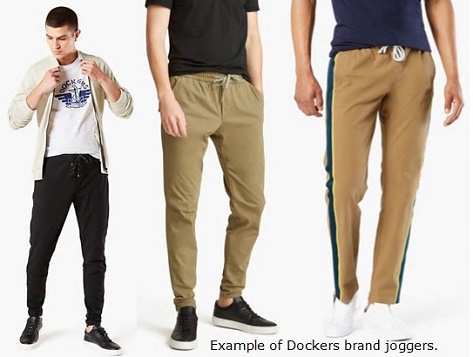 One of the easiest ways to wear joggers is to simply pair them with a basic tee and clean crewneck sweatshirt. The look is effortless, and the comfort unreal.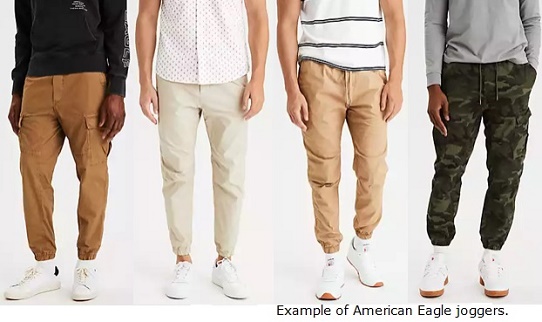 Joggers were traditionally meant for exercising, running, jogging and working out, but sometimes they are too trendy to sweat up. Joggers are the cooler and more stylish cousin of the sweatpants. They have elastic tapered ankles and a more fashionable silhouette than you parents sweat pants Definitively more trendy than what Rocky wore in the 1970's.
Men's & women's joggers come in a wide variety of colors as well as fabric options. Nylon, performance fleece, khaki, cotton knit, & ripstop are only a few of the many options. You can even find this type of pant made with cargo pockets and other styling options.
If you are looking for casual and cute, you can find a pair of cute joggers in fresh, trendy colors and prints.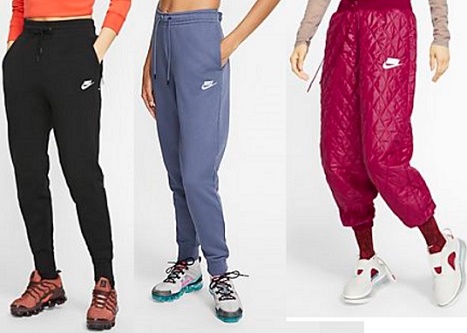 With the women's joggers collection from your favorite sporty apparel brands, it won't be hard to find one of the most versatile pair of pants you'll ever own.
Learn more about jogger pants in our fashion terminology section.
Learn more about pant styles in the retail fashion market.