Fashion Public Relations >> LA Fashion PR
<![if !vml]>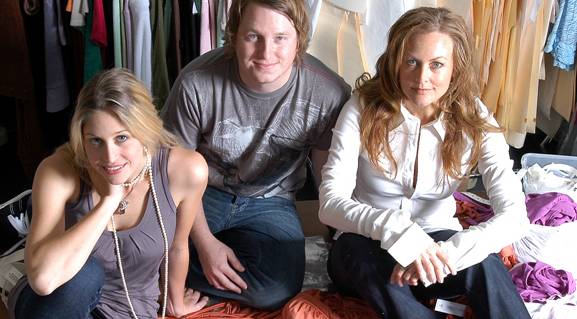 <![endif]>Buzzflikr is a fresh faced colony of fashion-savvy honey seekers, ready to share our buzzworthy nectar.

Utilizing technology developed for social networks and blogs, our Los Angeles team has created a collaborative online forum for media exposure, marketing and brand building. Buzzflikr provides a compelling middle ground between self-directed media outreach and the cost prohibitive retainers charged by traditional agencies, both of which can be daunting to emerging brands. In short, Buzzflikr levels the playing field for emerging fashion brands and "takes the sting out of PR."

In our view, the natural process of pollination and the viral world of public relations are closely linked. Thus, we have modeled Buzzflikr on the highly efficient and cooperative system of a bee colony. We act as the primary pollinating agents while our member "Colonists" participate in a unique division of labor and creative resourcefulness that delivers a track record of sweet, sticky nectar back to the whole hive.

Mindful of the ever-changing worlds of digital media and our globalized economy, we view PR not as a luxury, but as a fundamental tool to help brands flourish and grow. Our mission is to nurture the quality and quantity of the "crop."

Inside the Buzzflikr hive, media reps (our "honey bees") access the latest industry news, company profiles and lookbooks from a fragrant bouquet of up-and-coming companies. Colonists set outreach goals and are guided to create an effective PR campaign to promote brand awareness, business growth and blossoming consumer engagement in their target markets. Now that's sweet!
| | |
| --- | --- |
| | |
| <![if !vml]><![endif]> | Passionately working to promote her clients, Chief Creative Officer Amanda Newlin makes it possible for growing fashion companies to thrive and bloom. For years, she has managed public relations and marketing campaigns, raising the profile of numerous brands and organizations, with a focus on creativity and consistency thru articulate media materials, polished pitching and event marketing. Tirelessly energetic and a bone fide fashionista, our resident PR guru does anything to make the media swarm for our colonists. |
| | |
| <![if !vml]><![endif]> | With her antennae up, Chief Executive Officer Debra Stevenson continuously detects market shifts and trends, which has made her a leader in the industry. She has directed creative strategies for global brands and niche companies, from small fashion start-ups to the $2 billion apparel division for Disney. Her senior industry experience makes her an invaluable asset to the hive, bridging the gap between big business and the creative edge, and promoting the steady growth for our colony. |
| | |
| <![if !vml]><![endif]> | Our e-hive's architect and Chief Technology Officer, Daniel Scally, is a reputable web engineer, who has a rich history working with the fashion community, learning their needs and helping to fill their technology gaps. Dan optimizes web visibility, tracks click-thrus stats and drives media traffic to the site. He created the dynamic and solid honeycombs for our colonists to thrive and continues to maintain and update the hive, ensuring the value of Buzzflikr remains current. |
| | |
Taking the Sting out of PR! 6709 Colgate Avenue Los Angeles California 90048 USA 213.624.1070 buzzflikr.com
ML4608
More about Debra Stevenson.