Founded in Norway in 1877, Helly Hansen continues to develop professional-grade gear that helps people stay and feel alive.

Helly Juell Hansen had been at sea since the age of 14 and in 1877, at the age of 35, he and his wife Maren Margarethe began producing oilskin jackets, trousers, sou'westers and tarpaulins, made from coarse linen soaked in linseed oil. Over the first five years they sold around 10,000 pieces. In 1878 the company won a diploma for excellence at the Paris Expo, and began exporting its products.
Through insights drawn from living and working in the world's harshest environments, the company has developed a long list of first-to-market innovations, including the first supple waterproof fabrics almost 140 years ago. Other breakthroughs include the first fleece fabrics in the 1960s, the first technical base layers in the 1970s, made with Lifa® Stay Dry Technology, and today's award winning and patented H2Flow® temperature regulating system.
Helly Hansen is a leader in technical sailing and performance ski apparel, as well as premium workwear. Its ski uniforms are worn and trusted by more than 50,000 professionals and can be found on Olympians, National Teams, and at more than 200 ski resorts and mountain guiding operations around the world.
This fashion company specializes in various cold weather apparel as well as other clothing items. A few of the specialties include the following categories.
Ski Jackets
Parkas
Down Jackets
Rainwear
Hiking Apparel
Shell Jackets
Sailing Jackets
Base Layers
Cold Weather Pants
Fleece Clothing
Outerwear
In October 2006, Investcorp sold its interest in Helly Hansen to Altor Equity Partners. In 2012, Altor sold a 75% stake in Helly Hansen to the Ontario Teachers' Pension Plan. In 2015 the Ontario Teachers' Pension Plan increased its position, acquiring Altor's remaining stock in the business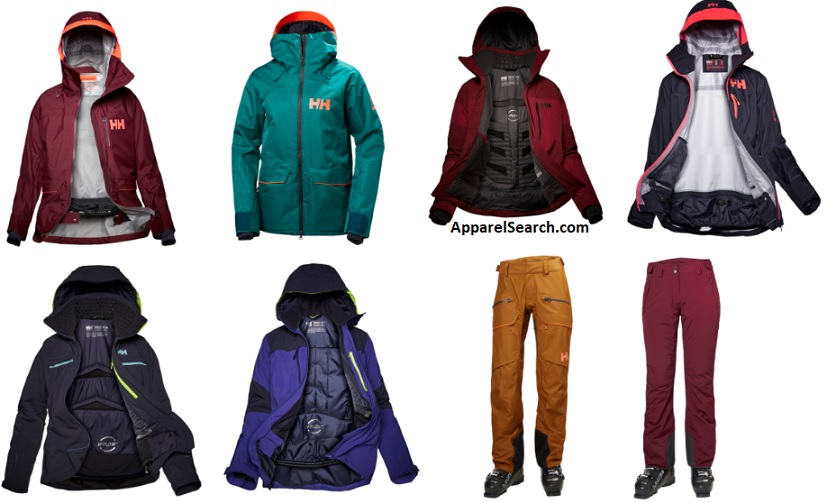 Helly Hansen Men's Fashion Brand
Helly Hansen Women's Fashion Brand
If you are not yet familiar with Helly Hansen outerwear, we strongly suggest that you visit their website to learn more. Visit the Helly Hansen website.
You may also want to visit the Helly Hansen workwear website.
Helly Hansen designs and manufactures winter apparel for men, women, and children. Learn more about Helly Hansen here on Apparel Search.
Thank you for using the Apparel Search website.