Denim is an integral part of Levi's DNA. This is evident in their sub brand.
About Levi's Made & Crafted
In 1873, Levi Strauss created the original blue jean and the company has been innovating denim culture ever since then. As coveted now as they were in the past, their iconic pieces, such as the denim Trucker Jacket, Western Shirt and 501® Original Jeans have stood the test of time. The Levi's company offer a great selection of styles, from classic denim to essential closet staples.
Levi's® Made & Crafted® is a step above their norm. They wanted to create something that feels very authentic and familiar to their brand but also gives a sense of newness and modernity. It's everything you love about Levi's® but designed with a premium twist. They use artful construction techniques, the best fabrics and unparalleled quality to create this line.
This elevated Levi's® sub collection is known for pushing the envelope when it comes to design. In the past, their designers have been inspired by new-wave Western wear, the calming coastal lifestyle and travels to near and far lands. Through these global influences, their Levi's® Made & Crafted designers have reimagined their icons in unexpected ways. Pops of color, never-before-seen silhouettes, fabric mash-ups and intricate details are considered the norm for this collection.
Similar to the rest of their collections, Levi's® Made & Crafted® is heavily focused on denim. You'll find their iconic fits like the 501® Original and also special fits exclusive to this sub-collection. In addition to contemporary denim designs, their assortment also includes a mix of tops, tees, dresses, outerwear and more.
Although the Levi's® Made & Crafted® pieces change each season, there's one premium style that's almost always included in every collection: selvedge jeans. The finest denim in production today, selvedge comes from the term "self-edge," and refers to the woven strip on both edges of a roll of fabric. Selvedge is traditionally woven on narrow-width shuttle looms, producing a clean edge with no fringe, and proprietary indigo stitches displayed at the cuff. It's known for its superior quality, tailored look and signature red stitch when rolled.
Overall, their entire Levi's® Made & Crafted® collection is crafted with impeccable quality and attention to detail.
Levi's hopes that you feel this future-focused aesthetic and sense of unique rarity with each wear.
Learn more about the Levi's Made & Crafted brand at the Levi's website. https://www.levi.com/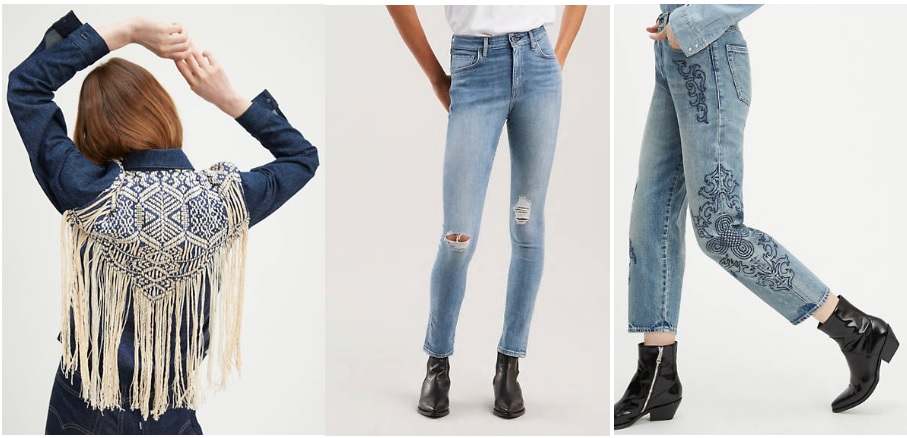 Thank you for taking the time to learn about Levi's Made & Crafted brand.
You may want to learn more about jeans in our influential clothing section.
Thank you for using the Apparel Search website.