Address: 900 Hammond Drive, Suite 325, Atlanta, GA 30328 Phone: (800) 947-SURF Fax: (678) 781-7920 E-mail: sobrien@surfexpo.com Contact: Sean O'Brien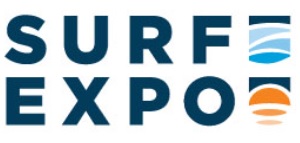 Welcome to Surf Expo, where since 1976, manufacturers and retailers in the surf, skate, water sports, swim and resort industries have come together in a business-first buying and selling environment.
Surf Expo traces its beginnings to a 1975 board meeting of the Eastern Surf Association when a group of ambitious sales reps rented out rooms to show their lines to the buyers who had congregated in Virginia Beach, VA, to attend the meeting. The following year, Ross Houston, a board member, decided to make this more than just a "show and tell" and launched the first Surf Expo at Cocoa Beach's Cape Colony Hotel. By its fifth year, Surf Expo moved into Orlando's Tupperware Auditorium with 150 booths.
In 1989, the show moved into its current home at the Orange County Convention Center in Orlando. Today Surf Expo is produced twice annually by dmg world media for manufacturers and retailers in the Board, Beach and Fashion industries. Held in January and September in Orlando, Florida, Surf Expo draws buyers from specialty stores; surf and skate shops; wakeboard, waterski, windsurf and kiteboard shops, resort, swimwear and urban apparel boutiques; department stores; and sporting good stores across the U.S., the Caribbean, Central and South America and around the world. Surf Expo features more than 2,400 booths of apparel and hardgoods and a full line-up of special events, including fashion shows, annual awards ceremonies, and skate and other boardsport demos. Average buyer and exhibitor turnout exceeds 15,000 attendees including retailers, exhibitors and media per show. Surf Expo is endorsed by the Surf Industry Manufacturers Association (SIMA); the Board Retailers Association (BRA), the Water Sports Industry Association (WSIA) and the Association of Wind Sports Industries (AWSI).
** All shows are open to trade only.
About dmg world media
With headquarters in San Francisco, dmg world media maintains a worldwide presence through its 800 employees and more than 30 offices in the United States, the U.K., Canada, Brazil, Australia, New Zealand, the Middle East and France. As one of the world's leading exposition companies, dmg annually produces around 300 market leading trade exhibitions, consumer shows and fairs, in addition to about 70 related magazines, newspapers, directories and market reports, including more than 100 trade and consumer shows in North America.
The Sports & Leisure division of dmg world media is based in Atlanta, Georgia and produces Surf Expo, the longest-running trade show for the Board, Beach and Fashion industries (31 years).
dmg world media is a wholly-owned subsidiary of the Daily Mail & General Trust plc (DMGT). DMGT is one of the largest and most successful media companies in the United Kingdom. Even though it was incorporated in 1922, its origins date back to 1896 when its namesake publication, the Daily Mail, was first published. As a member of the FTSE 100, DMGT is ranked as one of Britain's largest companies listed on the London Stock Exchange. With DMGT as its owner, dmg world media enjoys autonomy while benefiting from the experience and stability of this blue-chip media company.