Walmart Stores Inc. Company Profile presented by Apparel Search
Since the first Walmart store opened in 1962 in Rogers, Arkansas, the company has been dedicated to making a difference in the lives of their customers. Walmart's business model and practices are the result of Sam Walton's visionary leadership, along with generations of associates focused on helping customers and communities save money and live better.

Walmart as we know it today evolved from Sam Walton's goals for great value and great customer service. "Mr. Sam," as he was known, believed in leadership through service. This belief that true leadership depends on willing service was the principle on which Walmart was built, and drove the decisions the company has made for the past 50 years. So much of Walmart's history is tied to the story of Sam Walton himself, and so much of the world's future will be rooted in Mr. Sam's principles.
Sam Walton died in 1992, shortly after receiving the Medal of Freedom, but his legacy lives on. Walmart still remains a leader in the retail industry and is committed not just to expanding the business to better serve consumers, but also to improving the communities they serve through their efforts to constantly improve what they do and how they do it. Through the impacts they are able to achieve through the Walmart Foundation and through the daily dedication to their business and customers, the employees of Walmart honor Mr. Sam.
From the stores humble beginnings as a small discount retailer in Rogers, Ark., Walmart has opened thousands of stores in the U.S. and expanded internationally. Through innovation, they are creating a seamless experience to let customers shop anytime and anywhere online, through mobile devices and in stores. They are creating opportunities and bringing value to customers and communities around the globe.
Historical reference:
May 2019 Summary: Walmart Inc. (NYSE: WMT) helps people around the world save money and live better - anytime and anywhere - in retail stores, online, and through their mobile devices. Each week, over 275 million customers and members visit our more than 11,300 stores under 58 banners in 27 countries and eCommerce websites. With fiscal year 2019 revenue of $514.4 billion, Walmart employs over 2.2 million associates worldwide. Walmart continues to be a leader in sustainability, corporate philanthropy and employment opportunity. Additional information about Walmart can be found by visiting http://corporate.walmart.com, on Facebook at http://facebook.com/walmart and on Twitter at http://twitter.com/walmart.
2015 Summary
Walmart operates over 11,000 retail units under 71 banners in 27 countries and e-commerce websites in 11 countries. We employ 2.2 million associates around the world — 1.3 million in the U.S. alone. Walmart has stores in 50 states and Puerto Rico offering low prices on the broadest assortment of products through a variety of formats. Walmart operates in 26 countries outside the U.S., offering low prices through retail units under several banners around the globe. Sam's Club is a warehouse membership format with locations across the U.S. and around the world. Walmart helps people around the world save money and live better -- anytime and anywhere -- in retail stores, online and through their mobile devices. Each week, more than 245 million customers and members visit our nearly 11,000 stores under 71 banners in 27 countries and e-commerce websites in 11 countries. With fiscal year 2015 net sales of $482.2 billion, Walmart employs 2.2 million associates worldwide.
Shop at Walmart online.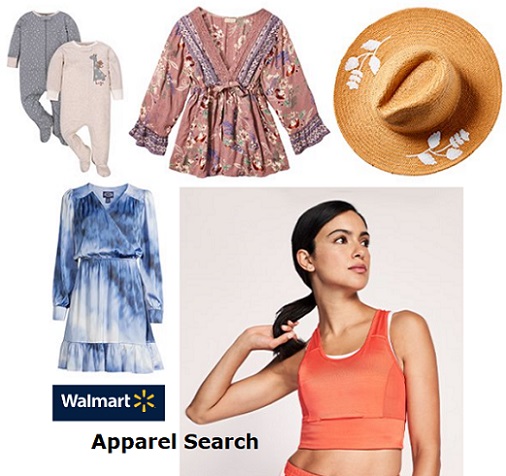 Learn more about Walmart Stores Inc. at http://corporate.walmart.com/
As you know, Apparel Search is primarily concerned with clothing, shoes, fashion accessories, and textiles. What you may not know is that we also care about cosmetics, fragrances, jewelry, and other beauty products. Fortunately, Walmart is one of the few places you can find all of these categories.
What Walmart has to say about the clothing department on Walmart.com
Clothes shopping can be fun and rewarding whether you do it in store or online, as long as you keep in mind the person you're shopping for and pay attention to size, material and care instructions.
If you're shopping for yourself, it's easy to recognize what you like and pick out clothes that suit your personality and sense of style. When shopping for others, keep their size and preferences in mind and include a gift receipt so they can exchange the item if they choose. Children's clothing can be fun to shop for, with all the cute patterns and styles available. Older children often like to be involved in the decision-making process, so let them help pick out styles they like.
Choosing the right size is one of the most important aspects of clothes shopping. If you're shopping online, take your measurements and refer to the sizing charts available for many items on Walmart.com. If you go to the store, try clothes on to make sure they're comfortable and don't restrict movement.
Always check the material a clothing item is made from before buying, and figure out what fabrics are most comfortable on you and best suited to your lifestyle. Cotton is breathable and durable, but polyester blends are less likely to wrinkle. Silks can be comfortable and elegant, but some require special care.
To help you make the best clothing choices, check out their Clothes Buying Guide. Then browse their clothing department for a huge selection of women's clothing, men's clothing and kids' clothing at Everyday Low Prices.
Walmart Stores Inc., Corporate Office
702 SW 8th Street
Bentonville, AR 72716-8611
479-273-4000
Take a break and shop at Walmart online.
View more fashion company profiles from the alphabetical fashion company list page.
Thank you for using the Apparel Search website.