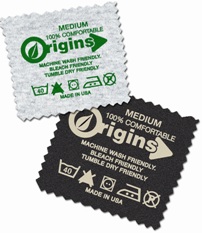 Innovations in heat transfers, a heat transfer bonder and environmentally friendly labeling solutions will highlight Avery Dennison's exhibit at Material World, April 8 - 10, Miami Beach Convention Center. At the show, Avery Dennison will occupy Booth #430.
Products on display will include new Halo-free ECO Transfers, Digital High-definition Transfers, the HS 70 Heat Transfer Bonder, and a full range of eco-friendly tags and labels for apparel, footwear and retail applications.
New-- Avery Dennison Halo-free ECO Transfers
At Material World 08, Avery Dennison's new Halo-free ECO Transfers will be on public display for the first time in the U.S. The innovative tag-free labels combine eco-friendly-, brand enhancement- and product performance advantages in a powerful new heat transfer concept. Made from a proprietary formula of water-based inks, the labels are PVC-free, contain no Azo dyes, formaldehyde, heavy metals or vinyl products, and meet Őko-tex 100 class 1, making them suitable for skin contact applications for babies.
The labels earn their Halo-free designation because they exhibit no visible adhesive shadow around text or graphics, resulting in crisp, clean images. They are recommended for use on cotton, cotton blends and some polyester blends in T-shirts, intimate apparel, casual clothing, corporate wear and children's wear. The labels withstand dry cleaning and home laundering at temperatures up to 140 F / 60C.
Halo-free ECO Transfers display type in sizes down to 3.5 points for 20 washes or 4 points for 20 - 50 washes. They are available on a recycled paper carrier in cut singles or roll format.
Digital High-definition Heat Transfers
Digital High-definition Heat Transfers offer a combination of rich color and enhanced graphics with the ability to incorporate variable data and security, all in a single tag-free solution.
Variable data such as size, security product codes and more can be produced in alpha/numerics, while bar codes are available for a variety of applications, including brand security tracking. The transfers can include photographic images, character designs and alternative color schemes. Micro printing and sequential product codes are available for track-and-trace security.
Applications include children's wear, intimate apparel, sportswear and team sports marketing apparel, fashion clothing and licensed images. Color consistency is guaranteed even for complex designs and images. The labels have 'soft
hand, meet Őko-tex 100 class 1, making them suitable for skin contact applications for babies, and resist up to 50 home launderings.

Digital High-definition Heat Transfers enable brand owners to combine brand enhancing creativity with operational practicality in their labeling, says Mark Hansinger, director, Worldwide Marketing - Heat Transfers. The labels exhibit extraordinary faithfulness to original artwork, which supports brand, while providing variable data and security for greater operations effectiveness.

The Avery Dennison Bonder Model HS70 TRR
The Model HS70 TRR roll-to-roll bonder quickly and cleanly applies Avery Dennison heat transfers to garments and fabric items.
Speed is achieved via the system's short dwell of 0.5 - 4 seconds, quick cycle time and a bottom heating option that increases throughput by reducing seal time.
A control panel displays mode, status, counters, dwell time and temperature. A registration sensor reads black, white or colored marks on either film or paper carriers.
The tabletop system is easy to use. Dwell times and temperature setting can be password protected to prevent operators from accidentally changing set parameters.
A Full Line of Eco-friendly Apparel Trim
Avery Dennison's comprehensive line of eco-friendly apparel trim includes items made from recycled, organic, natural and biodegradable materials.
Products include:
Graphics tags and labels

made of recycled paper stocks, including those certified by the Forest Stewardship Council (FSC), Green Seal, Green-e and others certified as chlorine-free.

Specialty Packaging

made from environmentally-friendly and biodegradable polymers.

Soy based offset inks and water-based flexo

inks, and environmentally friendly carton label and size strip adhesives.

Woven and printed fabric labels

made from organic cotton, bamboo, natural fibers and recycled polyester.

New Halo-free ECO Transfers.
About Avery Dennison Corporation

Avery Dennison is a global leader in pressure-sensitive labelling materials, retail tag, ticketing and branding systems and office products. Based in Pasadena, Calif., Avery Dennison is a FORTUNE 500 Company with 2007 sales of $6.3 billion. Avery Dennison employs more than 30,000 individuals in more than 60 countries who develop, manufacture and market a wide range of products for both consumer and industrial markets. Products offered by Avery Dennison include: Fasson brand self-adhesive materials; Avery Dennison brand products for the retail and apparel industries; Avery brand office products and graphics imaging media; specialty tapes, peel-and-stick postage stamps, and labels for a wide variety of automotive, industrial and durable goods applications.
You can also read about Avery Dennison Launches New Eco-friendly Heat Transfer Solution Fashion Technology Article Posted April 8, 2008