Approximately 3,000 visitors, primarily retail buyers as well as fashion press and stylists, attended THE TRAIN NEW YORK and PLATFORM 2 Spring-summer 2009 fashion trade shows, held September 13 thru 15 at Terminal Stores (608 West 28th Street) in New York, reflecting a steady attendance compared to the last two shows, held in February of this year and September 2007.

Organized by Sodes owner of PRET A PORTER PARIS, ATMOSPHERE and THE BOX and the leading fashion force LA FEDERATION FRANCAISE DU PRET A PORTER FEMININ (FFPAPF), the shows spotlighted the newest styles from an array of international brands. Approximately 110 collections were presented at the two adjoining shows. And for the first time, the shows collaborated with Showroom Seven, one of the top multi-label showrooms in New York, which is also located in Terminal Stores. Common doors between the two locations allowed buyers to visit the trade shows and the showroom without leaving the building.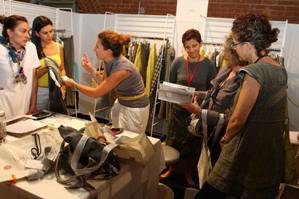 The blueprint for THE TRAIN and PLATFORM 2, offering a mix of selective collections from the U.S., France and other countries, has proven a long term success. Despite the current difficult global economic situation, a steady number of retailers attended the shows each day. And, exhibitors reported a strong and interesting mix of business, including international visitors, especially the first day (on the heels of Fashion Week) and opening new accounts. The selectivity of the shows, an area we continue to improve upon each season, is what really makes the event attractive. Following the success of PRET A PORTER PARIS (September 5 thru 8), with attendance up six percent this session and foreign buyers representing 40 percent, and the steady attendance in New York, our formula is certainly a winner,
said Mr. Jean-pierre Mocho, Chairman, FFPAPF and Pret
Porter Paris.
The Train Spotlights International Creativity
| | | |
| --- | --- | --- |
| | | |
| Anaessia | Repetto | Lolita Jaca St. Barth |
Nearly 75 brands from 21 different countries showcased their newest collections this month. Highlights included ready-to-wear brands 2fer (USA) Showroom NY, ANAESSIA (Australia) Nexus Showroom, CLARA COLLINS (France), DINNA SOLIMAN (USA) Showroom NY, LONA GUTKNECHT (USA), LOLITA JACA ST. BARTH (France), MARIE SAINT-pIERRE (Canada), NIU (Italy), SHENA BRYSI (South Korea), SYLVIA RIELLE (France), among others, and accessories brands C'sAIRE (France), MISA HARADA LONDON (UK), NATHALIE VERLINDEN (Belgium), OUFI LONDON (UK), REPETTO (France), RIVER SONG (USA), and more.
THE TRAIn's rigorous fashion committee carefully selects the collections presented at the show to maintain its high level of creativity and quality, and keeping in mind the company's ability to create consistent collections from season to season and to meet buyers
delivery and quality requirements.
| | | |
| --- | --- | --- |
| | | |
| Cleo & Cat | Lie Sang Bong Paris | Altana-kristina Rate |
Terminal Stores, the former train station and warehouse located in the heart of the Chelsea fashion and art district, provides a remarkable venue for the unique event. THE TRAIN was the first event to held there when it was converted to an events venue, and has served as an anchor to attract other fashion businesses to the building and the area. As always, the layout was designed to provide buyers with one-stop-shopping, in a beautifully elegant and easy-to-navigate space. The single file booth design, on each side of the venue, spans a full city block.
Platform 2 at La.Venue at Terminal Stores
| | |
| --- | --- |
| | |
| Yes Virginia | Anna Balkan |
PLATFORM 2 returned to its new permanent home, La.Venue at Terminal Stores. Approximately 35 juried international contemporary collections from nearly 10 countries were presented, including ATIKA (France), BNG (Turkey), DIDIER PARAKIAN (France), ELEMENTE CLEMENTE (Germany), SHAHMAT (Italy), TOOKATA PEOPLE (USA), among others.
Managed by Sodes Inc, La.Venue at Terminal Stores has been entirely renovated to offer today's high-tech amenities. The 18,000 square-foot loft-like venue is comprised of four adjoining rooms featuring hardwood plank floors, brick walls, and original wood columns and arch ways, which retain the old-world charm of the turn-of-the-century building.
This season, while the City of New York's 11th Avenue subway was under construction, the entrance for THE TRAIN and PLATFORM 2 was located at La.Venue, 608 West 28th Street (between 11th and 12th Avenues). As a result, the new layout allowed buyers to enter and walk through PLATFORM 2, which led to the main tunnel and THE TRAIN. The main lobby hosted the show's restaurant and art exhibit by MOTO 777.
Shadows and Reflections Art Exhibit at The Train
Known for its unusual and striking art exhibits, this season THE TRAIN unveiled Moto 777's Shadows and Reflections, the brand new exhibition from the duo of Andersen and Robiou, aimed at creating a link between pop icons, psychedelica and everyday trash.
Benedicte Toft Andersen (born 1971, Copenhagen, Denmark) and Alexis Robiou (born 1974, Vannes, France) met in 1996 on the very first day of their fine arts foundation course in London and instantly started a collaboration that continues to this day. Since then, they have produced hundreds of paintings, a fashion/arts brand (Moto 777), art directed many projects (Adidas, Ritz etc. see below) and opened three galleries exhibiting their own work.
NABAZTAG 417 grams of fashion Art Exhibit from PRET A PORTER PARIS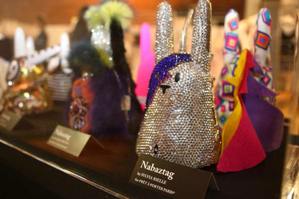 THE TRAIN also presented NABAZTAG, the hightech rabbit avatar taking over Europe. Trade show visitors were among the first in the U.S. to see the preview of approximately 30 NABAZTAG gadgets, which were glad in outfits, accessories and cases created by renowned stylists, cuttingedge artists, and trend-setting fashion and graphic designers. Armenian for rabbit, NABAZTAG can read, obey the voice of his master, speak 36 languages, give the weather forecast, read headlines, send and receive email, sing, and much more. The exhibit will continue on to Milan, Berlin and Tokyo, and finally back to Paris to be auctioned to benefit a charitable organization.
Cocktail Party, Complimentary Bar, VIP Services And More
As always, THE TRAIN and PLATFORM 2 offered visitors a number of amenities to make their experience pleasant and comfortable. To celebrate the show and the art exhibit, The Train's champagne cocktail party, which also offered V2 Vodka, was held on September 14, in the lobby of Terminal Stores. DJ Lindsey entertained the crowd of exhibitors and visitors. DJ Lindsey co-founded Frank 151, and with her fellow Negroclash crew, celebrated electronic funk monthly at the NYC club APT for 3 years. After spending time as FADER Magazine's Senior Associate Editor, she's currently balancing her role as party rocker with studio time, lending her vocal talents to producers and artists such as Rich Medina, Prince Language, Beans and The Rapture's latest disc.
In addition to the cocktail party, visitors were treated to complimentary health beverages provided by Functions Drinks, and enjoyed daily afternoon cocktails, provided by V2 Vodka, at THE TRAIn's Black Bar and PLATFORM 2's Red Bar.
Other services for visitors included complementary gourmet breakfast and lunch, served at THE TRAIN Restaurant, as well as on-site VIP limousine service and a business center.
For more information please visit the www.thetrainnewyork.com and www.platform2newyork.com.
LA FEDERATION FRANCAISE DU PRET A PORTER FEMININ (FFPAPF) La FFPAPF is a leading fashion force in Europe. Led by its Chairman, Jean-pierre Mocho, its initiatives include assisting its members by supporting designers and manufacturers, assisting designers with export development; developing international fashion shows; and training through its fashion school MOD'SPE. The FFPAPF is the only European professional association that owns and develops international fashion shows. In France, the association manages several shows held twice a year, including the world's premier fashion event PRET A PORTER PARIS
, held in February and September at Porte de Versailles; as well as ATMOSPHERE and THE BOX, held in March and October during Fashion Week, Tuileries Garden. In September 2005, FFPAPF launched its LIVING ROOM, as part of the ROOMS show in Tokyo

THE TRAIN AND PLATFORM 2 SPRING-sUMMER 2009 Preview
Fashion Event Article Posted August 12, 2008
The Train September 2008 Pre-register Now
Fashion Event Article Posted July 30, 2008
the tender : THE TRAIN NEW YORK TO LAUNCH NEW ACCESSORIES TRADE SHOW Fashion Event Article Posted May 20, 2008
The Train Is Coming February 9th 2008
Fashion Event Article Posted January 31, 2008
Pre-register for The Train and Platform2 September 16-18 2007 - Two Fashion Trade Shows Fashion Event Article Posted August 28, 2007
---
October 2008 Fashion Event News
November 2008 Fashion Event News