BE MINDFUL OF THE THINGS THAT NAG, FOR THESE ARE THE THINGS OF DESTINY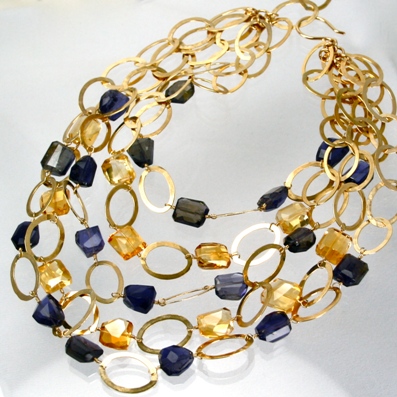 Judith Bright was born and raised in Washington, D.C. She attended Vanderbilt University in Nashville, Tennessee where she met her husband Will. The pair moved out to Los Angeles together where they lived for 16 years in the Hollywood Hills. While in LA, Judith worked for music legend Quincy Jones for 12 years serving as the President of his music publishing company. She describes him as being one of the most wonderful human beings on the earth and simply the best boss a girl could ever have. She loved her job but felt conflicted as she tried to juggle a busy career and raising her three boys. When her third child was born, she decided to retire and become a full-time mother.
In her spare time, she started taking jewelry-making classes at Barnsdall Art Center in Los Angeles.
The positive response to her designs gave her the motivation to start a home-based business. She began by creating custom jewelry out of silver and beading with semi-precious beads and sold them to friends and neighbors.
Her passion for jewelry goes back to her earliest memories of childhood where she would play for hours in her mother's jewelry box which was filled with both real and costume jewelry. I would pull out each piece and lay them out all over her bed. I'd try everything on and would try different combinations. She was very patient with me because I wanted to look at it a lot! She adds, i've always been fascinated by how people adorn themselves. Jewelry is the ultimate expression of individuality. It's such a unique and expressive art form.

Judith realized that designing jewelry was what she wanted to pursue when her children became school age. She studied the Italian jewelry designers and decided that she wanted to study jewelry-making in Italy. Her whole family moved to Florence, Italy where they lived for a year while Judith studied privately with teachers from the prestigious Le Arti Orafe School of Jewelry. She described her time studying there as
one of best the periods in my life. I felt more comfortable in my own skin than ever before. It was like the glass slipper finally fit! I think it came with embracing a life-long dream and being in the right place in your life to make it happen. Sometimes you have to wait quite a while but in my case it was definitely worth it!

After returning from Italy, she and her family relocated to Nashville, Tennessee to be near family. Her youngest child is now in school fulltime. Says Judith, I have thought a lot about what i've wanted to do in what I consider phase two of my life and that time is now.
Having an online store is a dream come true, and I am excited about reaching new customers. My jewelry lines include Silver+Rocks and Gold+Rocks, which are fashioned from sterling silver and gold-filled chains and elements that link semi-precious stones in various combinations. i've also added a line entitled RockLess featuring polished and hand-hammered gold, silver & mixed metal pieces. I use the finest materials available and handpick each stone used in my designs. My passion is making quality jewelry available for women that they will love and enjoy wearing everyday.

Judith's designs have been featured in the TV Shows: "Gossip Girl", "Samantha Who?", "America's Next Top Model" "What Not To Wear" & "Happy Hour". She has been profiled in The Wall Street Journal, Accessories Magazine, YRB Magazine, InStore Magazine, Nashville Lifestyles Magazine, NFocus and Jewelry In Fashion Trends.
---
If you are a jewelry designer, please join in the discussions at the Jewelry Network (JewelryNetwork.org).