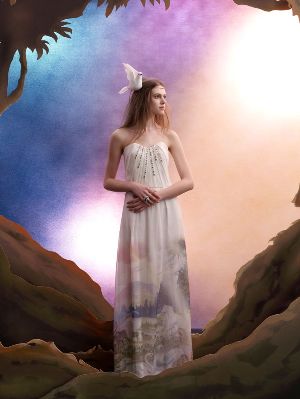 Sretsis, known for it's chic, flirtatious yet sophisticated and whimsical designs, takes their vision of utopian dressing to the next level with their Fall 2008 collection, aptly titled "Parallel Universe". Sretsis partnered with famed Thai artist Teerawat Teankaprasit to design an exclusive print series for the collection. The alluring panoramic scene was then divided into segments and digitally printed onto fabrics like silk and lyocell. Placing the printed pieces side by side in the context of the collection reveals the harmonious view of the Sretsis "Parallel Universe"; a world in which cherished animals and nature co-exist. Sretsis debuted this magical collection in their first ever runway show during Australian Fashion Week in Sydney on April 30th to rave reviews.
Sretsis Parallel Universe is where anything you want to happen does happen. Anything is possible in the enchanted, wild world of Sretsis a world full of imagination and wonder.
Pim Suhahuta : born in 1979.
SRETSIS, founded in 2002.